This week has been a stressful one. I recovered Monday after having company last weekend and now we're preparing for company again this weekend. I was approved to put in an extra 10 hours of work and I'm still trying to figure out what classes I plan on taking this coming semester. Is it just me or does stress come in waves for you as well? It seems like every thing has fallen on this week & I'm left scrambling. I hate that feeling of being out of control, but I've been doing my best to take those deep, as if your in labor, type breaths, and Not. Freak. Out.
This week I've been trying my hardest to take little moments for myself here and there to recharge my batteries and keep my creative juices flowing. As a mom, and hell as a human being in general, it's so important to take time for yourself. Whether it be spending a little extra time to make a meal a little more special or taking the afternoon off to snuggle up on the couch with a good book… we need our "me" time in order to stay productive and pleasant.
How I've found my "me" time this week: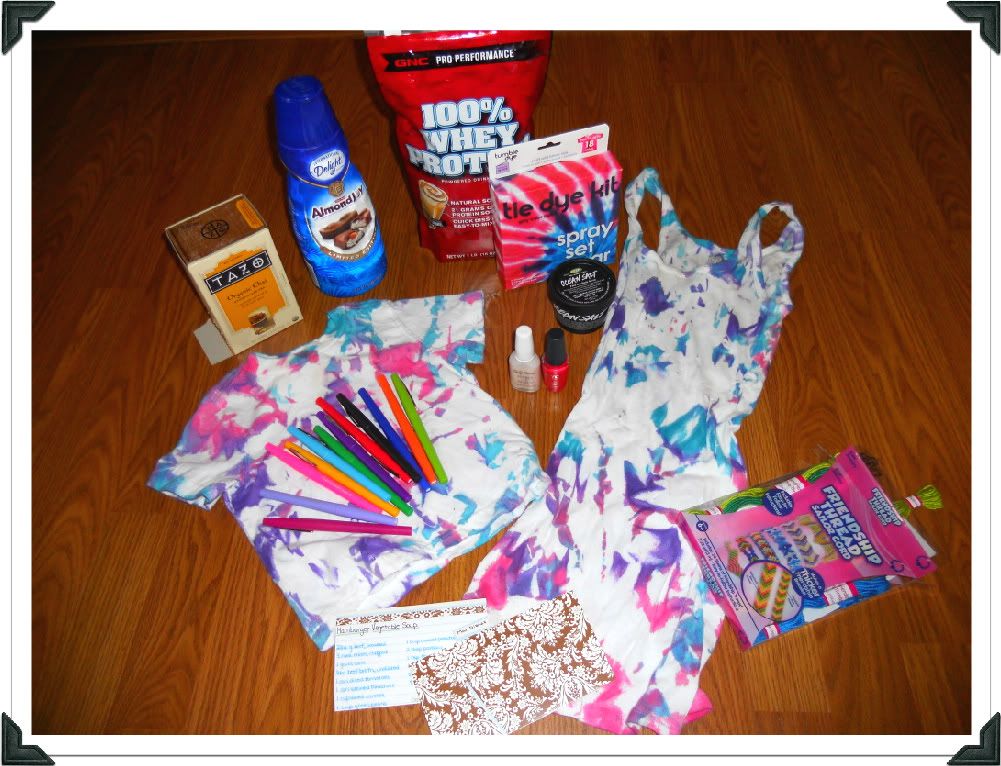 1. I always start my morning off with chai tea. Always. I need that extra caffeine kick to get me going and it usually lasts me a good part of my day.
2. International Delight Almond Joy creamer. One word: delicious. Five words: You need to get this.
3. Pretty new pens. These spunky little babies have been helping me make my daily lists multi-color coded, organized and so fun.
4.Tumble-dry tie dye kit! I promised my dear friend Bobbi a tie-dye shirt for her birthday and in the process made one for Alea and I as well. This kit's available at Target and SO easy to use!
5. Lush's Ocean Salt face scrub is my absolute, hands down, favorite facial scrub. It really exfoliates your skin and helps even out your complexion. It's a little pricey for my taste, but it's a nice way to treat myself.
6. Being this weeks been a busy week, my diet has been suffering some. Okay. A lot. So, either as a breakfast replacement or a lunch replacement, I've been stirring myself up a Whey Protein shake w/a glass of milk. So yummy. So filling and I get my calcium in for the day as well as my protein.
7. I did something I never do and painted my nails the other day. I always feel like a 5 year old w/bright colors on my stubby little fingers, so I seldom do it, but it was something I could do to take a couple (much needed) minutes to myself. I used NYC "Time Square" as my bright top coat and Sally Hansen Hard as Nails "Sheer Vanilla as my base coat.


8. Embroidery thread for friendship bracelets. I bought this last week actually when Alea and I ran errands to get away from the chipmunk in our living room. Friendship bracelets and a friendship bracelet tutorial soon to come!
9. Last but not least, see those two little recipe cards? There's a little sneak-peak at a DIY feature I'm working on… I'm so excited to share it with you!
Look, even Alea has remembered the importance of taking time for yourself this week:
I have lots of fun bloggy ideas brewing in this little noggin of mine. Lots of fun things to come for you all 🙂