I began working at a nursing home at the end of my sophomore year of high school. I worked as a "nutrition aide," but more than anything I loved conversing with the residents and hearing them share their stories. It was this job that made me realize that my passion for people and caring for others far outweighed my dreams of journalism, reporting, and the news. Although I already had various journalism schools picked out that I wanted to apply to, I did a complete 180 and decided I would be better suited in the field of nursing. I applied and was accepted to Viterbo University, a small, private, catholic university in La Crosse, WI. I fell in love with the campus and the La Crosse area at first site.

(It's a beautiful area, if you've never been!) I tried hard my first year at school, but apparently not hard enough because in June after my freshman year of college I received a letter stating that I was not accepted into their nursing program. I was heartbroken. I specifically remember calling Cory and just sobbing. I felt like my dreams were completely crushed.

But, I decided to try again. I got pregnant with Alea that summer, but was determined to continue with school. I re-took a class that I didn't get such a good grade in, and since I was pregnant and unable to go out anymore, I dove into my school work like I never had before. I breezed through fall semester with all A's and one B. Not too shabby. 😉 For spring semester I planned on re-taking my Chemistry class, another class that didn't go so hot during my freshman year. And in addition to Chemistry I also planned to take a couple other classes that I figured would boost my GPA a little as well.

However, things didn't go quite as I planned. Alea's due date was March 28th, right in the heart of spring semester. I spoke to each and every one of my professors regarding my due date and begged them to work with me. I told them I wouldn't take much time off and the time I took off would be spent studying in addition to caring for my newborn daughter (all while Cory was actually living in Hudson, WI where he relocated to another office/better position). The only professor actually willing to work with me unfortunately was my ethics professor. Ironic? So I either had to risk an entire semester and hope she'd make her appearance at a convenient time and that recovery would be short and I'd get back on my feet right away, or just throw in the towel and try again. I chose the latter. Do I regret it? Sometimes. But, I once again was forced to put my dreams of becoming a nurse on hold.

Fast forward to last spring. We moved from Hudson, WI (where I moved to live with Cory before Alea was born) to North Branch, MN and began taking classes at a community college about 20 minutes away. I was in heaven. I was back in school, taking classes, and just loving it. I applied for the nursing program during the beginning of the semester and at the end of April, was in for another big let down. I didn't get in, yet again. I was honestly ready to throw in the towel. Just give up and move on. I researched other fields and tried to find another passion while Cory just shook his head. He must have known something I didn't.

He knew I couldn't and of course didn't want me give up on my dreams, so I reluctantly applied for the nursing program yet again in June. And guess what?

I GOT IN.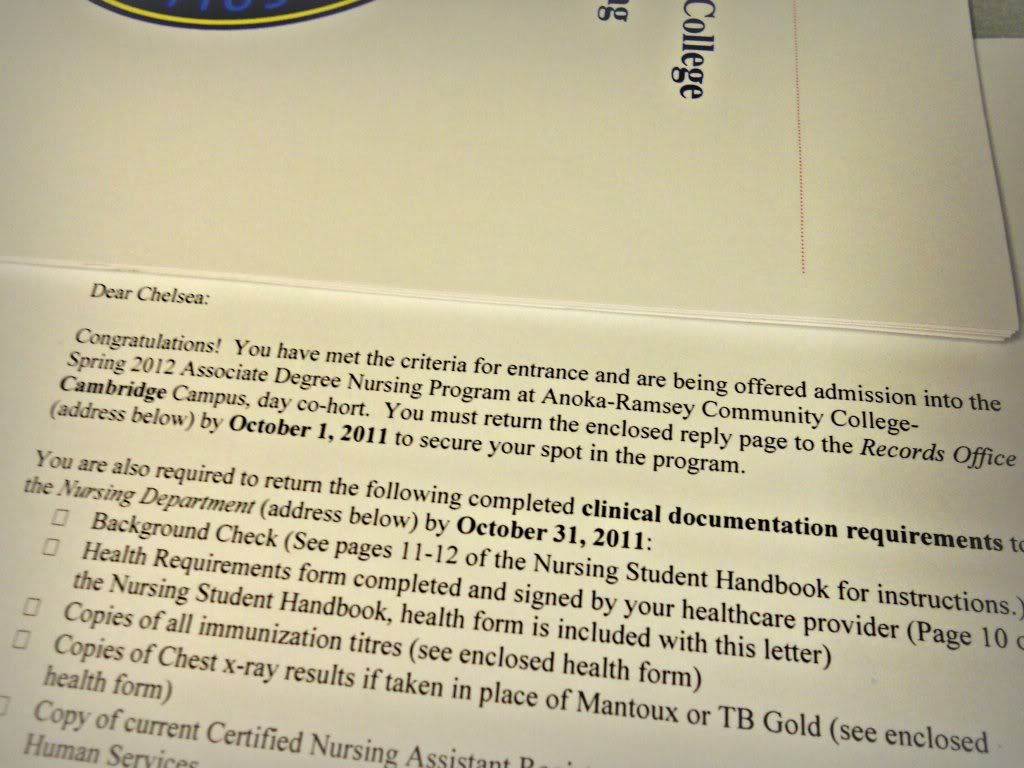 Now, the fun begins 🙂 I start nursing classes in January and can't wait to finally begin my journey to become a nurse. It's what I've always, always wanted. Though I'm going to miss being a full-time stay-at-home-mom to Alea, I know that one day she's going to be so damn proud of her mama and all the hard work I went through to make a better life for her and our family.
It's going to be hard, there will probably be tears and lots of studying into the wee hours of the morning, but the day I throw on my scrubs and lace up my white tennies for my first day as a nurse, it will all be worth it.