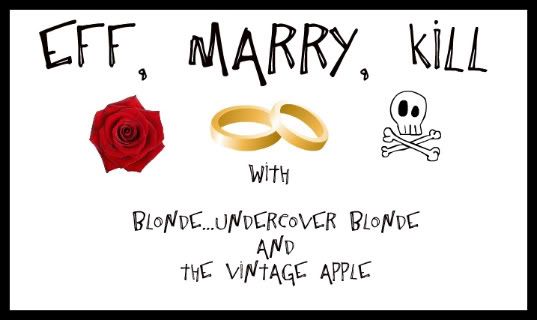 This is the funniest link-up I've seen by far. I couldn't not participate!
Eff: McSteamy a.k.a. Mark Sloan a.k.a Eric Dane. How many of you even knew his name in real life was Eric Dane? I sure didn't. I will forever refer to him as "McSteamy"… for oh so very obvious, wonderful, sexy-licious reasons.
Marry: Andy Roddick. He's just adorable. He plays tennis, which I love. Shallow comment: he probably makes a lot of money doing so. And he just looks like the kind of guy who would keep me laughing and fill up my love cup 🙂
–but Cory does a pretty good job of that too–
Kill: Ashton Kutcher. Really, if you cheated on Demi Moore… I don't even know what to say to you.
Now it's your turn. Do you agree with my choices? Who would you choose to eff, marry, and kill?