I'm becoming slightly obsessed with a little something called burlap. I want to make burlap pillows & cover my entire world in burlap. Not even joking here people. And after seeing this post and this post, I want dining room chairs covered in burlap and cute little framed burlap artwork. Oh and I kind of want these burlap Toms. And I may have started a small Pinterest board dedicated to burlap. Okay, okay, you get it. I heart burlap.

So, a couple weeks ago, I decided it was high time I did something about this burlap obsession and hit the canvas so to speak. The first thing you should know about me though, is I am not art inclined. What-So-Ever. Sometimes I even have trouble coloring inside the lines. But I have to say, I'm really happy with how this turned out 🙂

Chevron Burlap Canvas

What you need:
-Canvas (any size)
-Burlap
-Painters tape
-Spray paint (I used white)
-A stapler
-Scissors
-Tape measure

Cut, fit, and staple the burlap to your canvas. Make sure you do so carefully and don't stretch the burlap too much or it'll turn out a little wonky and the burlap threads will appear stretched. The next part takes a little patience, a little math, and if you're not measurement or math inclined, someone who is. (Thanks Cory!) You need to make sure that your stripes are all the same size and the spaces between the stripes are the same size as well. I believe our stripes were about 1 and a quarter inch, but I can't remember the size of our spaces. Just play around with it and see what you like. **Remember** the stripes are what you want to be left blank & uncovered by painters tape. This part confused me a little. (Another reason why it's good to have Cory around!) Then, once you're finished with the painters tape, grab your can of spray paint and spray away! Be careful of drips from the painters tape and it takes a few good coats to cover it well.

And Voila!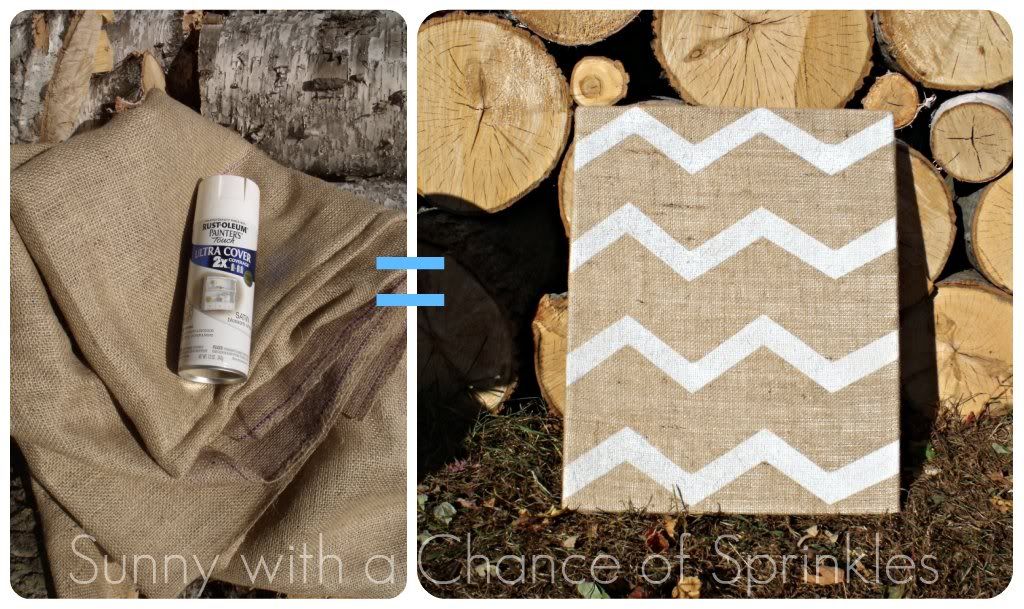 Now we're just working on finding a place for this beauty to go. Let me know if you try this or if you have any questions! I'd love to see your creations!
And just because she's so darn cute, here's what Miss Alea
enjoys doing while mommy has her blog post photo shoot:


Look at them knee rolls!