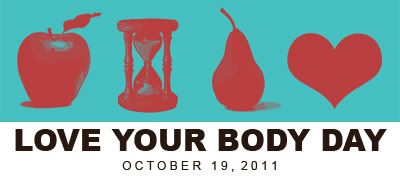 I saw this beautiful post over at Mom2MephisAndRuby's blog and couldn't help but join in. Today is love your body day and it's something us woman (and men alike) should take time to recognize and appreciate.
I have a love/hate relationship with my body. I know that I'm not "fat." I just recently weighed myself (which I never do, but it was for my Nursing class) and I was actually surprised when the numbers 1-1-6 popped up in front of me. I've never really had a problem with my weight, which I am very thankful for. I can tell though that my metabolism is very gradually starting to slow down on me. I can't toss back those beefy five layer burritos from Taco Bell like I used to and if I do, I feel mighty run down and just blah. I've come to appreciate fruits and veggies more and more these past couple of years.
(And I'm rambling… that's what I get for writing this post on a whim!)
Today is all about looking at the positive though. What do I love about my body?
>>I love my ski slope nose. Okay, not entirely, but it suits me.
>>I love my petite height. At 5'3″ I can wear any kind of heals I want and my hottie of a boyfriend still towers over me.
>>I love that my body helped me run a 5k in 35minutes with very, very minimal training prior to the race.
>>I love that I feel confident enough to slap on a pair of jeans (or just stay in my sweats), throw my hair up in a messy bun, and go shopping, run errands, or go get coffee without a drop of make-up. And this happens quite frequently.
>>What do I love most of all? My body helped me carry my beautiful daughter to term (and 6 days after).
>>My body allowed for an easy and enjoyable birth (okay so maybe the epidural helped too…).
>>My body supplied my daughter with milk and allowed me to nurse as long as Alea needed/wanted.
crossing the finish line of the women run the cities 5k

After a baby your body is never the same, but more beautiful because of the life it created.

Being a mom doesn't give me endless hours in front of the mirror to straighten or curl my hair, apply a perfect layer of make-up, or wear the cutest clothes, but I am healthy and able to care for my daughter and that's what matters most.

And even though I'm not happy with that stubborn little tummy roll that I just can't seem to get rid of, I vow to get over it. That's all I can do. Either get off my lazy butt and fix it or just get over it!

Now it's your turn. Lets stomp down society's views of the "perfect" body image & tell me, what do YOU love about your body?

P.S. Have you taken a moment to check out my GIVEAWAY from Kaity yet?! What are you waiting for? 🙂