I have a special treat for you guys today. Lisa, from Tales of a Young Housewife is here to share with you a little sneak peak at the typical day for her and her daughter, Aubrey.
I hope you enjoy this post as much as I did. I love these & Lisa's such a sweetheart!
_______________________________________________________________________________________
Hi there! My name is Lisa, & I'm the writer of the blog Tales of a Young Housewife. I am a stay at home mama to my little 8 month old, Aubrey & wife to my hubba hubba husband, Steve. Here is a look into our daily life!
7:00 Time to wake up & start the day! I walk into the room after hearing Aubrey talking to herself, usually this is the scene: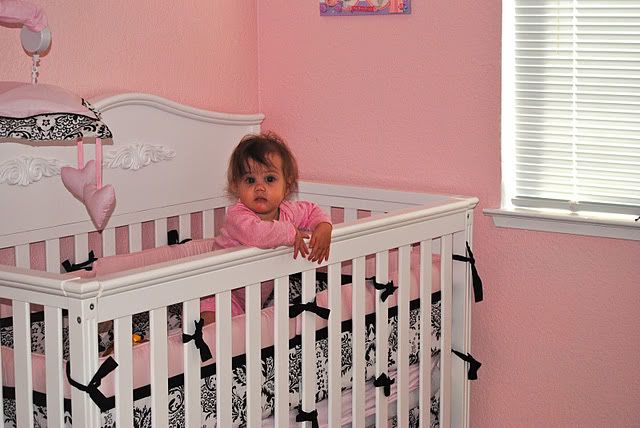 7:00-8:00-Time for a diaper change, change out of jammies & into the outfit of the day, drink up a 6 oz bottle & start preparing Aubrey's breakfast.
8:00-8:15-Breakfast time! I make all of Aubrey's baby food, which is time consuming but saves lots of money-& is so much more nutrient dense! Nothing like the taste of fresh fruit instead of who-knows-when-it-was-canned jar food.
8:15-10:00-After getting cleaned up from breakfast, it's play time for a while! Sometimes Aubrey lets me eat a few egg whites or a bowl of granola-if I'm lucky! The girl just likes to have her mama by her side, I can't really complain 🙂
10:00-11:45-Naptime! I give Aubrey a small bottle & off to dreamland she goes! I'm a lucky mama that has a great napper on her hands. While she naps, I eat breakfast if I haven't already, do a workout, & get showered & ready for the day. If there is time left over, I'll play around on Facebook, blog, or my new obsession Pinterest.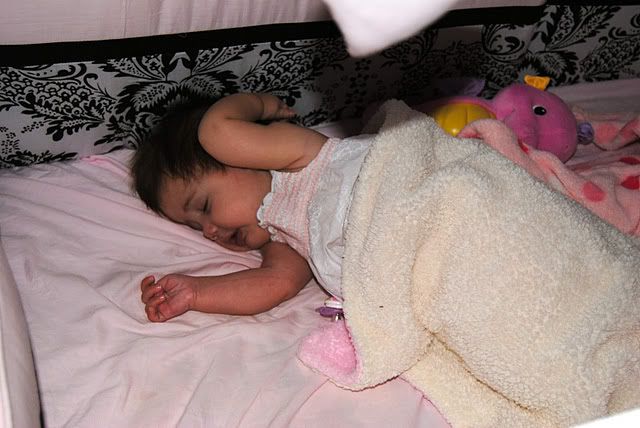 11:45-12:15-Lunchtime! Aubrey has her lunch, which is almost always some sort of veggie.
12:15-2:00- After lunch is all cleaned up, this is the time we will go run errands if there is any. If not, it's more play time for Aubrey & mama! Aubrey is trying hard to walk these days, so we'll practice pushing her new cart toy. We also read stories, play her FAVORITE game Patty cake, & explore all her many floor toys.
2:00-3:45-6 oz bottle & naptime! After Aubrey falls asleep, it's time to CLEAN! Laundry, dishes, swiffering, whatever needs to be done! I also eat lunch during this time.
3:45-5:00- Sweet girl wakes up & after a quick diaper change, we go on our daily walk. This is one of my favorite times with Aubrey. We walk about 1.5 miles behind our house around a park & the high school.
5:00-6:00-Aubrey has another bottle. Usually dad gets home around this time block-yay! Aubrey & Dad will hang out for a while, & I prepare dinner.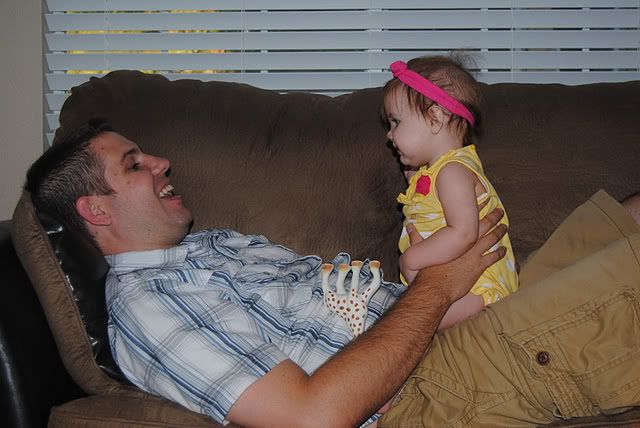 6:00-6:20- Steve & I eat dinner while Aubrey chills in her play pen. Sometimes we will put her in her high chair & have her sit next to us, if she doesn't feel like playing on her own.
6:20-6:30-Aubrey eats her nightly meal of pureed meat-(yuck!) She's a little vegetarian baby-she does NOT like her meat at all but will usually eat it anyways.
6:30-8:00-Our family time. I love this time, because I have my husband and baby at home at the same time! We play, sometimes go on a family walk, & read scriptures.
8:00-8:15-Final diaper change, jammies, storytime, bottle & bed!
8:15-11:00 Time for mama & papa to have alone time! We'll catch up on our DVR'd tv shows & relax together. I usually fall asleep on the couch, & Steve has to drag me to bed-haha!
This is pretty much our daily routine-of course things happen to change the schedule-teething, nap rebellions, etc. It's a simple life but such a sweet one.
____________________________________________________________________________________________
Thank you, Thank you, Thank you for the adorable guest post, Lisa! Both you and your little family are gorgeous. I love that she makes Aubrey's baby food! I always wanted to try that when Alea was eating baby food, but never got around to it. Maybe with the next one (a long, long time from now!)