I'm so ridiculously excited to have the darling Miss Karly guest posting on my blog today. You guys are really in for a treat! She's created a fun little crafty tutorial for you guys and it would make the perfect holiday gift! Ch'Ch'Check it out…

__________________________________________________________________________
Hellooooo everyone! My name is Karly and I blog over HERE. When Chelsea asked if I would do a guest post for her, I was thrilled!
But then, I couldn't figure out what I wanted to talk about.
Oh was I ever stumped. But not anymore!
I was recently asked to do a tutorial for another blog, and it was so awesome, I just knew I had to share it with you guys as well. So put on those crafting shoes (ha ha, get it, "crafting" instead of "dancing"? I crack myself up) and get ready for some fun!
As a Mom of three little girls currently living on barely one income, it is super important to know how to stretch your dollars, even when it comes to gifting during the Holidays. So today I am super excited to be sharing this project with you all, because it is so easy and inexpensive and fun…how could you not go try it out?
So here we go:
Today I'm sharing with you all
how to make a fun painted wall placard
on the cheap and easy.
Let's start with what you'll need to complete this project!
Gather ye the following:
A piece of
wood.
Mine is .5inX5.5inX24in. Lowes
$3.25
Acrylic paint. One bottle runs between $.97 and $1.25 at most stores, so a total of $2.00 spent.
Brushes. Sponge brushes usually run about $1.00 for a 4-pack.
Stencils.
They run anywhere from $2.50 to $15.00. Mine were
$4.00.
Free printables are around if you Google it, or you can buy some nice printables
HERE
.
Sand Paper. I suggest super fine 220 sand paper, but if you'd like a more heavily distressed look, go for coarse. Lowes $2.50
Polyurethane (optional). I suggest using polyurethane to seal and finish the project, but it isn't totally necessary. With brush, $8.25.
The nice thing is that if you do multiple placards, the price decreases per piece so long as the other materials last (paint, etc.).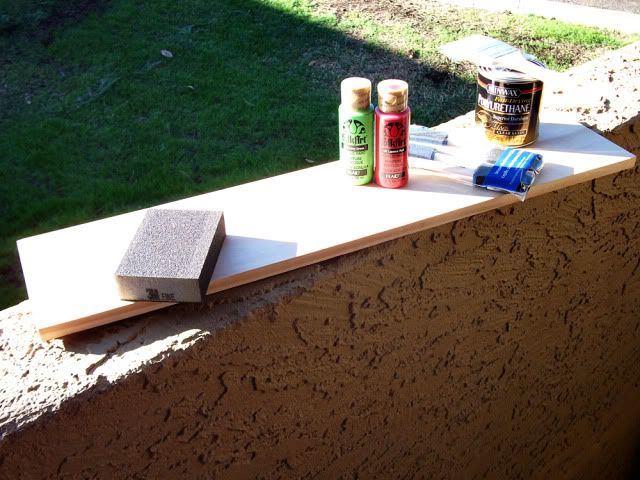 Prepare a work area by laying down some newspaper and place your board on it. Then slap on a nice coat of paint. You really only need one coat, because you want some of the wood grain to show just a little bit.

Let it dry completely, which takes about 15 minutes or so, depending on how thick you applied the paint. You can use a fan or blow dryer to speed up the process if you'd like.
Next, figure out what you want to say on your placard. I chose …YUM! because I'm putting mine in the kitchen above the stove. Super fun. Place your stencils and apply a light coat of paint. Once the paint dries, take your sandpaper and rough up the edges of the board to give it a little distressed, vintage look.
You don't have to do this, but I think it adds charm.
Now, I recommend using polyurethane if you are going to hang the piece somewhere where it can get dirty or somewhere with a lot of sun, because it will help seal the wood, make for easy cleaning and help prevent the paint from fading. Follow the directions on the can explicitly, in a WELL-VENTILATED area, because the fumes are rough. Do not use polyurethane if you are pregnant. Get someone else to do it for you, like a spouse or friend.
Apply a very light coat of polyurethane and allow to dry for at least 3-4 hours. It will look shiny and pretty. I like shiny and pretty. Once it is dry, use the super fine sand paper to gently sand down the polyurethane until it is nice and smooth. You can either leave it with one coat or apply more for a shinier, smoother look. I left mine with one because it gave it an interesting look once I finished sanding.
Hanging the placard can be very easy. I basically took a screw that was larger in width than the nail I planned on using in the wall and hammered it into the back of the wood, then pulled it out and popped it on the wall. No drilling required here!
And voila! You're done!
See, look, I'm super excited, just like you will be when you finish your project!
I hope you enjoyed my little tutorial and I hope it all made sense. If you have questions or comments, you can always ask, I promise I won't bite.
Happy Holidays, y'all!
__________________________________________________________________________

See? I told you it was the cutest! Thanks for this awesome DIY, Karly! Please go check out her blog ASAP! She just hit 100 followers, so she'll be hosting a giveaway sometime soon 😉 Don't wanna miss that!