Today my friend, Kathryn, from The Fashionography is going to be sharing some good tips with you on how to fully enjoy this beautiful fall season! Kick up your heels, grab a cup of joe, and enjoy!
_______________________________________________________________________________________________
Hey everyone, my name is Kathryn and I blog over at The Fashionography. When Chelsea did a call for guest posters, I knew I wanted to take part! It's always fun to have the opportunity to post on a blog that you read.
Since November is right around the corner, I thought what better way to greet it than to remind myself just how to enjoy the season. Here goes, everyone!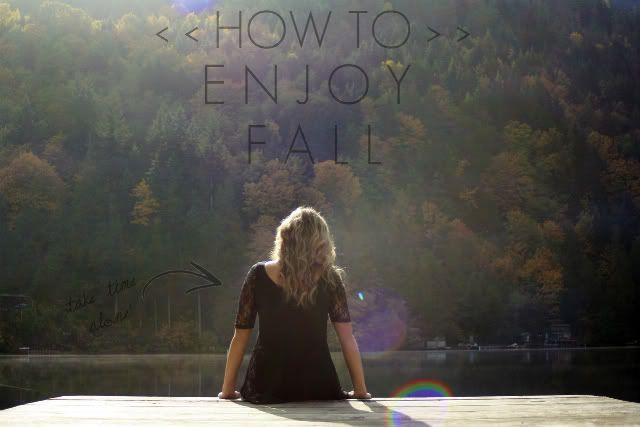 1. Take time alone! Watch the leaves fall, have a cup of coffee, or simply sit down in a comfy chair by yourself. Just take some time to be alone, to step back from the busyness of your life and the people around you, and have a moment of peace.
2. Stay in the moment. According to Costco and WalMart, Christmas is tomorrow and then New Years is a few days off, and heck, July 4th decorations might as well be out too. You know what I mean– people try and rush from season to season, holiday to holiday. To fully appreciate fall, stay in fall while it's fall. Enjoy Christmas when it's Christmas time, but revel in the beautiful fall season while you can.
3. Revisit a tradition… Has it been a while since you've carved a pumpkin? What about jumping into piles of leaves, like the good ol' days? Or maybe you haven't dressed up in an amazing costume recently. (Like the crayon that I was a few years back…epic, I tell you.) Enjoy this fall by going back to something you always used to do. It's pretty much guaranteed to have you loving the season.
4. Or create a new one. Never been to the corn maze? Get a group of friends together and just do it. Always wanted to see a scary movie on Halloween? Make this year the start of a new tradition! (Because you know, Paranormal Activity 3 is out and that's a pretty scary movie if you ask me. Perfect for Halloween night!)
5. Dress for the season. Depending on where you live, fall can be a wonderful time to play around with layers. The hot days of summer have passed, and the freezing days of winter are ahead, so now, the brisk fall weather is the perfect time to enjoy the opportunity to experiment. Try layering cozy sweaters, or wearing knit socks and boots, or cute scarves. As winter comes, the weather won't always be as flexible, so enjoy fall while you can by having fun getting dressed.
Enjoy the season, friends!
___________________________________________________________________________________________________________
Thanks for doing this adorable guest post, Kathryn! I hope you'll all go out and check out her blog. I'm a new-ish reader, but judging by my fashion sense, I should've started reading a long time ago. Her photography is to-die-for and her style boards keep me jotting things down on my never-ending wish list. You will love her!