Next up we have Emily from Nap Time is My Time. Her blog is full of fun recipes, DIY projects, giveaways and lots of blog hops and guest posts! If I'm in the mood to meet some other bloggers– which is always, I just hop on over to her blog and join in the fun!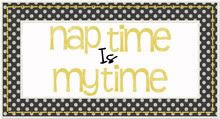 Today, Emily is giving away a freeeeeeee 150×150 ad space on her blog! What a fabulous offer! Now this is a giveaway I wish I could enter– free ad space is my favorite 😉

What are you waiting for? Enter away and get your blog noticed!
Giveaway ends at 11:59 eastern time on Tuesday, December 13th. The winner will be announced December 14th. Thank you for entering and good luck!