I saw this pretty little questionnaire on Marigold Road and thought it might be a fun way for some of my new followers to get to know me! So thankful for each and everyone of you!
1. What time did you wake up this morning?: My alarm went off at 6:30am so I could get Alea and I ready in time for me to leave for school @ 7:30am! Yay for rushed mornings!
2. How do you like your steak?: Medium rare, please.
3. What was the last film you saw at the cinema?: Water for Elephants– it's been a while!
4. What's your favorite TV show?: Parenthood… hands down.
5. If you could live anywhere in the world, where would it be?: Seriously, anywhere warm! I'm chilled to the bones here in MN!
6. What did you have for breakfast?: I'm horrible at breakfast, especially with school now. I had half a banana with my huge mug of coffee!
7. What is your favorite food?: Sour kraut. I know, I'm disgusting.
8. Foods you dislike?: Brussel sprouts.
9. Favorite place to eat: Panera, PF Changs, and any authentic Mexican restaurant!
10. Favorite dressing: Ranch
11. What kind of vehicle do you drive?: I own a Cavalier, but drive Cory's Explorer to school.
12. What are your favorite clothes?: Pretty much just the comfy ones.
13. Where would you visit if you had the chance?: Ready for a cliche? The Eiffel Tower.
14. Cup 1/2 empty or 1/2 full?: Depends on my day, but typically half full.
15. Where would you want to retire? Like I said before, WARM!
16. Favorite time of day?: Whenever my baby girl wants to snuggle.
17. Where were you born?: Minneapolis
18. What's your favorite sport to watch?: Being that Cory place baseball, I better say baseball.
19. What's your favorite fragrance?: My rosemary mint shampoo.
20. What's your favorite face cream?: Up and up brand sensitive facial lotion.
21. Favorite baby/kids product?: Target brand diapers– so cheap, so reliable!
22. People watcher?: I'm a creeper.
23. Are you a morning person or night owl?: A little bit of both. It's the middle of the day that I have problems with.
24. Do you have any pets?: Yes, a chocolate lab named Bentley.
25. Any new/exciting news to share?: This really awesome linky party hosted by myself and Lena will be starting Friday, Feb 3rd!
26. What did you want to be when you were little? A doctor, so I'm not too far off. Except maybe on the salary.
27. What is your favorite memory?: The birth of my beautiful baby girl.
28. Are you a cat or dog person?: Dog. I'm not a cat person.
29. Are you married?: Nope.
30. Always wear your seat belt?: Always, always, always. My dad always told me, "Buckle up or eat glass!"
31. Been in a car accident?: Yes, but it was with a snowbank… backing out of my parents driveway. Embarrassing.
32. Any pet peeves?: Way too many to name. Most have to do with other drivers, of course.
33. Favorite pizza toppings?: Either plain pineapple or mushrooms and green olives.
34. Favorite flower?: Tulips.
35. Favorite ice cream?: Anything with caramel.
36. Favorite fast food restaurant?: It's a tie between Arby's and Wendy's.
37. How many times did you fail your driver's test?: Zero. (and yet I still ran into a snowbank…)
38. From whom did you get your last email?: Maggie!!
39. Which store would you choose to max out your credit card?: Target… duh.
40. Do anything spontaneous lately?: Unless you count impulse buys at Target, nope.
41. Like your job?: Currently it's just being a mother and student, so yes!
42. Broccoli?: Yes please! But not raw.
43. What was your favorite vacation?: Going to Disney World on my 7th (and golden) birthday with my grandparents and aunt!
44. Last person you went out to dinner with?: Cory, Alea, and my Grandpa at Perkins!
45. What are you listening to right now?: The Hangover II playing in the background.
46. What is your favorite color?: Yellow, the color of happiness!
47. How many tattoos do you have?: Two… 🙂
48. Coffee drinker?: Yes, yes, yes.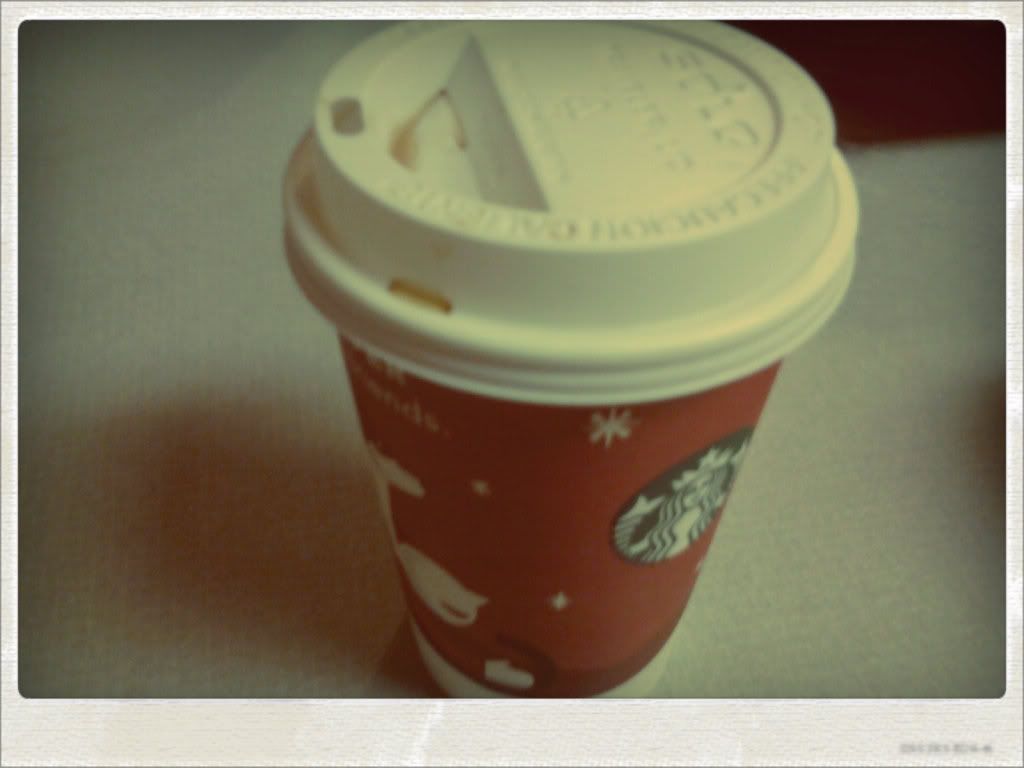 Is your name Karina Pacheco? Well, if so, you won the $20 Starbucks gift card from Up Mommy Creek! Email me within 48hrs at chelsea[dot]thom90[at]gmail[dot]com to claim your prize!