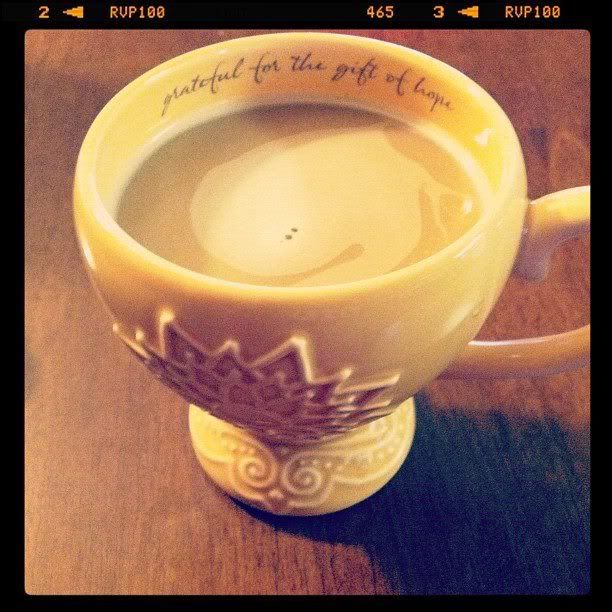 If we sat down for coffee today, I'd tell you that it's been
quite a week and it's not even Friday yet.
With two exams and a quiz to study for and take, I'm exhausted.
Alea's going to Maggie's tomorrow and I'm
excited and nervous all at the same time.
I just need to remind myself that she handles change better
than I do and she'll have so much fun!
I'd tell you that I need to slow down a little bit.
I need to stop always thinking about my next move and
the next item on my to-do list and start:
living in the moment
I'd probably tell you that I didn't do as well on my
exam as I'd hoped to, but I learned a lot from my first
big Nursing exam and hopefully I'll do better next time.
If you're anything like my boyfriend, you'd tell me that I'm
too hard on myself and 80-some percent is more than passing and acceptable.
In which I would probably tell you that I'm too hard on myself,
but that will never change. There's always room for improvement.
Then after we got all the serious blah-di-blah out of the way,
I'd tell you that I'm praying more. And working on building
more of a relationship with God.
I've never been a religious person, but I've always believed in
a higher power and I'm really starting to treasure my prayer
time throughout the day. It's calming and helps to ease my anxiety.
I'd tell you that though being a mommy is the hardest job I've
ever had, I'd trade it for nothing else in the world.
This little girl just lights up my life and my heart and
her smile (okay and coffee) is what gets me through my day.
Now tell me, what's been on your heart lately? What gets you through?
Stay a while. Grab a seat and let me pour you a cup.

2 winners:
$20 Starbucks Gift Card: Ashley
3-month subscription to Relish!: Amanda
(e-mail me asap to claim your winnings!)