Disclaimer: This is a sponsored post. I was compensated for my 100% honest opinion.
I've worn glasses for as long as I can remember. 2nd grade I think is when I got my first pair. Oh how I wish I had a picture handy to show you all. They were the biggest wire-rimmed ugly glasses you could imagine. And I believe they were purple, or had purple on them because purple was my favorite color after all! I didn't even get contacts until eighth grade, but still wore my glasses frequently.
Now today, I'm wearing my eyeglasses almost every single day. I have an astigmatism in both of my eyes so contacts are just ungodly expensive and they make my eyes dry out SO fast. Chances are if you see a picture of me, I've taken my glasses off for the shot to avoid the glare!
Now that I'm wearing glasses more frequently, I find it appropriate that I get some more glasses, so I'm able to switch it up every now and then. Did you know you can buy affordable eye glasses online from GlassesUSA.com? It's true. Not only are they affordable, but they also offer 110% lowest price guarantee and a 100% satisfaction guarantee as well. The satisfaction guarantee is a huge plus in my opinion, considering you don't physically get to try them on till they reach your door-step.
They also have a fun try-on feature in which you can virtually try on glasses to see how they might look on you. I had a little bit too much fun with this feature! I don't think I'd look too bad in a cat-eye frame, what do you think? If you choose to buy glasses online, I think this is the way to go!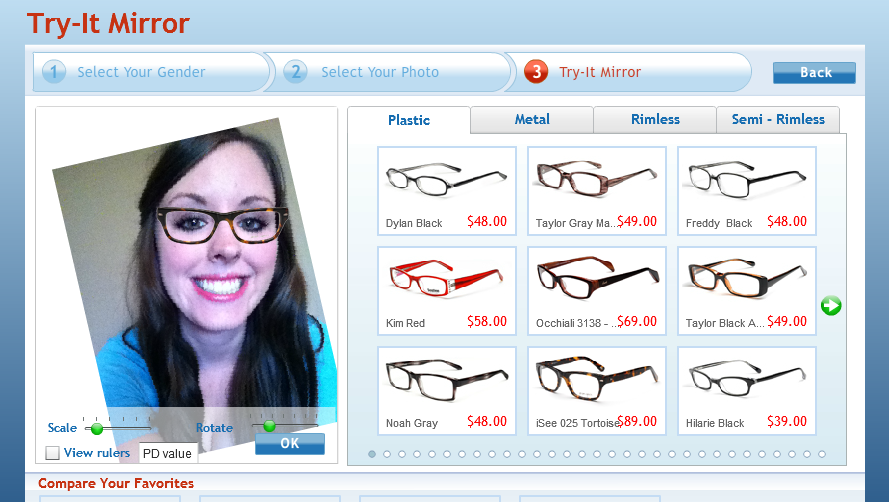 Try it for yourself! It's way too fun!

Glasses USA is offering you each 10% off your order today by using the code: Blog10. I hope you'll give them a try! You can also follow them on Twitter @GlassesUSA and on their Facebook page
here
Thank you to GlassesUSA for sponsoring this post. I was compensated, but the views expressed above are all my own.