You may not know this, but we have an orange kitchen. When we bought our house, I couldn't get over my love of beige, in every possible shade. I wanted neutral, ordinary, and something that would go with everything. Cory had other plans, however. Like he wooed me and made me fall in love with him, he also made fall in love with burnt orange. The perfect autumn orange. That burst of color we slathered all over our kitchen walls has become my sanctuary & a little reminder that sometimes it's okay to break out of your comfort zone and try a little something new.
In this bright & cheerful kitchen however, are some very drab and very used dishware, pots & pans, and kitchen utensils. We've been so blessed to be handed down all of these items from family members, but they're quite depressing to look at amongst the sea of orange and bright colors. So now, I'm looking for some fun new additions and replacements for our favorite space from World Market.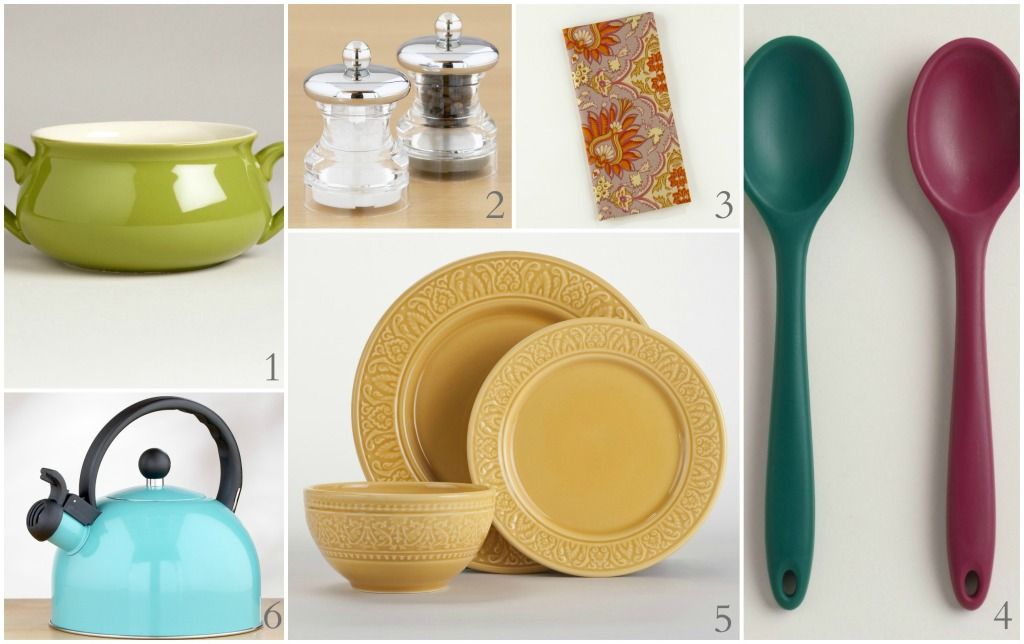 1.
chive double-handled soup crocks
2.
salt & pepper set
3.
gilded garden napkins
4.
fall-colored silicone spoons
5.
amber collection dinnerware
6.
aqua tea kettle
Aren't these wonderful? I'm loving all the bright, but subdued fall colors. The tea kettle is a must have for those brisk fall days where nothing sounds better than a hot cup of tea. That soup kettle is an absolute must for Cory's fabulous chicken tortilla soup that I've been dying for lately & don't even get me started on those mustard yellow dishes. Oh and those salt and pepper shakers? Yeah, we just really need new ones. But what better place to look than World Market, right?
Speaking of World Market, they're have this fabulous sweepstakes going on right now:

This sweepstakes runs from August 18th to September 21st. You can also share this sweepstakes with up to 5 of your Facebook friends to gain up to 5 additional bonus entries. Enter daily to better your chances of winning!
You can also follow World Market here: Facebook, Twitter, Pinterest, & Google+.
This post is part of a social shopper marketing campaign with Pollinate Media Group, but all opinions stated above are my own.