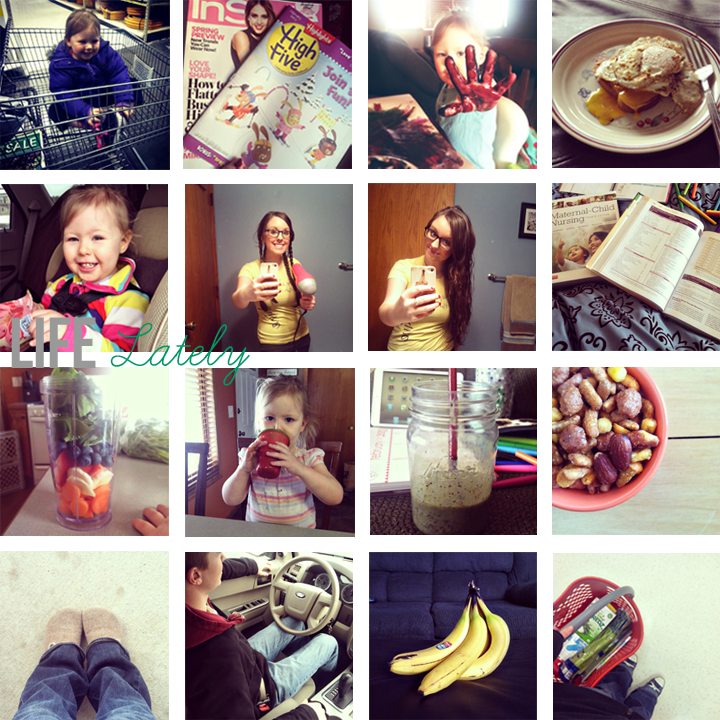 Two weeks has gone by already since the last life lately post? Really? Somebody pinch me or find a way to slow down time a bit– goodness! I began last week with going back to school and Alea starting at a brand new daycare. Drop off on her first day went incredibly well. She barely turned around to wave good-bye before running off to play with the other kids. Yep, I cried and she didn't shed a tear! Go figure!
I learned a fun new way of doing my hair– 4 braids & a blow dryer! Incredibly easy, although I recommend sleeping on them rather than holding a blow dryer up to your head forever. I'm crazy impatient though, so maybe you could handle it!
We also renewed our love for smoothies & Cory decided to freak me out by driving with his knee. I think I approve of the smoothies a little more than the latter. I'm really excited about these fruit & veggie smoothies we've been making. You'll see a little recipe of our favorite on the blog soon, but lately we've been making some pretty interesting concoctions! Alea and I went and picked out a variety of frozen fruit and she loves putting a little bit of everything in hers along with spinach & carrots. And even better? She now eats frozen blueberries like they're candy!
Even though Alea's eating all kinds of fruits & veggies now and having a good ol' time at daycare, she's currently a little under the weather and must have caught the bug that's been flying around. She woke up with a nasty, hoarse cough the other morning, is extremely congested and has been running a temperature as well. Lots of prayers for a healthy baby, please? And also that it doesn't make it's way through the rest of the family. –That reminds me, I better go wash my hands!
P.S. I have a heck of a time making photo collages in Photoshop. There's got to be a better way, right? Any tips?
linking up with life on leroy & the weekend file.

Take a moment to check out this month's featured advertisement: