10 Ways to Feel More Beautiful
1. Dye your hair: it'll help freshen up your look and revive your self confidence.
2. Treat yourself to a haircut: even if it's just a trim.
3. Workout: getting sweaty might make you feel more in need of a shower than more beautiful, but the endorphins will make you feel on top of the world.
4. Get dressed: and not into sweatpants. Be intentional and search your closet for an outfit that will make you feel beautiful.
5. Give yourself a manicure: then every time you look down at your beautifully painted nails, smile!
6. Spend an extra 5 minutes in the shower just soaking up the warmth and the steam.
7. Try a new hairstyle: I found great results with the friar tuck— you should try it, too!
8. Make yourself a healthy meal
9. Get yourself your favorite coffee: recharge your body and your mind.
10. Drink more water: nothing will make you or your skin more beautiful than being hydrated.
All of the methods listed above are tried and true. I completed them all as apart of the 10 Days to Beautiful challenge. I treated myself to a mani/pedi at home, fully enjoyed that extra time in the shower, and drank every last sip of the healthy smoothie I made for myself. Sometimes we spend so much time worrying about the ones around us and providing for them, but it's all about being intentional and showing ourselves love as well. I hope that you find little ways to make yourself feel more beautiful throughout your day!
Algenist & I are going to jump start that beautiful with a little giveaway. After using Algenist's Concentrated Reconstructing Serum for 10 days, my skin has never felt softer or more supple. I know I'm only 22 (I'll be 23 in 17 days!), but starting an anti-aging regime is very important. Why not get a head start on those pesky little under-eye wrinkles and smile lines, right?
Prize:

One of you will win a full-size bottle of Algenist's Concentrated Reconstructing Serum. ($95 value)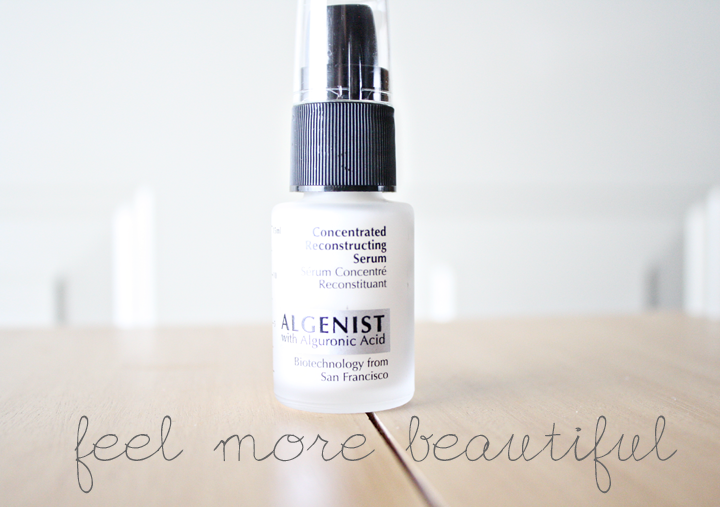 a Rafflecopter giveaway
This post is sponsored by Algenist. I was provided product for review + compensation for my time. As always, all views expressed are my own.
Click below to visit this month's featured sponsor: