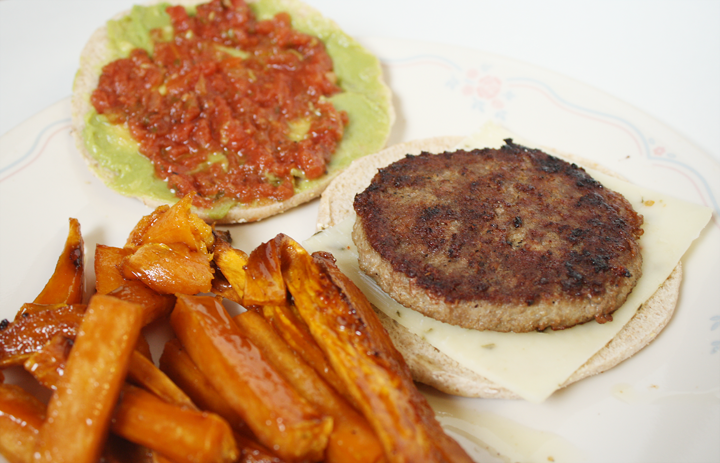 My Perfect Turkey Burger
1. Sandwich thins
2. Jennie-O Turkey burger patty
3. Swiss Cheese
4. Wholly Guacamole Spicy Guacamole
5. Wholly Guacamole Classic Medium Salsa
6. And a side of homemade sweet potato fries!
I really loved the spice that came with both the spicy guac and the medium salsa. The heat complimented my turkey burger perfectly and I loved how easy this meal was to prepare. I invited my mom over for the day and decided that would be the perfect time to try out these yummy products. She not only loved that I treated her to a yummy meal while she was here, but absolutely loved the Wholly Guacamole and the ease of cooking the already formed Jennie-O Turkey burger patties.
Wholly Guacamole has lots of delicious products ranging from their signature guacamole to salsa to even queso dip now! I'm absolutely dying to try their mango salsa, but all their salsa varieties are delicious. I like a little bite to my food, but if you're more of a mild fan, their mild salsa is just as fresh and chunky as their spicy varieties.
I was also excited to hear that Jennie-O Turkey has a Jalapeno Turkey Burger available at Walmart through the month of March. I wasn't able to find it at the Walmart we visited, but I plan on going to the one in the next town over to seek out these turkey burgers. They look and sound incredible. I love that turkey burgers + ground turkey have significantly less fat than the hamburger variety. It makes me feel a little less guilty indulging in a juicy cheeseburger every once in a while!
What do you think? Will you make the Switch to Turkey?
What You Win:
-4 Wholly Guacamole Coupons for free product
-2 $5 off Jennie-O Turkey Coupons
-Meat thermometer (to make sure your turkey is perfectly done)
-Lots of other fun promotional items!
———————————————————————————————————————————————————
Click below to visit this month's featured sponsor: