It's true. I really have some of the best sponsors around. I'm always trying to dream up a fabulous giveaway for you guys with them and this month I decided that Old Navy would be perfect! We're (hopefully) transitioning into that crisp smelling spring weather that we all long for during those cold winter months & it's the perfect time to start stocking up on some spring and summer clothes! And what better place than Old Navy, right? We have an Old Navy within minutes from our house… it's dangerous. And I've already been scoping out things for my wishlist! My hopes are that with this generous giveaway from my sponsors & I you can stock up your spring and summer wardrobe with all kinds of new pretties! I hope you enjoy!
(Does anyone really read those little blurbs before giveaways anyways?)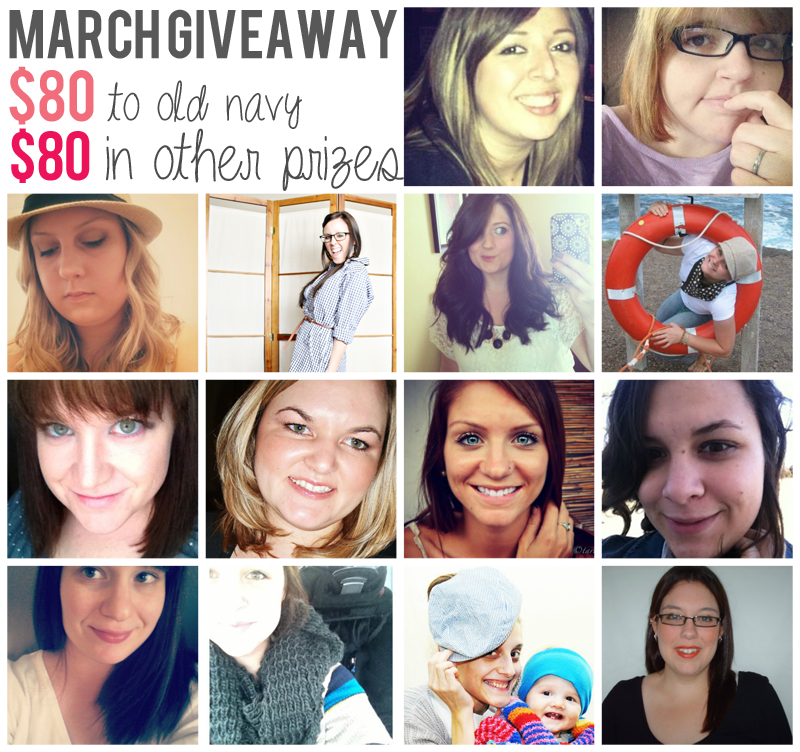 Visit all these lovely ladies & tell them thank you for being so generous! —
One Haole Girl
,
Songbirds + Buttons
,
Life with a Side of Coffee
,
By the Porchlight
,
Crazy Lovely Me
,
Art By Jacy
,
Pickle Doodle Designs
,
Perfectly Jenn
,
Unintentional SAHM
,
Love Emmie
,
K Plus J Equals Love
,
Hayley's World
,
Life in a Breakdown
, and
Sweets & Shutterclicks
!
Giveaway:
– $80 to Old Navy
– $30 to Pickle Doodle Designs
– Infinity scarf of your choice from Ooh Baby Designs
– 2 months of ad space from One Haole Girl
– Large ad space from Life with a Side of Coffee
GOOD LUCK!
ALL ENTRIES WILL BE VERIFIED. IF YOU ARE NOT HONEST WITH ONE OF YOUR ENTRIES, ALL OTHERS WILL BE DELETED.
a Rafflecopter giveaway
Interested in joining next months giveaway? Check out my sponsor page for options & prices: click here!
There's also time left to enter the Eddies Shoppe $25 Shop Credit Giveaway and my Chobani Champions Giveaway!
Click below to visit this month's featured sponsor: