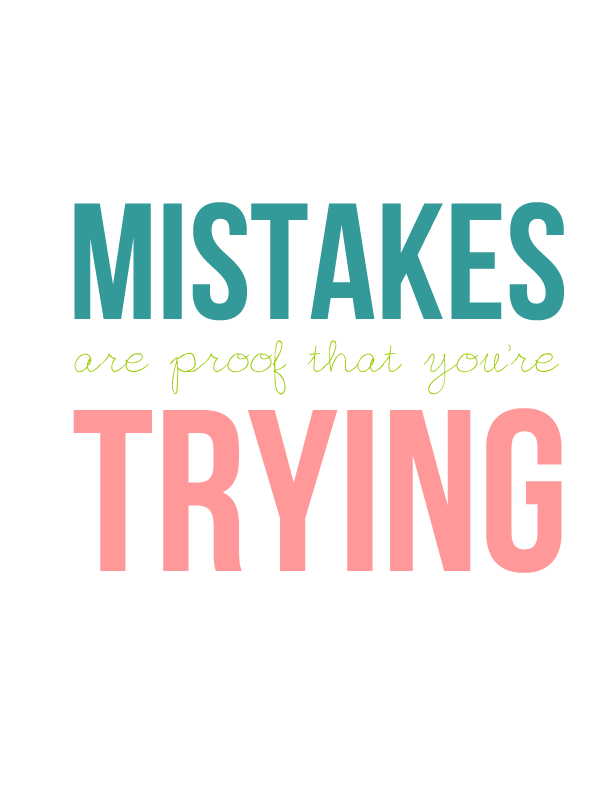 (Right click & "save as" to save this printable to your computer.)
I'm going to get real with you guys today.
Really
real. Growing up, I always felt like I couldn't make mistakes. I couldn't mess up. I couldn't disappoint. I could always do better, but no matter what it, would never be good enough. Nothing was "perfect" and I sure as heck wasn't either. I was scared to take risks and to put myself out there. I was scared to try new things & be in unfamiliar situations. I was scared of what people thought about me and what people would say about me. Everything I did and every where I went, I felt like someone was looking over my shoulder ready to point out the negative. And point out my mistakes.
And today? The truth is, I still feel that way sometimes, but I'm working on it. Cory and I were just talking the other day about how much my self-confidence and self-esteem as grown since him and I started dating. And it's so true. Nursing school helped too. And I really think blogging did as well. I'm not as afraid of new situations and I now try and embrace them with arms wide open. I try and remember to hold my head up high and keep my shoulders back and laugh at my mistakes instead of letting them bring me down.
Why am I pouring my heart out to you and telling you my sob story? Because I don't want to repeat it. I don't want Alea to think that her best isn't good enough. I don't want Alea to be scared to try something new for fear of failure or ridicule. I want Alea to be all that she can be and know that it's okay to make mistakes. I want her to make mistakes and embrace them.
After all, mistakes show that you are trying.
Click below to visit this month's featured sponsor: