>>>>> I think the rest of the snowy America is with me when I say: I am so freaking sick of all of this snow. Did I really just hear a "tell me about it" through my computer screen? It's pretty sad when the temp warms up to the early 40s and people start wearing just a sweatshirt and opening their sunroofs. Gosh, at that rate, when it hits 50 I better break out my flip-flops!
Alea and I were feeling rather cooped up the other day and I was ready to crawl in bed with her and snuggle up to some Sesame Street when I decided enough was enough. We were NOT going to spend another day cooped up in the house. We were going to strap on our rain boots, put on our hoods if we had too and stomp in some puddles!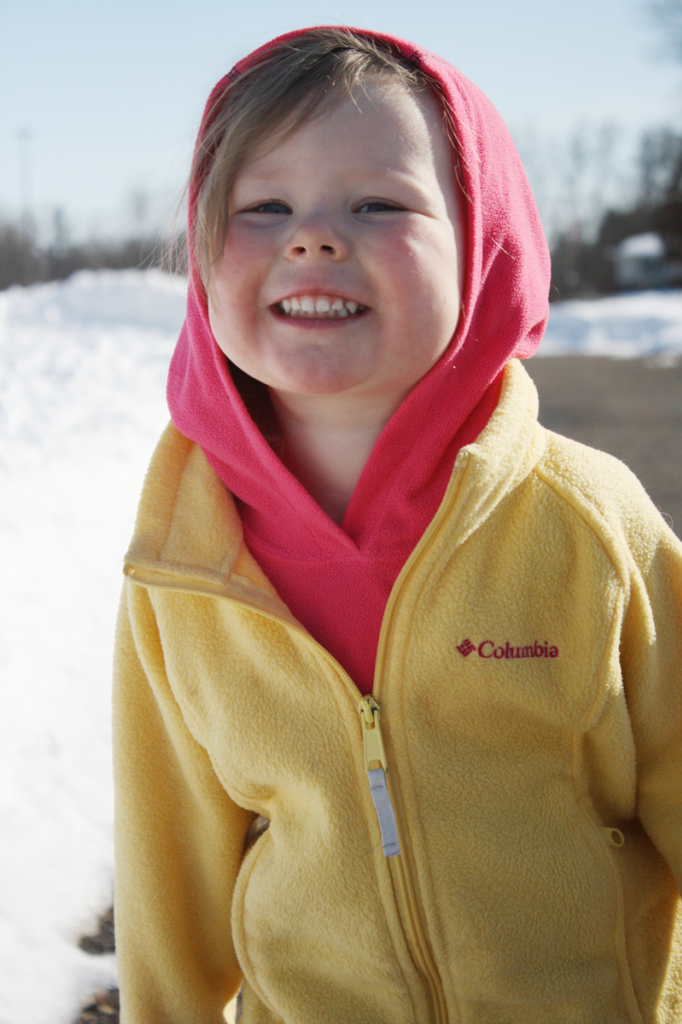 And that is just what we did. I've never seen such an ear-to-ear grin on little Alea's face. After she got over the initial shock that I was encouraging her to get wet and stomp in dirty, muddy puddles, she had a good ol' time! In fact, I think this might have to become a weekly or more often than weekly occurrence. All the splashing, giggling and vitamin D boosted our moods and spirits, even if there is still a
ton
of snow on the ground! So what are you waiting for, grab your rain boots & go splash in some puddles. Who cares if you come home soaking wet. Grab a cup of hot cocoa and take a warm bath! That's exactly what Alea did!
It's that time again! Time to think about what blog's your sponsoring in April & growing your blog! I'd love to help you & have been getting so many fabulous reviews from this month's sponsors. I'm really, really excited about what April will hold for Sunny with a Chance of Sprinkles and would love to have you for another exciting month!
—–
March Stats:
as of 3/27
March Page views: 20,100+
Daily page views: 500-900 700-1400+
GFC Followers: 1391 1581+
Bloglovin subscribers: 112 431+
Facebook: 1026 1244+
Twitter: 1607 1889+
Pinterest: 761 970+
Instagram: 708 867+
YouTube: 88+ subscribers
Klout score: 62
—–
Also, I know I haven't mentioned it on here yet, but Google Reader will cease to exist come July. If you follow along on Google Reader, I'd love more than anything if you'd follow me on Bloglovin!
And I know the numbers fluctuate quite a bit, but I also noticed that Sunny with a Chance of Sprinkles is the #6 Up-and-Coming Family Blog! I know numbers aren't everything, but that's something I never in million years expected to see from this blogging journey I set out on almost two years ago. I love you all!
And one more thing, I have some pretty exciting news to share with you soon. I know it's torture — for me too — but you might have to hang tight until next week. It'll be worth it, I promise. I'm excited to share some fun stuff with you in the coming months!
(And no, I am 110% NOT pregnant!)
Linking up here, here, here and here
Click below to visit this month's featured sponsor: