Recipe:
–2 cups of Minute Instant Brown Rice
–1/2 cup dried cranberries
–2 eggs
–2 cups of sugar
–1/2 cup of milk
–1/4 tsp vanilla
–1/2 tsp cinnamon
–pinch of nutmeg
Instructions:
1. Preheat oven to 375 degrees Fahrenheit.
2. Whisk two eggs in a bowl.
3. Stir in the rest of the ingredients.
4. Fold the mixture into a small baking pan or dish.
5. Bake for 35 minutes until bubbling and thick.
Let mixture sit for 5 minutes or so to thicken and serve warm.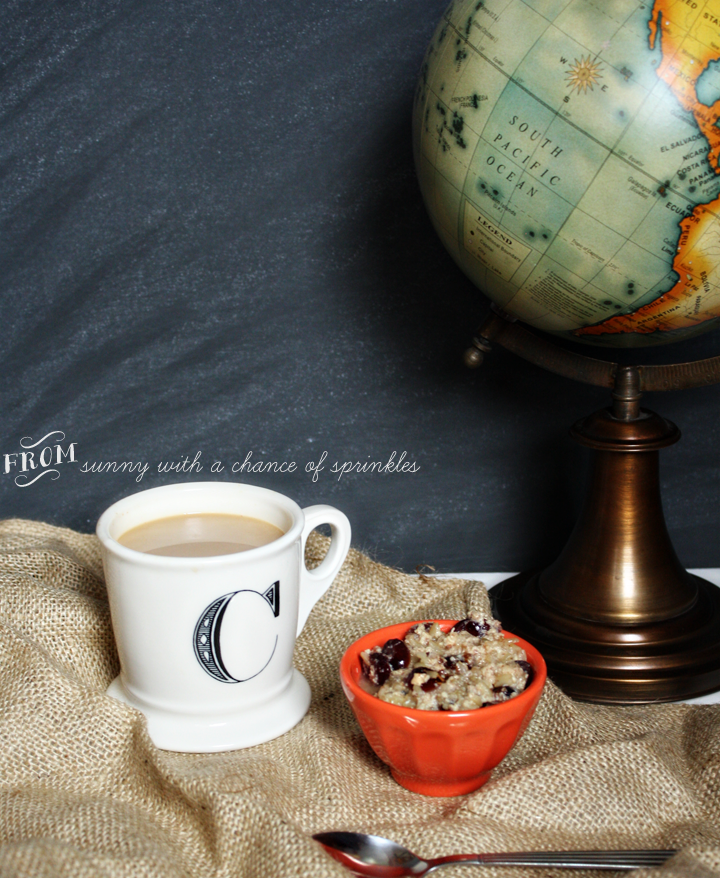 This meal was just too easy to create with
Minute's Instant Brown Rice
. It all came together in maybe 5 minutes and then while it baked in the oven I was able to sit down and do a craft. It worked so well with my busy schedule while also providing us the craving for our insatiable sweet tooth. I also felt not-so-guilty about this rice pudding, being that we were getting some great antioxidants from the cranberries as well as lots of fiber from the brown rice. That cancels out the 2 cups of sugar, right?
Paired with a hot cup of coffee it made the perfect afternoon snack and pick me up and Alea enjoyed every last bite of hers with a glass of milk! I think this would make the perfect dish to share at various get togethers with your friends and family or it's easy to throw together quick for an after dinner dessert one night. Quick and easy is the name of the game, my friends. Next time I make this, I'd love to mix it up and use a little less white sugar so I can add some brown sugar and see how that tastes. That's one thing I just love about cooking and baking– taking a recipe and making it my own or figuring out ways to make it even better!
What's your favorite "better for you" sweet treat?
—–
Minute® Ready to Serve Rice is an ideal portable solution for lunch or breakfast because you can eat it on the go, straight from the cup. In just 60 seconds, you have fully cooked rice for any meal or snack. You'll never get bored with your lunch since there are 10 flavorful and wholesome varieties. If you're looking for a healthy option, Minute® Ready to Serve Rice provides easy portion control since it's conveniently packaged in two individual single-serve cups.

Visit Minute Rice for recipes, including Minute® Ready to Serve Stir it Up recipe ideas and more information about the Minute® Rice family of products.
This is a sponsored post written by me on behalf of Minute® Ready to Serve Rice.
—–
Click below to visit this month's featured sponsor: