I'm so excited to share with you our brand-new laundry routine. It includes some wonderful new eco-friendly and natural products that not only make laundry pretty, but something I actually look forward to doing now. I love these Honest Company products because they're way better for my family and way more convenient than making my own detergent — which is something I was almost going to resort to.
We're lucky enough to not have too many sensitive skin issues within our family, but I just can't help but think about all the chemicals that are left on our clothes when using our old detergent, old dryer sheets, and old stain remover.
Okay, so maybe there's a couple steps after these steps, but you really can't simplify the whole folding + putting away part. Unless you get a maid. And along with a maid, a disposable income, because word on the streets they're getting spendy. Sorry.
1. Spray any stains with The Honest Company's Stain Remover. Spray, gently rub the stain + then let the spray soak for 5min. (This stain remover gets out tough stains like coffee + grass!)
2. Pour up to the first line in the cap for small loads or up to the second line for larger loads of The Honest Company's Laundry Detergent. And then put your clothes in the washing machine.
3. Place clothes in the dryer with one of The Honest Company's Dryer Cloths. Remember to save the dryer sheet to reuse in your second load of laundry!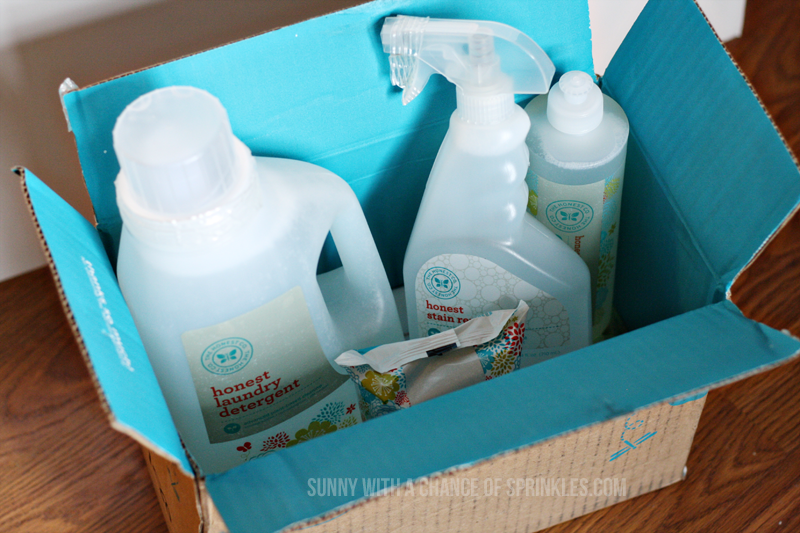 Talk about happy mail! I may have squealed a little bit when I saw that pretty blue printed box sitting on my doorstep when I came home from school the other day. It arrived very quickly, too! The day after I placed my order I received confirmation that my order had
shipped
! I was shocked! And then it arrived within 3 days of my shipping notification. There's nothing worse than waiting a week for a package to come, am I right? So it was definitely a plus that it arrived so quickly! All of the products were sealed up and there was no leaking– this was one of my concerns, especially since it's still so cold in Minnesota.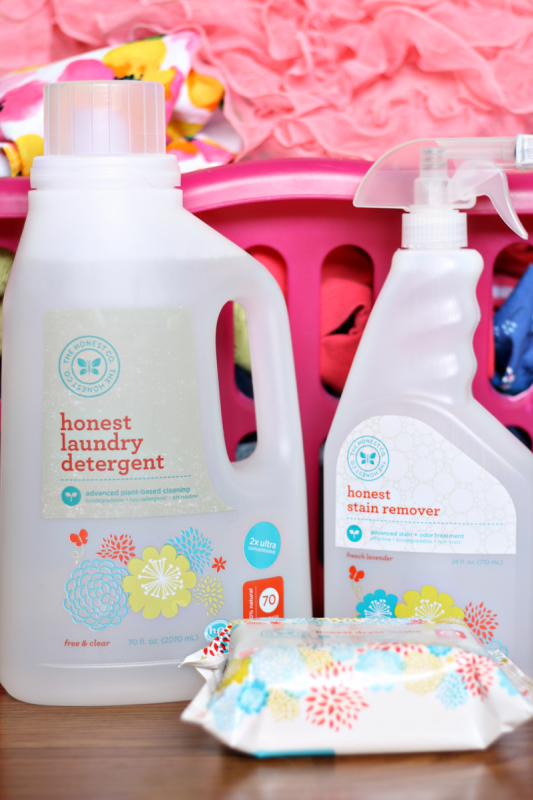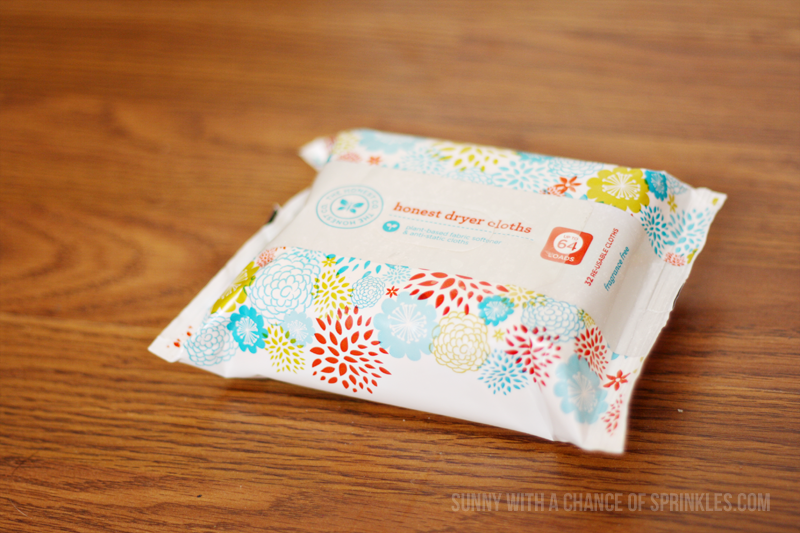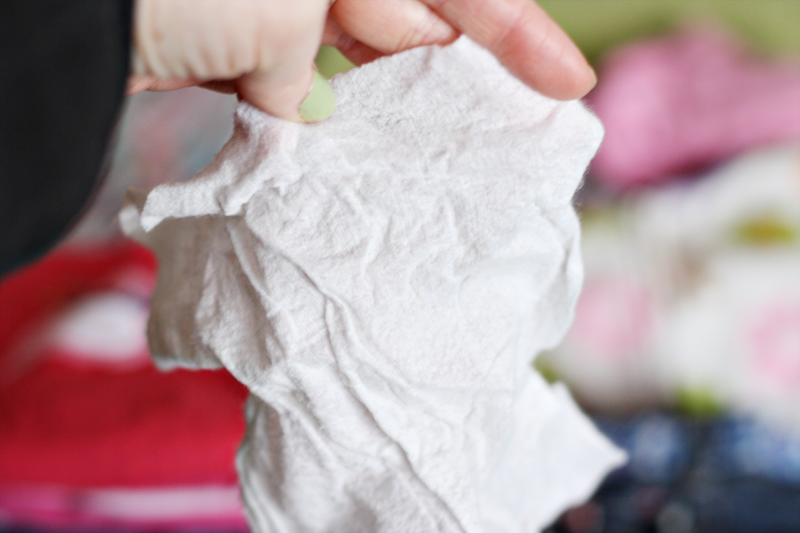 I have to say that out of all the products I used, my favorite were the dryer cloths. They're unlike any dryer sheets I've used before! They're actually slightly moist, kind of like baby wipes, and you can reuse them! There's 32 wipes in each package, but since you get to reuse each wipe one time it doubles the size of the package! Isn't that great? I don't know about you, but we're always looking to save money where we can + this certainly helps us do so!
As a bonus, I also decided to try their dish soap. I posted my excitement here on Instagram after discovering how well it actually worked! You see, I'm a good cook, but sometimes I forget crucial steps. For example, spraying the pan before putting in the rolled up tortillas for my enchiladas. As you can guess, I was left with a baked-on mess afterwards. So I decided to put The Honest Company dish soap to the test! After a little squirt, and letting it soak in water for a couple of hours, I went to rinse out the baking dish expecting to have to do a little scrubbing. However, I was pleasantly surprised when I poured out the water, the once baked-on enchilada mess slid right out into my sink with the water! Aside from sweet baby snuggles + smiles, there's really nothing that makes a mama happier!
Why you, too, should make the switch to The Honest Company:
1. They donate their time, money, and products to Baby2Baby.org. Not only will you be supporting a trustworthy & honest company, but by supporting them, you'll also be supporting those in need. Supporting charities is something that I'll admit I don't do enough of, but knowing that every order I place with The Honest Company is like making a charitable donation as well makes each order even better!
2. Just as their name says, they're an honest company looking to better our environment with sustainable and earth-friendly products. To further prove this fact, they're part of the Certified B Corporation which aims to perform and create better business practices while looking out for the general welfare of our people + our environment.
3. With only natural ingredients and no harsh chemicals, it's the safest for your family and for your home. Just think, when you're washing your clothes in a regular detergent, some of that detergent inevitably stays on your clothes. The chemicals that are left on your clothing are not only bad for your clothes, but they're also irritating to your skin. The first thing I'd say for those of you with sensitive skin is to switch out your laundry detergent + transform your laundry routine into a more natural one + I'll bet you'll see a noticeable difference!
4. It's convenient! The best part about The Honest Company (besides the natural ingredients and better business practices of course) is the fact that you can bundle your household items or diapering items and schedule them to be delivered each month! No one likes to run out of diapers and wipes or toilet bowl cleaner, right?
Sign Up for Your FREE Trial:
The Honest Company wants to prove to you that they're brand is the right one for you + allows you to try their products before you buy them with little bundles to fit your lifestyle.
Which bundle are you going to sign up for?
Special discount for new customers: Take $10 off your $40 purchase using the code Pollinate$10off$40. (Expires May 1, 2013).
Visit The Honest Company website.
Follow The Honest Company on Twitter.
Like The Honest Company on Facebook.
Read The Honest Company blog.
Follow The Honest Company on Instagram.
Follow The Honest Company on Pinterest.
"This shop is part of a social shopper marketing insight campaign with Pollinate Media Group® and The Honest Company but all my opinions are my own. #pmedia #NaturallyHonest http://cmp.ly/3/8vNxcO."
Click below to visit this month's featured sponsor: