In the midst of all this weather (and all that anger in the video… sorry about that!) I've been trying to create a little zen in my life. Starting today, it's going to get pretty stressful. I have my pediatric home care observation and then another paper to write after that and as soon as that's done it'll be time to hit the books and study. Creating a calm + inviting study space is just what the doctor ordered and I know it's what I'm going to need to keep me sane.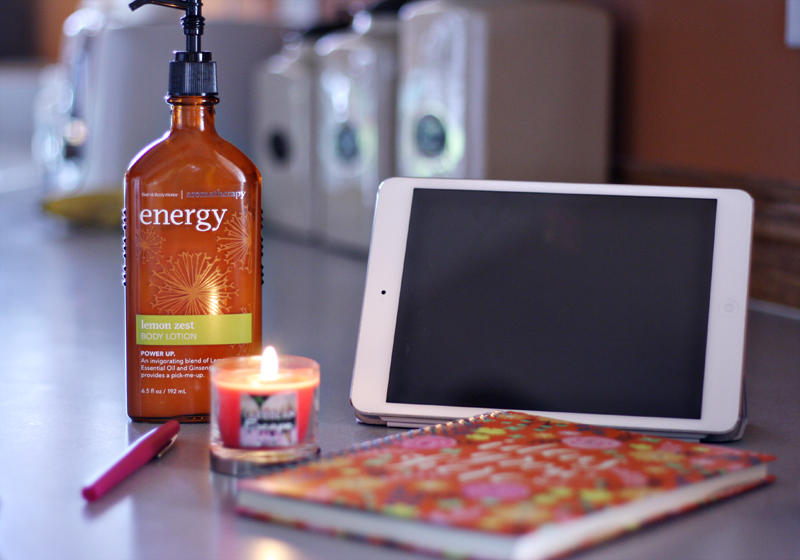 5 Things for my Study Space:
An iPad: for Netflix or Hulu Plus… or for an emergency distraction for Alea.
A notebook: i'm forever thinking of blog post/collaboration ideas while I'm studying, so a notebook is a necessity.
Bath + Body Works Energy Aromatherpy lotion: I swear by this stuff. It gives me the energy to keep studying.
Pretty pens: to write down all of my crazy ideas + write notes.
A candle: Preferably one that smells like summer.
Though I'm not looking forward to anymore snow or a weekend full of studying, I'm still thankful for my family, our health and that we're together. My heart goes out to all of those that are hurting in Boston + Texas right now. I'm hugging my little one and my honey a little tighter today and from now on. Life is just too short.
What are you all up to this weekend? Please tell me it's warmer where you live!
Linking up with Rags to Stitches and From my Grey Desk.
Click below to visit this month's featured sponsor: