There's nothing that breaks my heart more than when my little Alea Lou is sick. I know that kids will be kids and there's going to be plenty of more sick days for Alea, but it's just hard. It's hard to see her so sluggish and tired and to see your child throw-up just hurts my heart so much.
It all started Friday when Alea woke up several times throughout the night. I wasn't really sure what was up, but I certainly felt the fatigue myself that morning. I proceeded to go to my presentation at the local elementary school while Alea stayed home with daddy and when I came home my pretty little girl decided she did not feel so hot. She kept pulling at my leg telling me she had gas bubbles in her tummy. I was in the middle of scouring our cupboards and making our grocery list, so I kind of just down-played it, because she usually only says that when she wants her gas medicine… because it tastes yummy.
However, then she proceeded to tell me she had to throw up. You know you're a mommy & a future nurse when you immediately grab your child's hand with one hand and cup their mouth with the other. Yes, she puked in my hand and no it didn't even phase me! All I know is that I didn't have to clean it up off the floor– that probably would've bothered me more!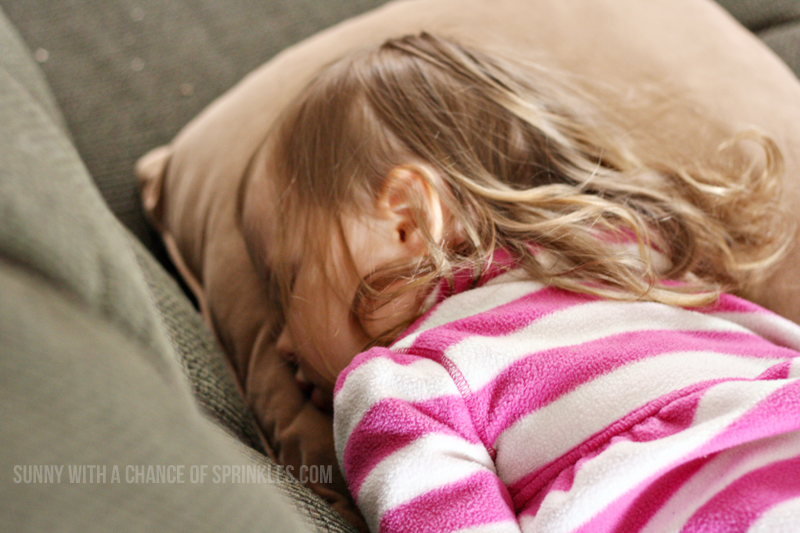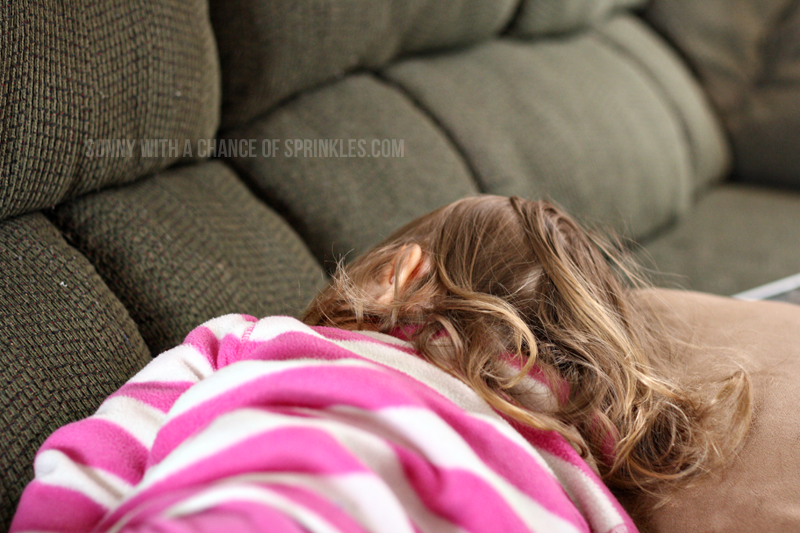 Then I knew that she really wasn't feeling well when I was sitting on the couch catching up with some blog stuff & she was on the other couch playing on her iPad. I looked over & saw that the iPad was above her head, but she was no longer watching it, but instead she had curled up on the pillow and fell asleep. It was just about the sweetest thing… especially coming from someone who naps very, very rarely.
But as I'm looking at my sweet Alea all snuggled up, snoozing away, I can't help but be thankful. While she is sick and I know she obviously doesn't feel well, she's healthier than a lot of kids out there. We haven't had to deal with more than this and an ear infection throughout her three years of life and for that I am so, so grateful.
Just a little 24hr spout of a stomach bud, increasing her water intake, and pushing the chicken noodle soup & toast? That I can handle. My heart goes out to all the mommies and daddies who have to spend nights with their babies in the hospital. I just wanted to let you know that I took these quiet moments to myself to think about and pray for your little ones.
Click below to visit this month's featured sponsor: