A recap…
Life is pretty stinkin' busy around here. After recovering from two un-pinterest birthday parties for Alea I'm spent, but ain't nobody got time for that… school's going to be crazy and I'm thankful for so many awesome opportunities coming up for this blog of mine. I have lots and lots and lots going on with school and the blog and life and I may be asking for a little assistance. If you have a guest post in mind, can talk high quality (preferably 700-800px wide) pictures, and would like to take over my blog for the day, I'd be oh so very grateful! (Find my e-mail here!)
And a big big big thank you to my adorable nursing friends, Rachel & Jessica for my cute new coffee thermos. I still crack up every time I look at it!
5 Things I'm Loving…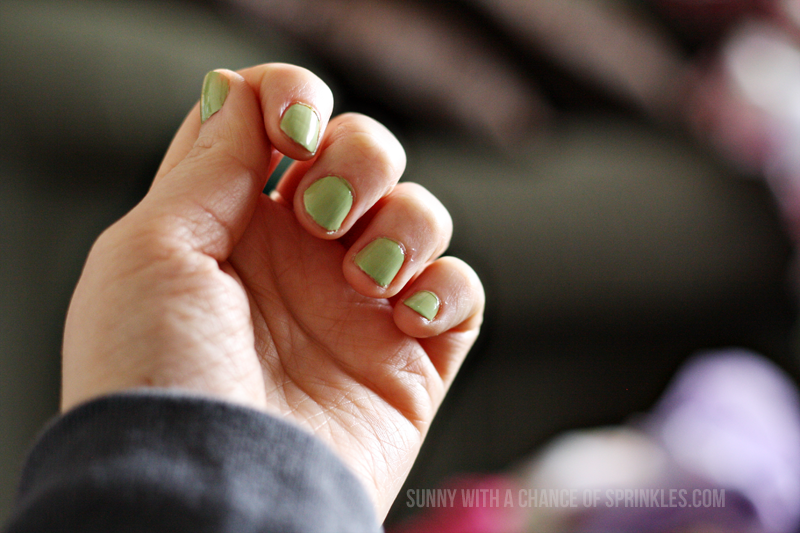 1. I'm loving coffee out of my
green anthro
mug. Because I love coffee. Who doesn't? Coffee + Anthro mug = even tastier coffee. I'm not good at math, but I'm pretty sure that's how it works. Check out yesterday's post for a mini-tutorial on
a chalkboard mug
to gift to your mama for mother's day. As long as your mama likes coffee that is.
2. Mint green nails in Essie's Candy Apple. I had to do it. I honestly never paint my nails, but yesterday it was needed. 3 or so inches of snow in APRIL does those kinds of things to you. We're talking mint nail polish, wearing flip flops around the house and leaving the blinds closed so as to not depress myself with the view outside.
3. Garnier Frutis' Hydra Recharge has completely changed my life. And I'm not just saying it because I got it for free. I'm saying it because it's TRUE. My hair gets really dried out really easily, especially if I straighten or blow dry it too often. And dry hair + winter = static. (There I go with the math again.) But honestly, it's really been a lifesaver for my hair & my hairs been feeling all kinds of silky smooth since I started using it!
4. I love finding Alea's little choo-choos throughout the house. I almost stubbed my toe on this little guy, but smiled when I look down and saw him in the middle of our kitchen. There's just something about seeing toys around the house. Sometimes it's a little stressful because it's just a mess that I'll have to clean up, but sometimes it makes me smile– because that toy lying in the middle of our kitchen is the product of a fun little play time for Alea.
5. I've become slightly obsessed with the Green Giant's Veggie Snack Chips. I don't even feel that bad about eating them, because they're multi-grain and contain 40% less fat than regular potato chips and lots of veggies! Yep, I'm sold. And I even shared with Alea!
Did you notice the pattern? It's been a week of yearning for the color green. I can't help but yearn for green and for life and SPRING when we've probably had a total of 5″ of snow in the past two days. Yes, I'm complaining about the weather again. But I can't help it! Snow does not belong in the month of April!
What would be your color this week?
Linking up for: Coffee Date & High Five Friday & Falling for Friday!
I received both the Garnier Frutis Hydra Recharge products + the Green Giant chips through BzzAgent.com. I was not paid for my review, but received products in exchange. All opinions are my own. #GotItFree
Click below to visit this month's featured sponsor: