Happy Birthday to you. Happy Birthday to you. Happy Birthday Dear Alea, Happy Birthday to you!
On this day 3 years ago at 6:19pm I gave birth to a beautiful, pudgy little 8lb 6oz baby girl. You were a stubborn little thing from the day you were born and decided to hang out inside mama for an extra 6 days. And though I know for a fact I didn't feel this way at the time, now I'm thankful for that extra time we got to spend together.
You're three years old today Miss Alea and this mama can hardly believe it!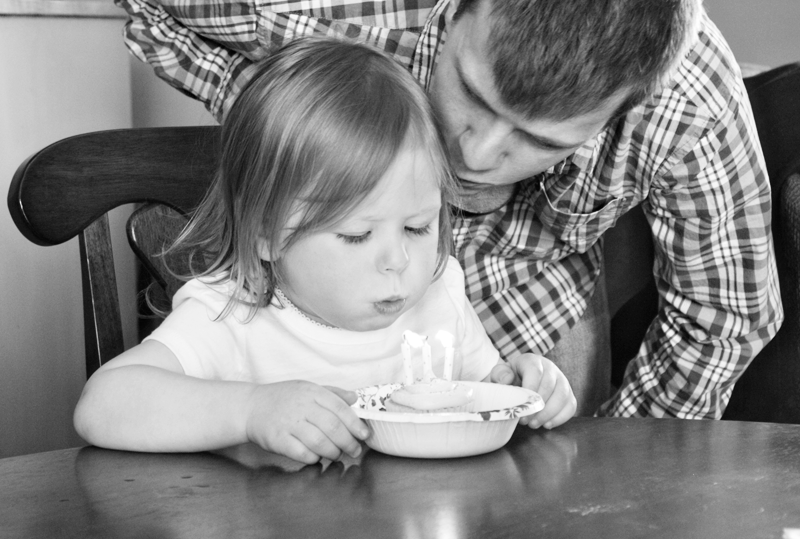 Side note: This is the first year we haven't had to restrain her so she doesn't grab the flames. Guess she's grown out of the pyro phase?
You're a spunky little ball of energy with an imagination I just can't even believe sometimes! You play so nicely with your princess castle and love to be outside. Your favorite words are "why" and "how" and you're always questioning everything around you. You can count to 15 without assistance and to 20 with some encouragement. You know all of your letters, upper and lowercase and you can even spell your name! Thank goodness you got your brains from your mama, huh?
Your favorite color changes with each day of the week and your favorite movie is a toss up between Peter Pan and Tangled. You love dancing around the living room or singing along in the car to The Laurie Berkner Band and finger painting is your favorite craft.
You love peanut butter and jelly sandwiches and ask for "Chobani" yogurt by name. And this year you progressed from being potty trained to 100% diaper free! And now you're moving up from a toddler bed to a big girl bed for your birthday!
Mommy & Daddy love you so, so much and we're so excited to celebrate this special day with you!
Click below to visit this month's featured sponsor: