Yeah, you read that title right. I totally and completely forgot Cory & I's anniversary this year. I guess that's what happens when you're sick and cramming for a test and have about a million and a half other things on your to do list. Good news is? He forgot too. And that's what happens when Cory's starting and still getting used to a new job position and has been pretty preoccupied with that. So, while 4 years is pretty important to us, we still understand that sometimes life happens… and we forget!
Okay, in all honesty, I'm just SO thankful we BOTH forgot and one of us wasn't left mad at the other.
As most of you know Cory and I aren't married, so this anniversary was our 4 year dating anniversary. We know that we'll get married in the future, but until then I'm slowly planning a beautiful wedding in my head. The longer he waits, the more things I add to the list & the more expensive it gets… you hear that Cory? My newest obsession? Planning where we can go for our honeymoon. I've always told myself that even though we have a little Alea Lou, we still need to take a honeymoon… alone!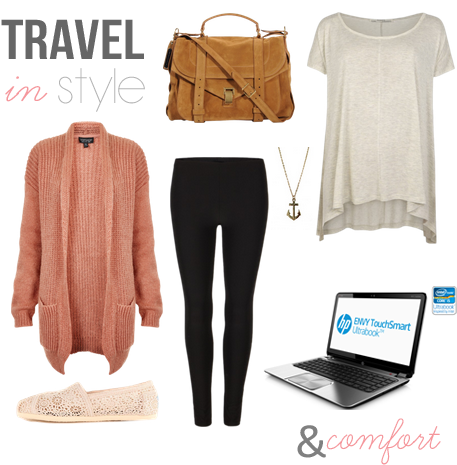 view outfit details HERE.
I'm all about comfort. There's no way I'd be that girl in heels and a dressy outfit on an airplane. No freaking way. But, I also don't want to be that girl in yoga pants and a sweatshirt (you know, my typical "mom" uniform). I think this outfit is a great step up from the typical, slightly grungy outfit I wear grocery shopping, but certainly a step down from something more formal that I probably would never wear anyways. It's all about adding some cute accessories to "dress it up" while enjoying the comfort of "dressing down," if you know what I mean. I can totally envision myself in this comfy, but stylish outfit on a plane with Cory flying to Jamaica for our honeymoon. One day…
HP Envy 4 Touchsmart Ultrabook™ The HP + Intel + Project Runway Pin Your Style Contest:
Want to participate? Pin a photo of the HP Envy 4 Touchsmart Ultrabook™ via the Pin It button on the Pin Your Style contest page. Then, build a board that represents that week's theme. Check out the weekly Pinsetter images on the site for inspiration.
Submit your board's URL into the site to enter. Then, share your board with friends to earn the most votes!
Win prizes like an HP Envy 4 Touchsmart Ultrabook™ and a gift card to bring your style to life by getting the top votes for your board. This contest runs through April 29th to May 12th, so go ahead & submit your boards + vote away! If you create your own, leave a link in the comments– I'd love to see!
I was selected for this opportunity as a member of Clever Girls Collective, and the content and opinions expressed here are all my own.
Click below to visit this month's featured sponsor: