I'm not even going to try and down-play it. This month's Sunny with a Chance of Sprinkles sponsors ROCK. There's really no other way of putting it. And together? They've pooled together $140 to Target and lots of other fun prizes. I have to admit, whoever wins this months giveaway is going to have one jealous lady on their hands… me! Gosh, if only I had that kinda money to spend at Target and Target alone. I would go crazy!
Interested in participating in next month's group giveaway? Check out my sponsorship options! I'd love to have you!
Now go enter + show my sponsors LOTS & LOTS of love! Good luck!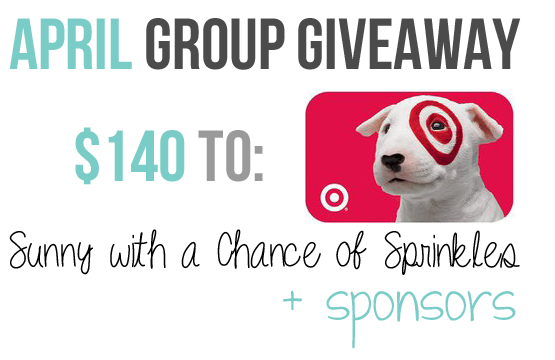 Please play fair.
I go through every entry so please don't be dishonest.
If one of your entries proves to be false, I will delete all other entries by you.
It's not fair to the honest people entering or to me–
the one who has to be the bad guy + delete/sort through entries!
a Rafflecopter giveaway
Click below to visit this month's featured sponsor: