This is a sponsored post written by me on behalf of The Home Depot.
As most of you know, we've been working hard building a raised garden bed over the past couple of weeks. We've been having so much fun with our raised garden bed plans and design, our trip to home depot, and now with the actual building process of our raised bed. Now we're getting to the nitty gritty and I'm so excited to share with you how you can build a raised garden bed and then share with you how ours turned out!
Remember how I mentioned in this post how I was going to totally take over and conquer the screw gun and not make Cory do most of the work? Well, I lied. I totally took on the role of camera woman and Alea & Bentley babysitter… and rocked it. Sometimes you just gotta stick to what you're good at. Cory can stick to the construction and I'll stick to the picture taking. However, once the veggie planting comes in, I'm all about getting my hands dirty. I promise!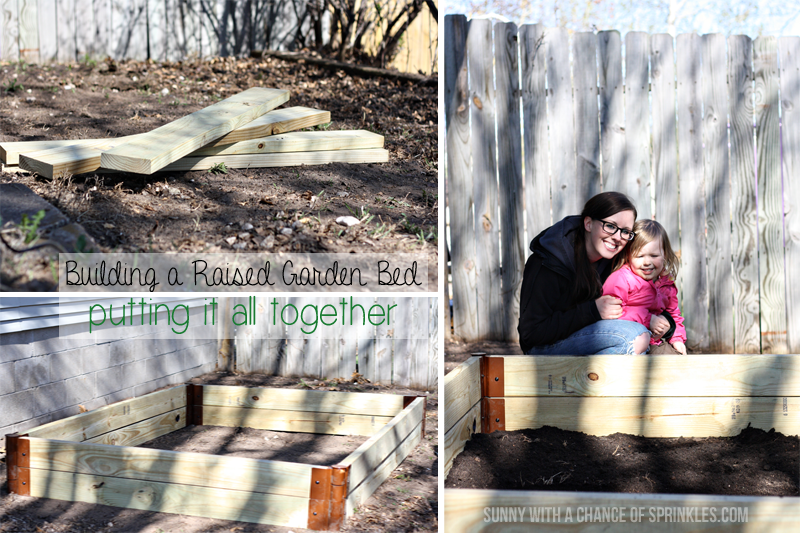 We dove into the building process on Mother's Day after I got home from a relaxing afternoon at the coffee shop studying for finals. We had all of our materials ready to go, so as soon as I got home we got to work! We did one more once over and cleaned up our area and made sure it was as level as possible and then laid out our materials that we got from
The Home Depot
the weekend prior. Visit
The Home Depot Garden Club site
for a list of materials.

1. Layout all of your materials to ensure that you have everything that you need for the project.
2. Lay out your first level of boards.
3. Line up the stacking joints at each of the four corners.
4. Screw in each of the stacking joints at each corner with the screw gun.
5. Add another two boards– a long one and a short one that will join at the corner– and screw in a stacking joint with the screw gun. Repeat until all four corners are complete.
6. Add dirt + veggies!
I'm not even kidding you. It's really that simple. I almost feel a little silly posting the step-by-step instructions for you guys, but I know personally seeing it laid out like that is helpful! We thankfully didn't run into any problems with this project and it all went very smoothly. You do need two people when it comes to adding the second level of boards, but all in all this project could easily be completed in an afternoon. It went seamlessly even with a toddler running around!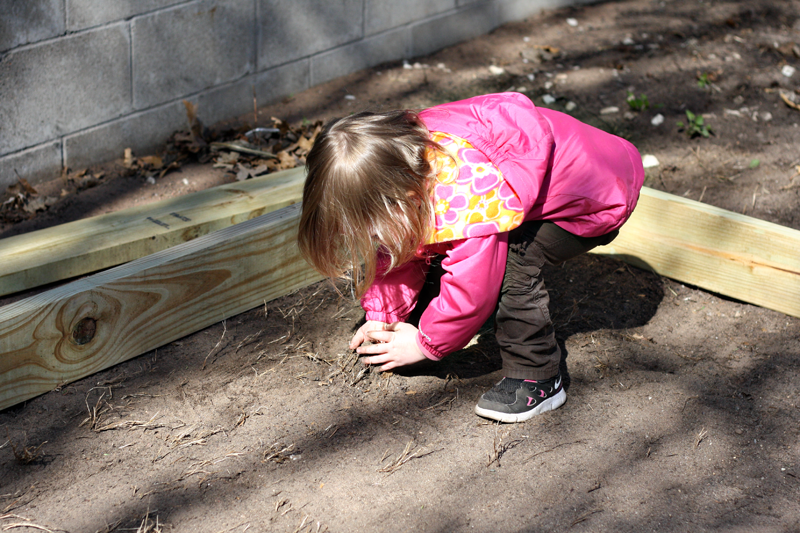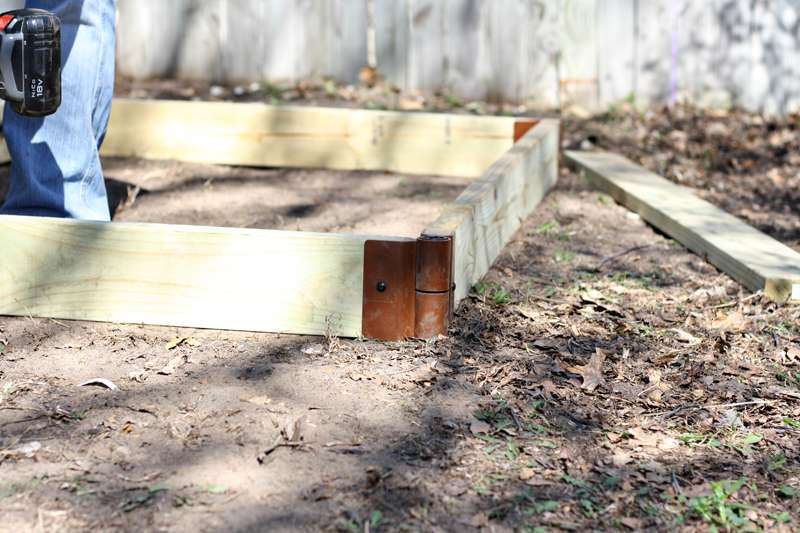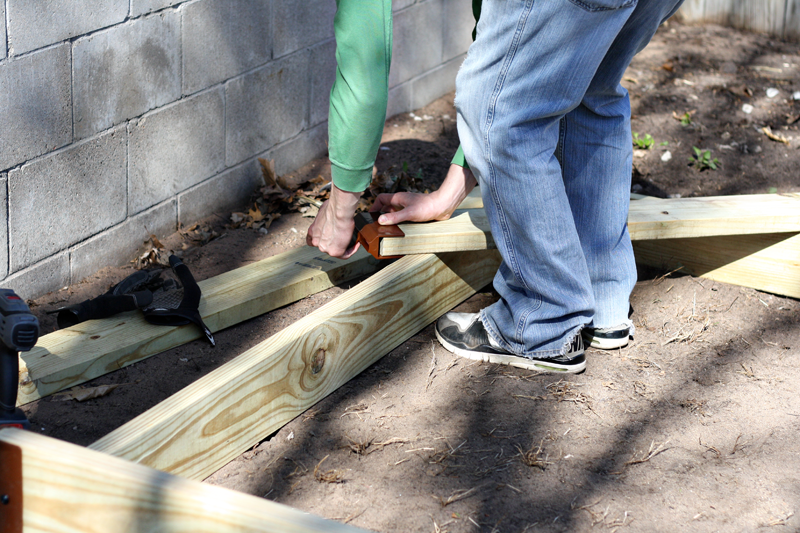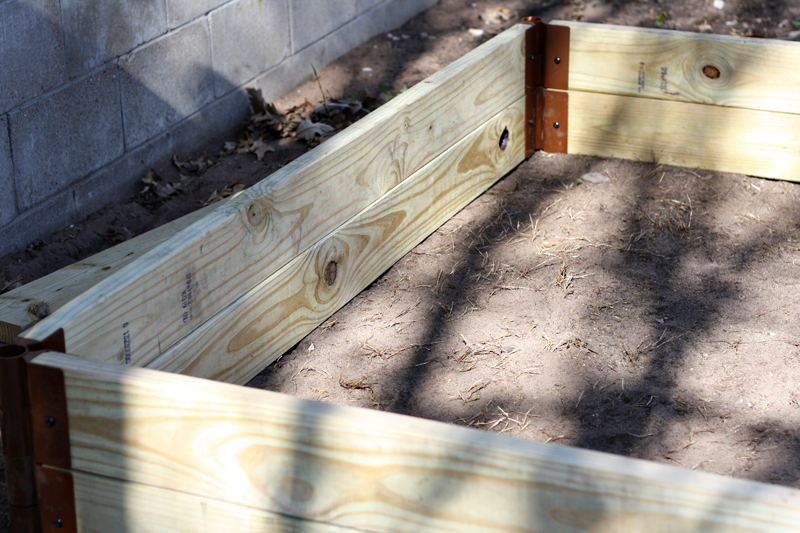 Thankfully Alea was able to keep herself pretty busy throughout this entire building process. She blew bubbles, discovered a new joy for collecting rocks, and even enjoyed eating a little bit of dirt. Okay, so she didn't physically eat it, but you wouldn't even know the difference looking at the pictures below. Girlfriend was so dirty she left a ring of dirt around the bathtub afterwards! She had so much fun watching the garden bed come together and was really anxious to plant. However, we have to wait to get a trailer from our friends to haul dirt from our compost site and then our plan is to top off the raised garden bed with top soil. Boy was Alea disappointed when we told her that we'd have to wait and you bet she asked a couple times each day when we were going to plant vegetables!
And don't mind Alea's brown paints + black shoes combo. I'd say it's Cory's fault because he dressed her, but really I didn't do laundry so his pickins were pretty slim!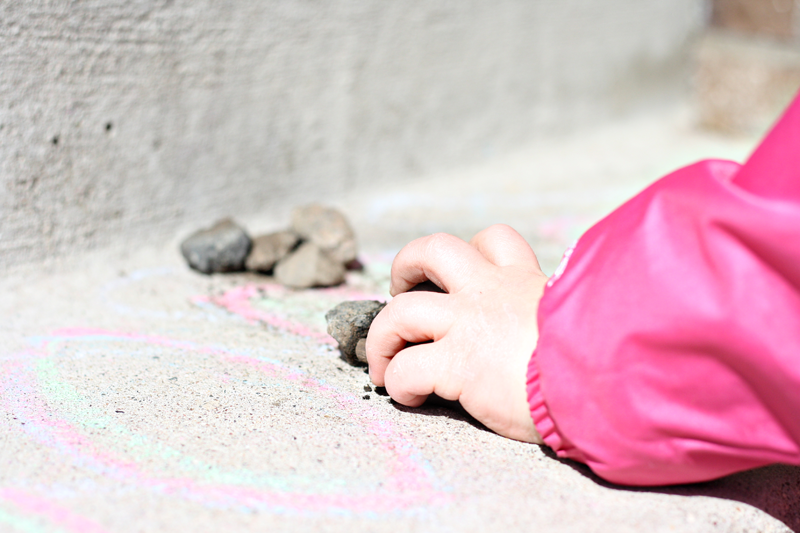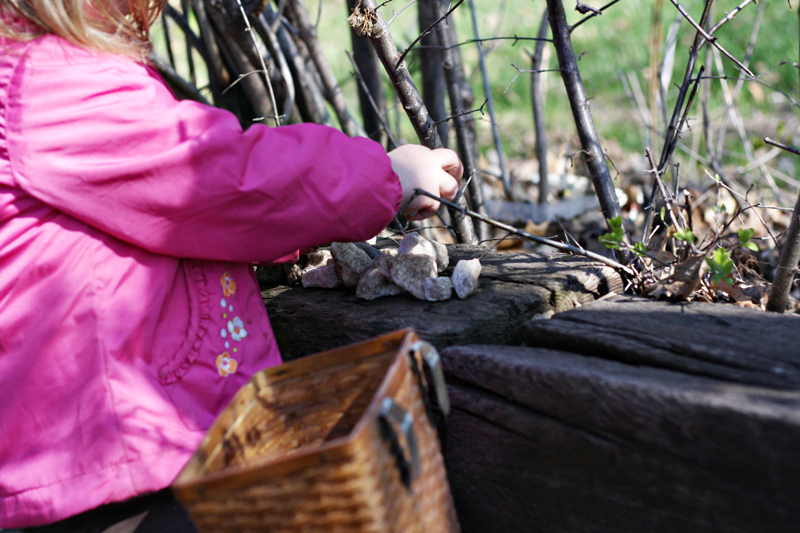 Our next step will be to load up our garden bed with dirt from the compost site and then fill the rest up with half a dozen bags of topsoil! I can't wait to share with you all the delicious vegetables and herbs we'll be planting. You can see
this post
for some of our choices, but there's a couple more that have been added to the list!
I've also been dreaming about our next outdoor projects and I've been looking for inspiration on Home Depot's Pinterest boards. Such a great resource for a collection of great and easy projects similar to this one! I'm also dying to make some adorable vegetable and herb markers for my garden as well. Be on the look out for a little DIY post for those in the near future!
It's home improvement time, and The Home Depot has everything you need to #DigIn for Spring. No matter what projects you want to tackle, they have great values on all you need. They're ready to help you with renovation ideas and expert advice, too.
Get over $300 in email exclusive savings each year, sneak peeks on new products, monthly lawn & garden ideas for your region and access to The Home Depot's gardening experts. Click here to join the world's largest garden community today! Or go to
http://gardenclub.homedepot.com/ to see some of the many benefits of membership.
This is a sponsored post written by me on behalf of The Home Depot.
Click below to visit this month's featured sponsor: