As a lot of you know, this is officially my last summer off. My last summer having the summer off as a student. Yep, next summer I'll be all grown up and a working woman as a nurse. We can only hope, right! Being it's my last summer as a stay-at-home-mom, I want it to be a summer that Alea and I will never forget. I want to teach her to enjoy the outdoors, start doing a little bit of "school" with her every morning, build a routine for us, but most of all I want to have fun! Alea and I sat down and talked about fun things she wanted to do this summer and here's the list that her and I came up with together.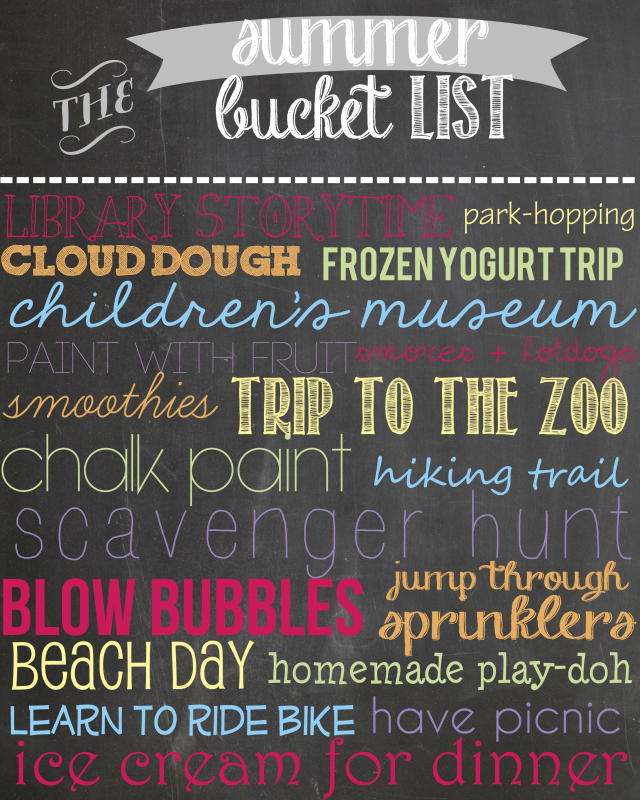 1. Library story time: Our library has story time every Wednesday morning. I think this will be the perfect opportunity for us to build a little structured "school" time into our morning and it'll be an important lesson in listening and sitting still for Miss Alea. We did this last summer and she did a little better than I thought she'd do, so I'm sure she'll love it even more this year. And in addition to story time I think we'll have to get ourselves a library card, too!
2. Park-hopping: There's a couple of parks in our town that we have yet to visit and that's just a crime! We have 3 parks within walking distance from our house, which is such a blessing, but sometimes you just have to mix it up. My neighbor actually came up with the idea of "park-hopping" and I think it's fabulous! We'll pick a day and go to each park in our town. I think that'll make for a good nap time, too!
3. Cloud dough: I'm sure you've seen recipes on Pinterest for cloud dough before, right? I've been dying to make this stuff for Alea. She would have a total ball. It's just something that's always been on my mental list of activities for Alea, but I definitely want to try it soon.
4. Frozen Yogurt trip: We have a cute frozen yogurt place about 15min away from our house that we've never been to. Yep, you heard that right. We're probably the only blogger family who hasn't been to a serve yourself style frozen yogurt bar. Oops!
5. Children's museum: The Minnesota Children's Museum would be so fun for Alea. I remember many fun times there with my cousins growing up and we even went there for field trips. So many great memories for me and I'm hoping she'll make those memories there as well.
6. Paint with fruit: My good friend Jacy shared a fun twist on painting recently– painting with fruit! Not only is it edible, but it looks like so much fun. Messy, but that's what bath tubs are for, right?
7. Smores + Hot dogs: We have a fire pit in our backyard that we don't use enough. We've already had one fire this year, but that's certainly better than previous years! I know Alea would have a ball roasting marshmallows and hot dogs for dinner one night!
8. Smoothies: This is self-explanatory. Smoothies and summer just go hand in hand, don't they? Alea and I made them almost every afternoon last summer and even made smoothie popsicles. Our popsicle or smoothie on the front steps after nap time was one of my favorite rituals of last summer, hands down.
9. Trip to the zoo: We never made it to the zoo last summer, so it's pretty high up on my bucket list for this summer. We've just gotta. Especially now that Alea's older. She had fun when we took her when she was only one or so, I can't even imagine how much fun she'll have now! Now we just have to decide between Como Zoo and The Minnesota Zoo! Oh heck, why not do both!
10. Chalk paint: We did chalk paint for the first time last summer — check out my chalk paint recipe — and Alea loved it. It's a fun alternative to just boring old sticks of chalk. It gets messy, but that's half the fun!
11. Hiking trail: In essence, we just need to get to know our town a little more. Now that Alea's more mobile, I'd love to go on a little nature hike with her and teach her about the different plants. She's always been inquisitive about everything around her and I know she'd love to learn. Our town has a couple trails I've been wanting to hit up as well, so this would be the perfect activity for us!
12. Scavenger hunt: Along with the hiking, it would be fun to have a scavenger hunt as well. Alea might be a bit young for it yet, but she'd do great with a little help.
13. Blow bubbles: We blow bubbles every time we go outside… literally. But what about colored bubbles? What about making our own bubbles? There's so many fun twists on the classic, I can't wait to try them all! This bubble painting activity sounds especially fun and pretty, too!
14. Jump through sprinklers: We had a sprinkler system when I was growing up and I remember chasing the sprinklers around as they changed from one end of the yard to the other. We don't have a sprinkler system at our house, but the one on the end of the hose will definitely do. There's just something about the freedom and happiness that comes through jumping through sprinklers, isn't there?
15. Beach day: We had some funny and interesting trips to the beach last summer (remember when I caught a mini horse?), but we're going to be on the look-out for a great beach to spend some warm afternoons at this summer. And we'll definitely be making a trip to my aunt & uncles to swim in their lake as well! My girl is such a fish in the water!
16. Homemade play-doh: Tell me I'm not the only one who's obsessed with homemade versions of things we can just buy at the store? I remember vividly staying at my great-grandma's when I was younger. It was rainy outside so we couldn't go down to the lake and swim. She combined some random ingredients from the kitchen and made play-doh! I was just amazed. I'm thinking of trying this play-doh recipe with Alea.
17. Learn to ride a bike: With training wheels that is. I think Alea's definitely ready, she's just going to have to learn to pedal and steer! We have a bike and we're ready to go! I can't promise I won't cry though– big girl status!
18. Have a picnic: for lunch everyday. If only the weather would cooperate everyday, right? It's just easier to clean up after lunch if it's outside. We have a designated "outdoor blanket" and we just shake it out, fold it up and stick it on the shelf in the garage. We love our picnics!
19. Ice cream for dinner: This is usually reserved for celebrating special events, like the end of finals, but how fun is it to just hop in the car and go get ice cream for dinner? Dessert for dinner, I mean what kid wouldn't love that?
(And now I'm totally ticked this list ended at such an awkward number. 19? Who makes a list of 19 things?)
What sorts of plans do you have for your summer? Anything that we just have to add to our list?
Linking up with The Foley Fam!
Click below to visit this month's featured sponsor: