This is a sponsored post written by me on behalf of The Home Depot.
We ventured out and took a rainy-day trip to get our veggies & herbs for our raised garden bed this week and it was absolutely divine. The Home Depot was pretty quiet, especially the garden center which is partly outdoors, so I had plenty of time to stand around and contemplate my herb & veggie choices. Alea even cooperated and told me we we absolutely had to get strawberry plants. Which we did not… because she forgot about it before we left and strawberries aren't something we planned on or budgeted for!
Now it's the time you've all been waiting for. The big reveal of this project we've been working on and leading up to for weeks now. I'm so excited to share with you the raised garden bed that we've built with the help of The Home Depot and all the vegetables and herbs we've planted in the garden bed as well. For those of you who are still contemplating whether or not this is a project you'd like to tackle this summer, I hope this post helps to convince you. And if nothing, I hope the before and after pictures impress you! (I'm such a sucker for before and after pictures!)
Here's all that we decided to plant: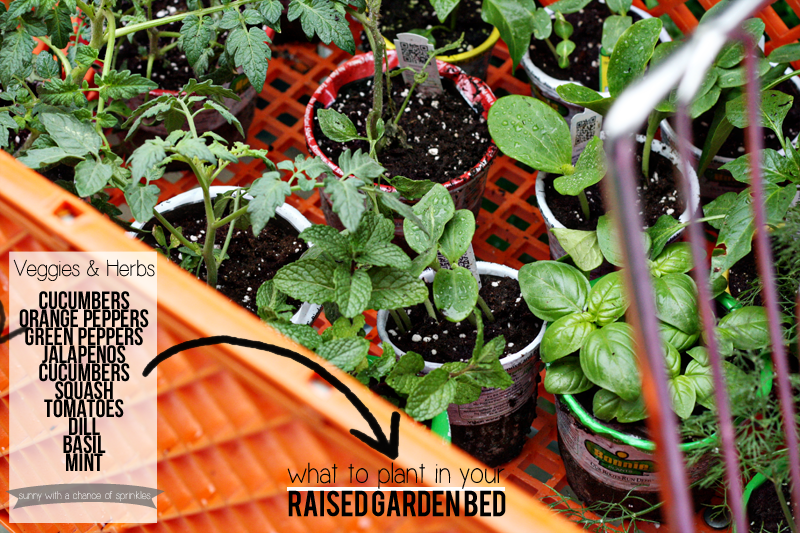 One correction though: the cucumbers will have to be planted outside of the garden bed because they're not really conducive to the space we have. Since they're a vine and spread out, we'll have to plant them along side the garden bed so they don't overtake and kill the rest of the veggies & herbs.
**Keep that in mind if you want to plant cucumbers!**
Also, some helpful hints with tomato plants, pepper plants, and other vegetable plants that gain height, tomato cages are very useful. We haven't purchased them yet, but they're the next item on our Home Depot shopping list. We waited too long to get our cages last year and our tomato plants started toppling over before we could save them. We ended up using two wooden skewers and some yarn… I'm not even joking… to tie them up and that's what we ended up using for the rest of the summer. This year we're going to do it the right way and set up the cages so the plants can grow up with the cage.
Alea and I woke up bright and early, ate breakfast and immediately got our messy clothes on and went outside to plant. I didn't tell her we were going to do this ahead of time, so it was a fun surprise for her. Any excuse to play with dirt, right? We got out all of our vegetables and herbs that we bought at
Home Depot
and planted some seeds for herbs as well. We didn't have an extra shovel on hand for Alea to use for her "gardening," so I had to improvise and let her use a spoon from the kitchen. She thought that was just about the silliest thing ever!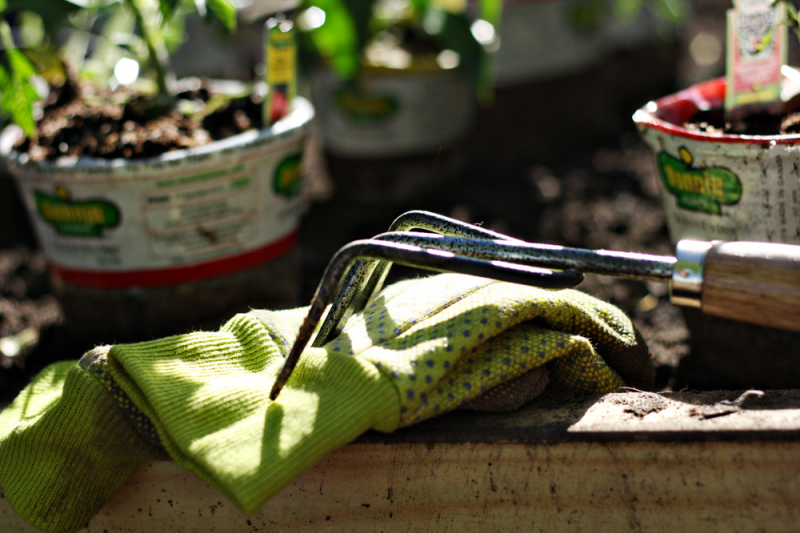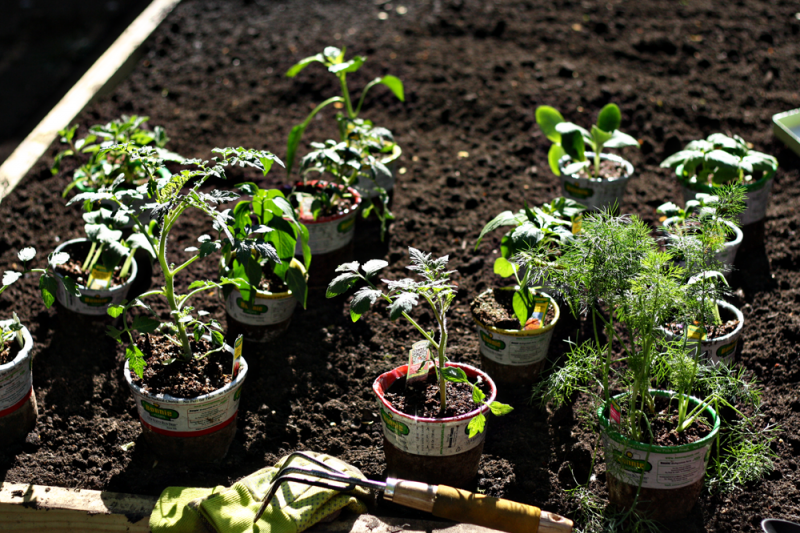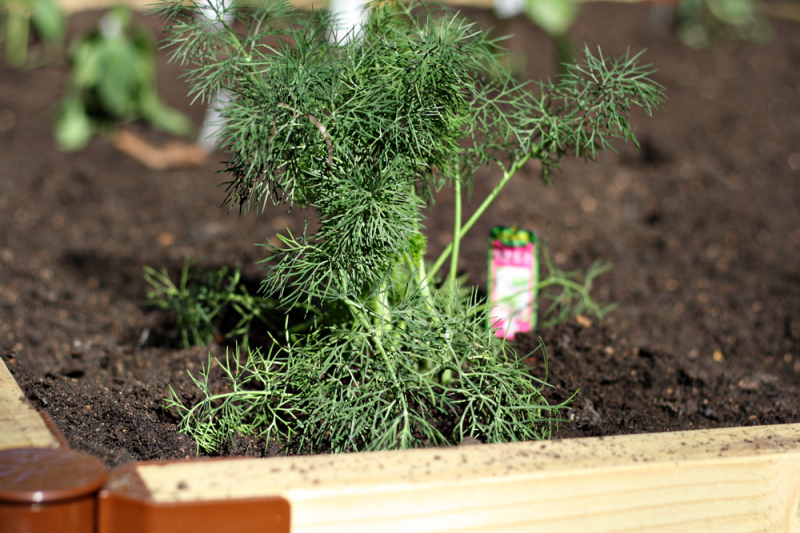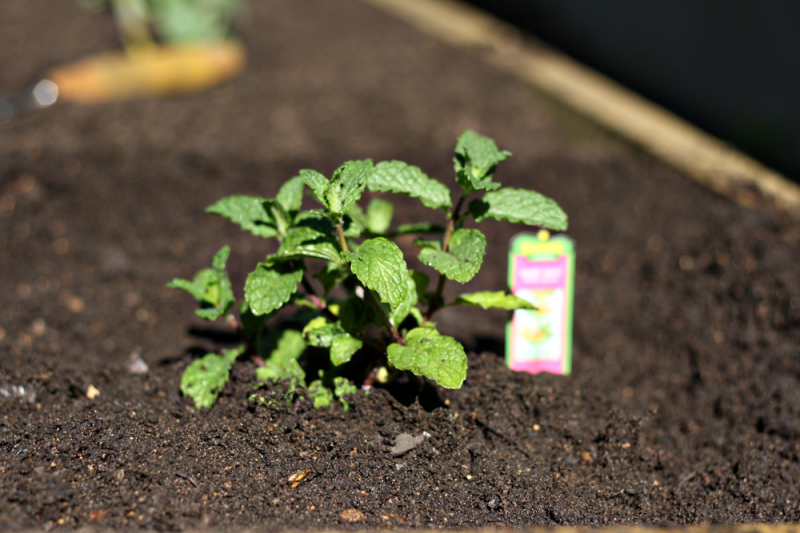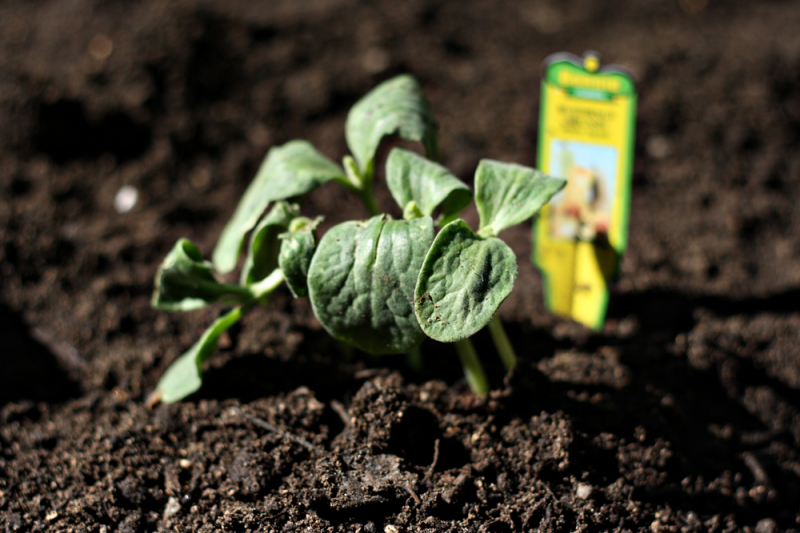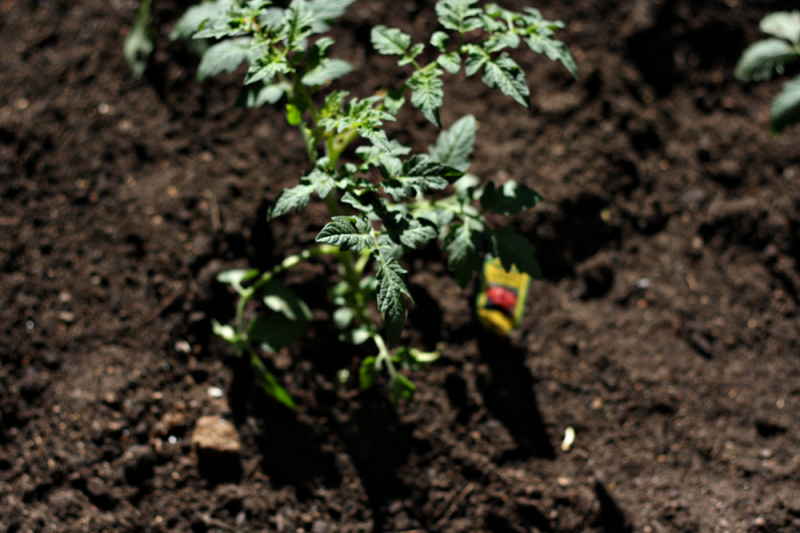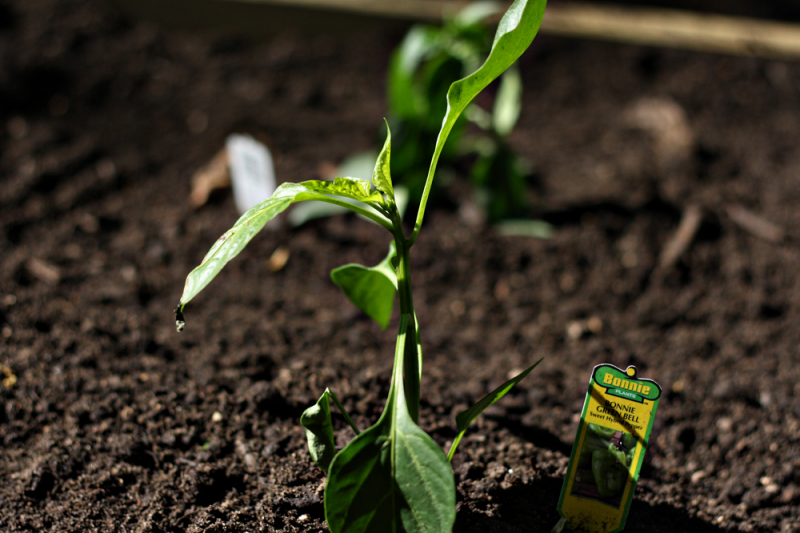 We are so happy with how our garden bed has turned out. I love the little vegetable sprouts lined up in a row & all the gorgeous color it adds to this space that used to be so dull and grey. It's really brightened things up on this side of our house! I have a feeling this is going to be my new happy place. My new place to escape for a couple minutes to water our growing vegetables. I just find it so exciting that I'll be able to feed my little family with some of the vegetables that
we
grew! That's going to be the most rewarding part of all.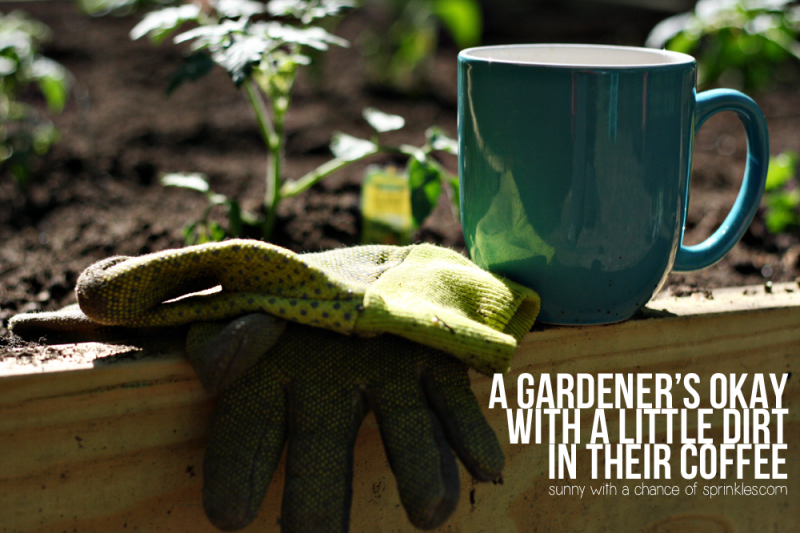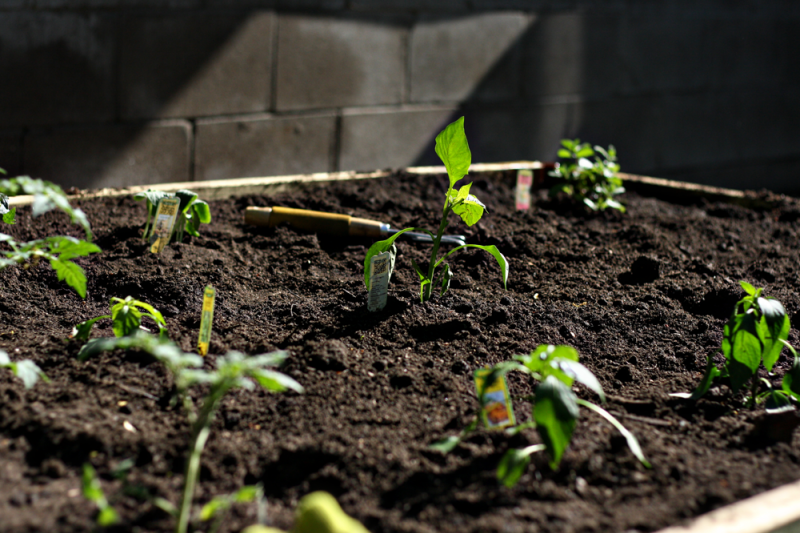 Isn't the difference just amazing? We love how much it's brightened up that unused space and I love that it's cleaned things up a bit. Before the area was just a dumping ground for whatever trash blew into that area. I swear, everyone's mail gets blown into that little corner at the end of a windy day, and it was just a very poorly maintained area. I'm just so happy to add another space in our yard that I'm truly proud of. I'm so proud of all the work we put into this project and I love knowing that soon our garden will literally bare the fruits of our labor!

I really don't think that there
is
a whole lot we'd do differently if we were to do this project all over again. We loved working with
The Home Depot
throughout this project and the project came together in the time frame they recommended (even though we broke it into more manageable chunks to suit our schedule). The only issue I have is it's location. It isn't ideal because it's on such an ugly area of our yard, but at the same time, all the green brightens up that side of our house so much more now and makes use of what used to be wasted space. In an ideal world, I would love to see a couple more raised garden beds go up in our backyard once we get the landscaping done back there. I'm going to be a raised garden bed farmer… you just wait and see!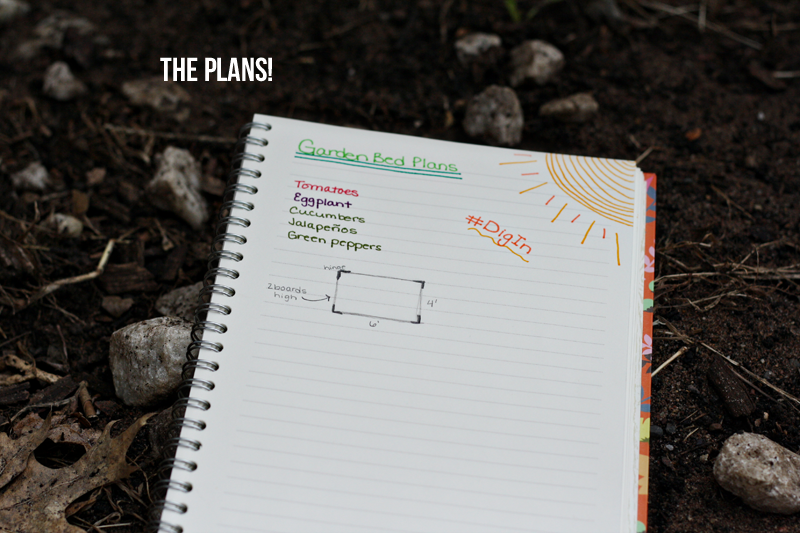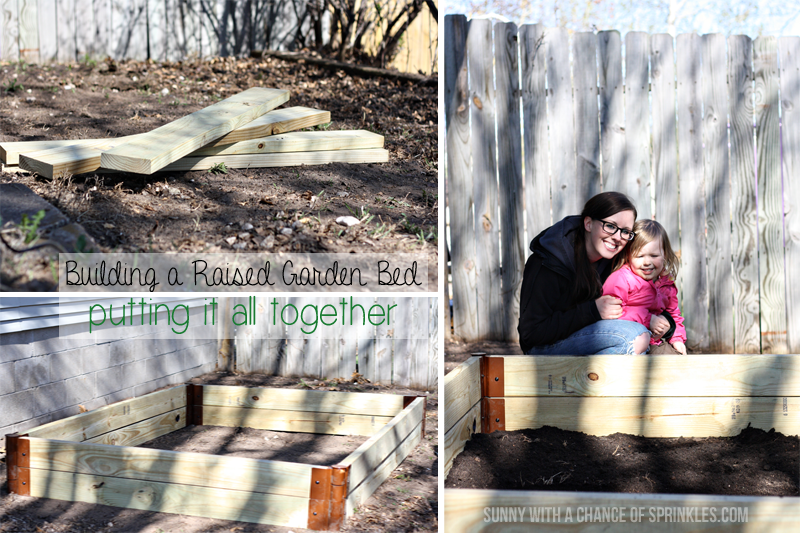 It's home improvement time, and The Home Depot has everything you need to #DigIn for Spring. No matter what projects you want to tackle, they have great values on all you need. They're ready to help you with renovation ideas and expert advice, too.
Get over $300 in email exclusive savings each year, sneak peeks on new products, monthly lawn & garden ideas for your region and access to The Home Depot's gardening experts. Click here to join the world's largest garden community today! Or go to
http://gardenclub.homedepot.com/ to see some of the many benefits of membership.
This is a sponsored post written by me on behalf of The Home Depot.
Click below to visit this month's featured sponsor: