If we were sitting down for coffee today this is what I would tell you…
Sometimes it's okay to not have a post ready to go at 8am. That's what I usually do, you know. I sit down at my laptop the night or day before and sometimes even days in advance and edit pictures and type away to transform those pictures into a post. I then schedule the post out for whenever fits the best and that's that. That's how I do it and that's how I like it.
But sometimes it's okay to not follow your own rules.
It's okay to take a step out of your own box and do things a little differently.
It's okay to just sit down and write when you're feeling inspired.
To wake up after 8am and slowly make your coffee, feed Alea breakfast and then sit down with an open, empty space to write.
I don't do this enough. I was just reading this post from Amber recently and it struck a cord with me.
A good cord. A cord that made me really take a step back and think about things. What makes you a real blogger.
Is there even such a thing? I have a little formula made up for my blog. I post certain content on certain days.
But sometimes (like today) I just write whatever's on my heart. And sometimes things get pushed aside because of due dates.
For sponsored content. I've been pretty excited lately at all the opportunities that have been landing in my lap.
I will not write any sponsored content that I don't feel comfortable writing or that doesn't fit with this space of mine.
I just recently turned down a $250 opportunity because it just didn't fit.
I guess what I'm trying to say is, I'm proud at what this space has become.
It's become a way not only for me to share my life and family with you, but also to share the things that we love.
And if I can also us this blog to help support my family and to give me some of my own money (Cory and I don't share finances) then that's incredible to me.
Thank you so much to those of you who have commented saying that you're loving certain posts even though they're sponsored. That's the idea.
I still want those posts to share the story of my family and what we're up to. That's my goal.
And I hope that you'll keep stopping by. Even though we don't eat real butter. (That's a joke… laugh please!)
Now let me refresh your coffee, tea, hot cocoa or whatever you like to drink in the morning. Let me tell you about this weeks loves. The things that have made smile and have maybe even inspired me a little bit.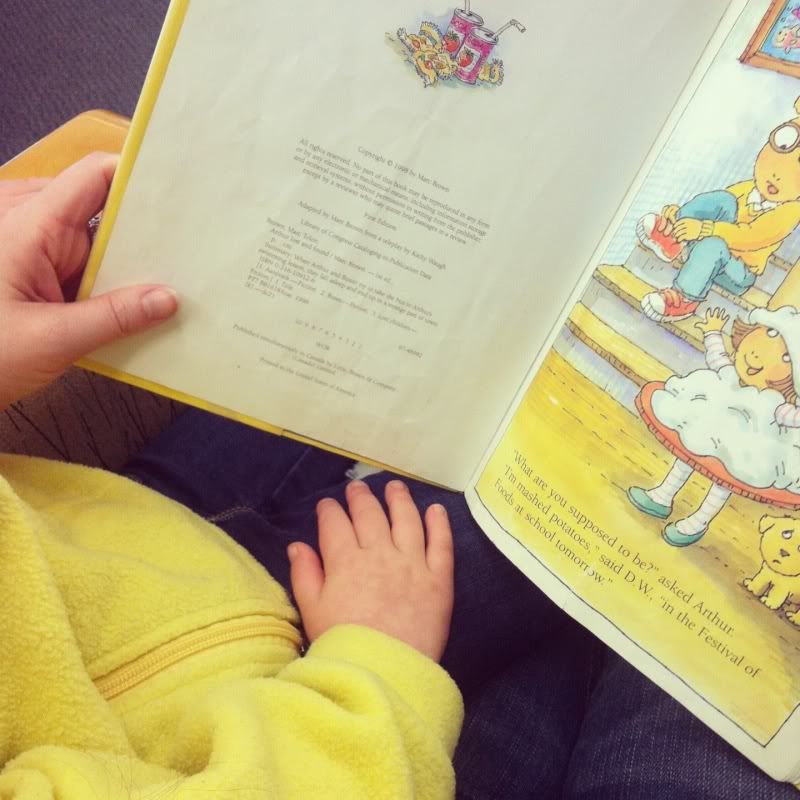 1. Trips to the library with Alea. We went for our first time this summer last Wednesday and I'm thinking it's going to be a weekly tradition. Yes, even though we didn't go this Wednesday. Oops! Story time starts June 12th and of course I'm a horrible mother and scheduled her 3 year check (2 months late) on that day. There will be more though and there will certainly be more trips to the library just to read. She was so excited to borrow three books of her choice for the first time and I was maybe a little too excited to read Arthur. Those books were always some of my favorite!
2. Can I just say that I love a good hair day? Or maybe just waking up, showering, and actually doing my hair and make-up? That doesn't happen all that often, so when I get all that done and the outcome is good, I'm a very happy camper! I'm loving using my curling iron as a curling wand and not using the clip. I have no idea why I've never thought to do that before. It's actually making my curls stay better and look more how I want them to.
3. I'm loving that I'm able to read real books again! There's just something so refreshing about reading books that don't talk about what people's bowel movements might mean or about a nasty fungus you might find between someone's toes. Reading a parenting book might sometimes be equivalent to reading a textbook or may seem like studying, but The Well-Behaved Child is more like reading a story and it's hilarious! It really makes you take a step back and question your motives when it comes to parenting your child or children. I'm learning a ton, it's just the implementation that's been hard! And can I just tell you how weird it is that these books match? I didn't even buy them at the same time, let alone the same store. It just goes to show you that sometimes (okay a lot of times) I judge a book by it's cover. Pretty covers always get me.
4. I love that my guy still holds my hand. Not all the time, as he's always been a little leery of public displays of affection, but he still holds my hand in the car just like when we first started dating. It's just little things like that that make me smile and make me so happy that he's mine.
5. Road trips that involve an iced caramel macchiato from Starbucks, seeing my almost brother in law graduate with a bachelors in Biomolecular Engineering (say that 5 times fast), taking bajillions of pictures, and Lake Michigan? Yep, those are the kind of road trips for me. Even though they involve 14+ hours in the car in one weekend. Lake Michigan was breathtaking and I can't wait to share all the pictures I took on our trip last weekend!
I hope you enjoyed your coffee. I know I enjoyed mine. I've been adding almond & coconut milk to it lately instead of the usual almond joy creamer. It's taken a little getting used to and I think I might have to add some splenda, but I know it's a little better (okay a lot better) than coffee creamer! (I dedicate that comment to you, Sami!
Now what would you tell me if we sat down for coffee this morning?
Oh, and if you get a chance don't forget to enter my blog anniversary giveaway. It's kind of big.
And you can use the code: blogiversary to purchase any ad at 15% off. Happy Friday!
Linking up with Rags to Stitches and Lauren Elizabeth.
Click below to visit this month's featured sponsor: