This post is sponsored by Shoedazzle, but all opinions are my own.
Honestly, what girl doesn't love shoes? And what girl doesn't love summer shoes. Is it just me or is summer the perfect time to freshen up your shoe wardrobe? Here in Minnesota we can't wear much other than boots in the winter, so when summer comes around I stock up on flip-flops galore and at least one or two pairs of cute sandals. This summer though? I'm on the lookout for a cute pair of wedges. Preferably yellow wedges, but a more neutral tone will do. I've mentioned this before, but I'm the kinda gal who likes a pair of shoes that can go with multiple outfits. I'm not really a statement piece kinda gal. I want bang for my buck!
And speaking of "bang for my buck," I'm always up for a good bargain, too! And at Shoedazzle you can get 25% off your first pair just by taking a sweet little quiz that shows you which shoes suit your style most. That's called saving time and money in my opinion!

Wedges|Flats|Slip-ons|Sandals
An entire collection of yellow shoes. A girl can dream right? I really love those flats. And those wedges. Okay… and every single one of them. If you didn't already know, yellow is my favorite color. Now I sound like a first-grader, but seriously it is! I love how bright & cheery it is. Perfect for spring! Which yellow shoes are your favorite?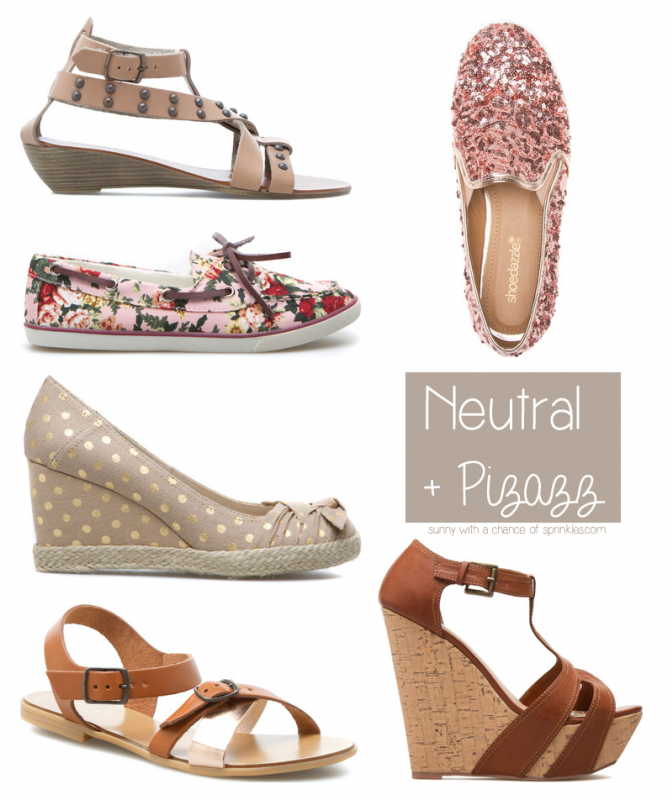 Sandals #1|Boat shoes|Sparkle shoes|Polka-Dot Wedges|Sandals #2|Wedges
And since I'm a neutral kinda gal, I had to include some of my favorite "neutral" shoes, but I threw in a little pizazz for all you daring ladies as well! Those gold polka dot wedges are my absolute FAVORITE. But sad story? They're sold out. Any of these other shoes are neutral enough to be compatible with any outfit in your wardrobe though. And that's what neutral's all about, isn't it?
Now head on over to Shoedazzle.com and take the quiz to find out which shoes fit YOUR unique style. And don't forget to come back & let me know your favorites! I can't wait to see which ones you pick!

Thank you to
Shoedazzle
for sponsoring this post. Though compensation was provided, the opinions expressed in this post are 100% my own.
Click below to visit this month's featured sponsor: