This is a sponsored post written by me on behalf of The Home Depot.
A vegetable garden is something we've been dreaming about ever since we moved into our house a couple of years ago. It's just one of those things we've never really gotten around to doing or finding the time to build. You know those things that automatically just get bumped down to the bottom of your to-do list as other projects make their way to the top? Yes, this was most certainly one of those projects! But now with the help of Home Depot, we have the motivation to finally cross this project off our big home improvement and landscaping to do list!
The hardest part about this project, in my opinion, was choosing where the heck we were going to put it! We debated putting it in our backyard, but with the shade that all of the trees in our backyard provide (when they have leaves on them finally), it just wouldn't really be conducive to a vegetable garden. We also have a lot of landscaping plans for our backyard that include a deck and a lot of leveling, so we didn't want to put up our garden and then have to take it back down if we decided to knock those projects off our to-do list sometime this summer.
After debating between two locations, we settled on the very sad and neglected space on the side of our garage. It's a space that so desperately needs some color and some life and we really think that a raise garden bed will help to bring some life to that space and maybe even influence us to do even more to liven it up over there. It's also been kind of a wasted space for us as well. It's just this dumping ground of leaves and roots and there's really nothing exciting about it, so up until now we've really just avoided it. This spot gets a ton of natural sunlight and a lot of that hot afternoon sun that a vegetable garden needs to thrive, so it's really ultimately the perfect location for this project!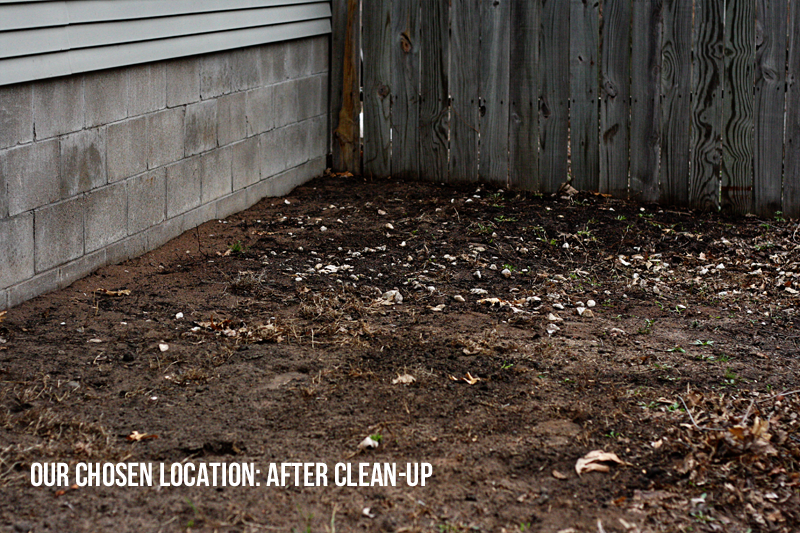 The only necessary preparations we had to make prior to beginning the project itself, is preparing the area the raised garden bed will go on. There was definitely some yard work to be done before hand. Cory had to dig up some roots– that are actually probably well under our garage, but were in the way of where we wanted to put our garden bed. So basically, roots had to be dug up and cut out and leaves and branches had to be cleared. Not going to lie, I didn't take part in any of this clean-up. While Cory was outside cleaning up for my our garden bed, I was hunkered down indoors with a napping baby and a big project for school to complete. I think I would've preferred manual labor!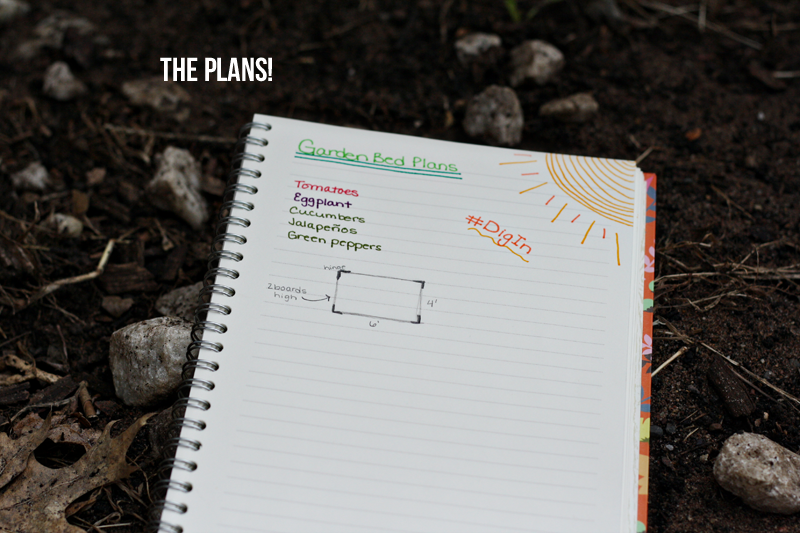 Next up, comes the fun part! I'm so excited to get our supplies and get building and see our finished project. And I'm
most
excited to get our veggies planted and taste the deliciousness that comes from homegrown fresh tasting vegetables. We will be making
lots
of homemade salsa this summer… let me tell ya! That is the best part after all, right?
We're very excited to get going on this project & I'm so excited to for all the bonding time Cory and I will have while we build our raised garden bed together. And I can't wait to show you all the next steps in this process!
What projects are you working on this summer?
It's home improvement time, and The Home Depot has everything you need to #DigIn for Spring. No matter what projects you want to tackle, they have great values on all you need. They're ready to help you with renovation ideas and expert advice, too.
Get over $300 in email exclusive savings each year, sneak peeks on new products, monthly lawn & garden ideas for your region and access to The Home Depot's gardening experts. Click here to join the world's largest garden community today! Or go to
http://gardenclub.homedepot.com to see some of the many benefits of membership.
This is a sponsored post written by me on behalf of The Home Depot.
Click below to visit this month's featured sponsor: