This is a sponsored post written by me on behalf of Unilever.
I posted a couple weeks ago about our new journey trying I Can't Believe It's Not Butter and I have to admit, I was a little taken aback by the response that post received. (You can view that post here) I had no idea there was such a butter vs. margarine debate. I stand by my original opinions however, and we will continue to use and love our Unilever spreads! I love that they're lower in saturated fats than butter and lower in cholesterol as well. High cholesterol runs in my family and I don't want to increase my chances of that at all. We've been using the olive oil spreads as well and I love that they're high in Omega 3's, especially because I always forget to take my fish oil supplement. I've grown up on Country Crock and we've truly enjoyed cooking with I Can't Believe It's Not Butter over the past couple of weeks!
Just take a look at all the scrumptious creations we made. We invited my dad over for dinner last Sunday and I was very eager to share my cooking with him. I'm pretty sure my dad still thought I could only cook macaroni and cheese… from a box! It's not like I cooked a fancy five course meal with a million different expensive ingredients. All of these recipes are budget-friendly, contain only a couple of ingredients, and are extremely easy to make. If you've seen any of the other recipes I've posted on my blog, you know that those are my three main requirements for any recipe I do!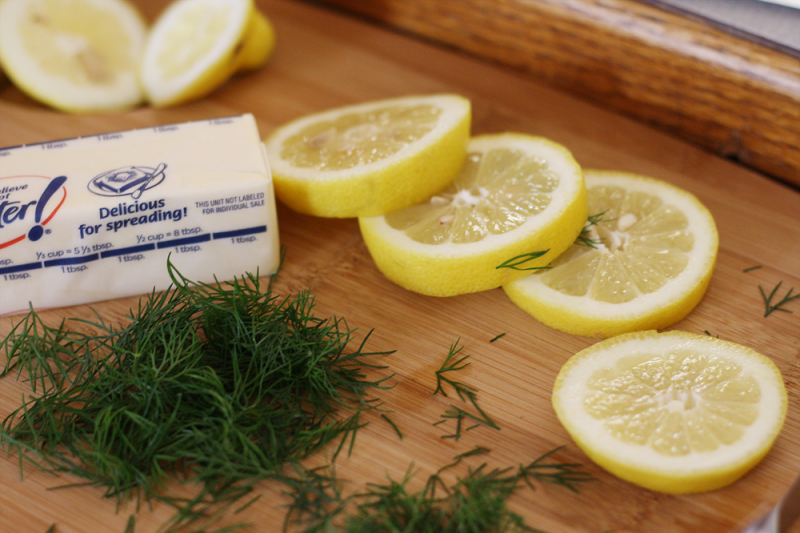 3 Ingredient Grilled Salmon in Foil
Place thawed salmon on a square piece of tin foil.
Sprinkle with fresh dill.
Add two squares of margarine.
Top with two slices of lemon.
Fold foil over and seal into a small packet.
Grill for 10min or until salmon easily flakes.
I have to say, this salmon turned out amazing. It was done perfectly and it just melted in my mouth. Lemon is the perfect compliment to any fish, but adding dill to the mix really helped to jazz it up. Normally I would just add lemon pepper and lemon juice, but having all the fresh ingredients really made it that much better.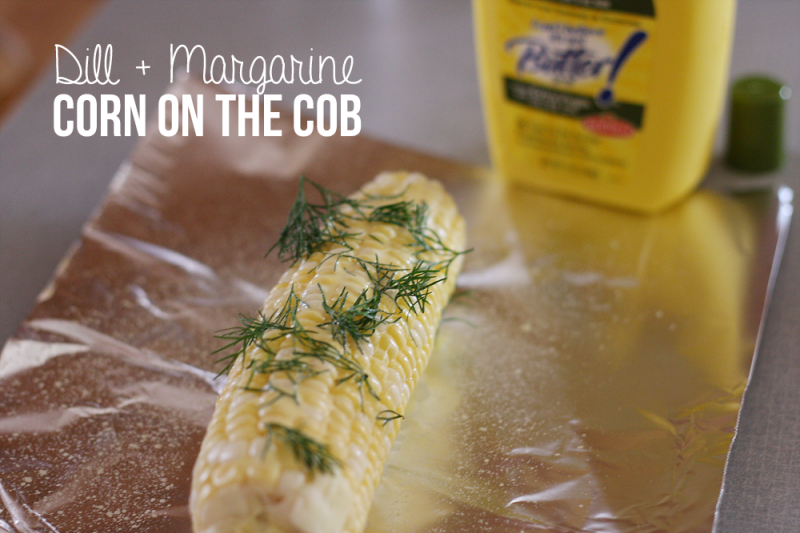 Corn on the Cob with Dill
Recipe adapted from I Can't Believe It's Not Butter
Spray cobs with I Can't Believe It's Not Butter Spray (10 sprays).
Sprinkle on fresh dill.
Wrap in foil and place on the grill for 10-15min
Unwrap and spray with an additional 10 sprays and sprinkle on a little salt and pepper.
Cory definitely turned his nose up when he saw that I added dill to the corn on the cob. I'm all about expanding our horizons though, so when I saw a friend post a picture of her corn on the cob with dill on Instagram, I knew I had to give it a try. We're huge corn on the cob fans in this house. And I must say we were pleasantly surprised by the end result. Again, we used dill fresh from my garden and I was so very excited to have the opportunity to use it and so happy that we loved it!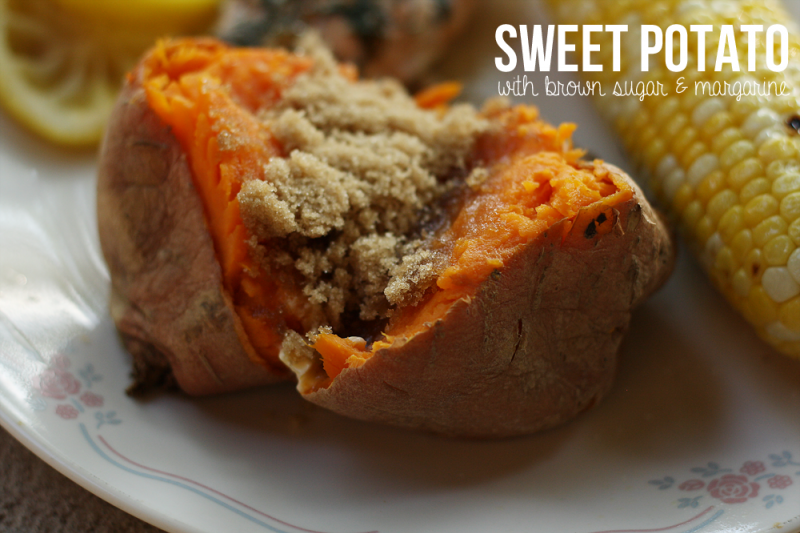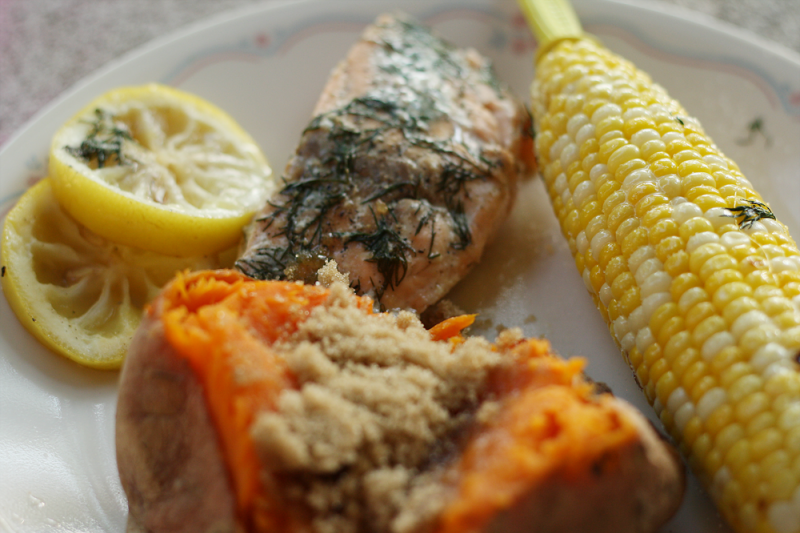 All in all, I was very happy with how my meal turned out. Everything went so well together and it really was my "ideal" meal. Minus asparagus. I'm a huge fan of asparagus, but I had a serious craving for corn on the cob. I must say, I suggest waiting until it's more "in season." It wasn't sweet enough to my liking, but the spray and the dill really helped jazz it up. And I think my dad was genuinely impressed that his "little girl" could actually whip up a pretty darn good meal! And for once, I actually enjoyed hosting. I had a game plan of what I was going to make, everything on the menu came together easily and used similar ingredients and everything turned out fabulous. What more could I ask for? But before you head out, I have one more recipe to share with you. I promised Alea that we would make chocolate chip cookies together and I knew I had to really deliver. I'm a bit of a "type A" personality, so sometimes it's hard for me to let go and let her do things. This time around, however, I was determined to let her play a roll in the cooking and I really wanted to involve her as much as I could. I think she was very pleased with mommy and very excited that I was encouraging her to help throughout the process and it felt really good to let my neurotic guard down.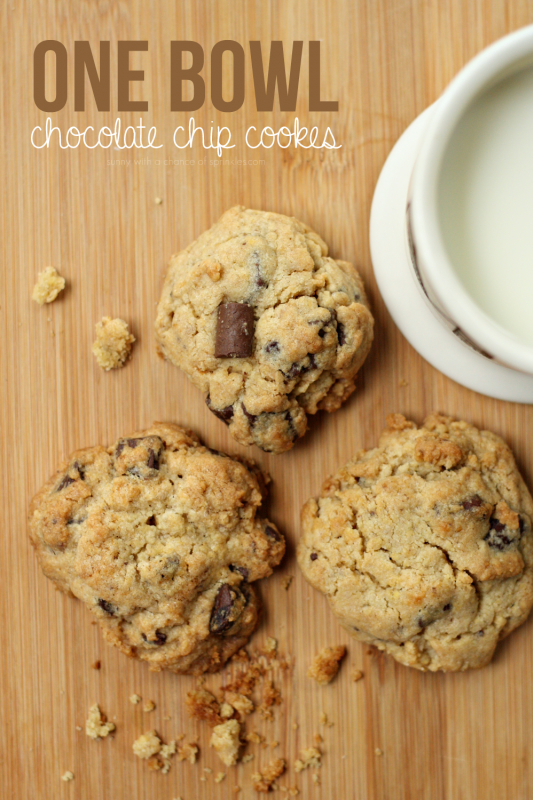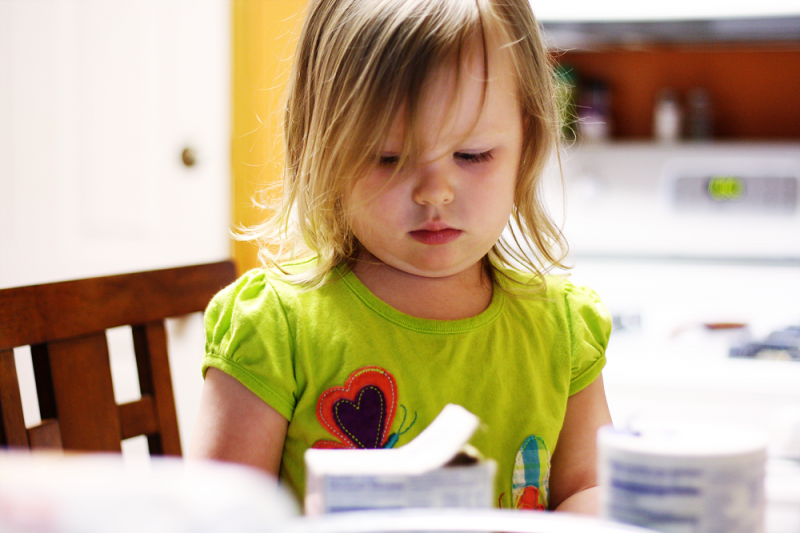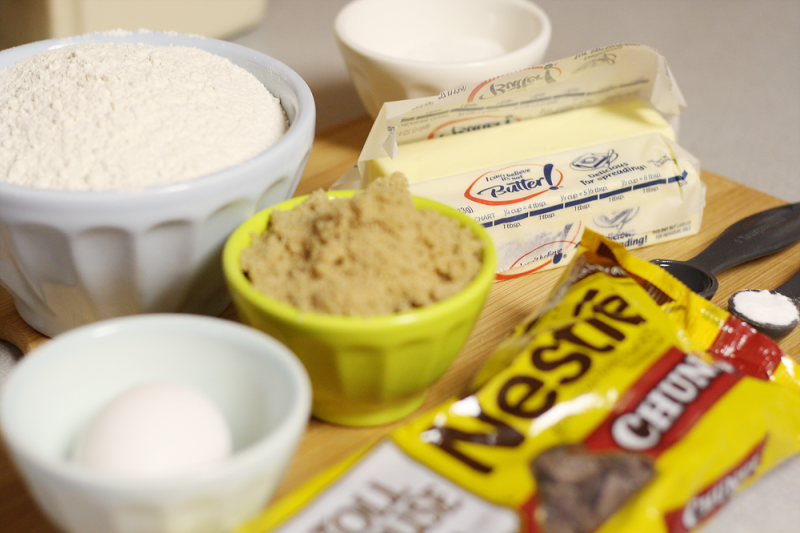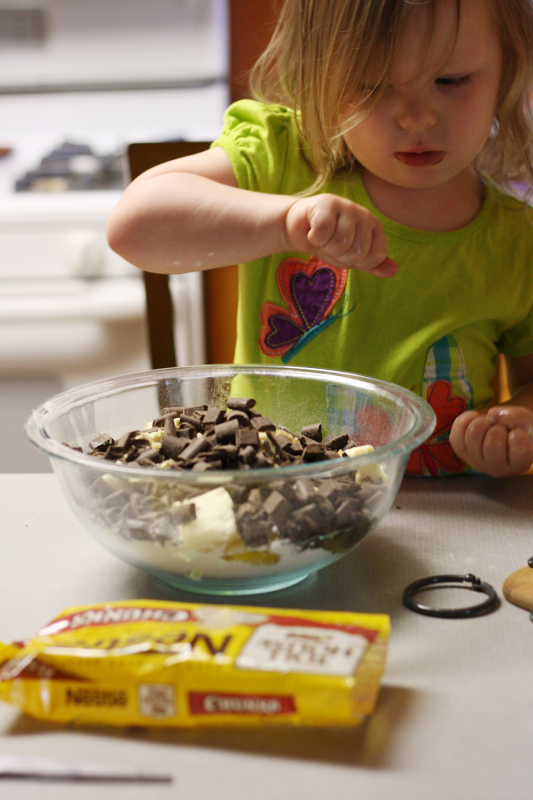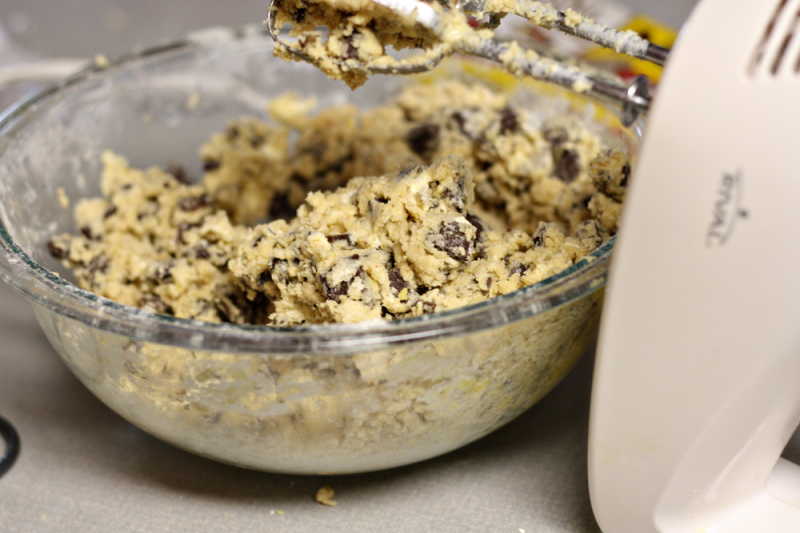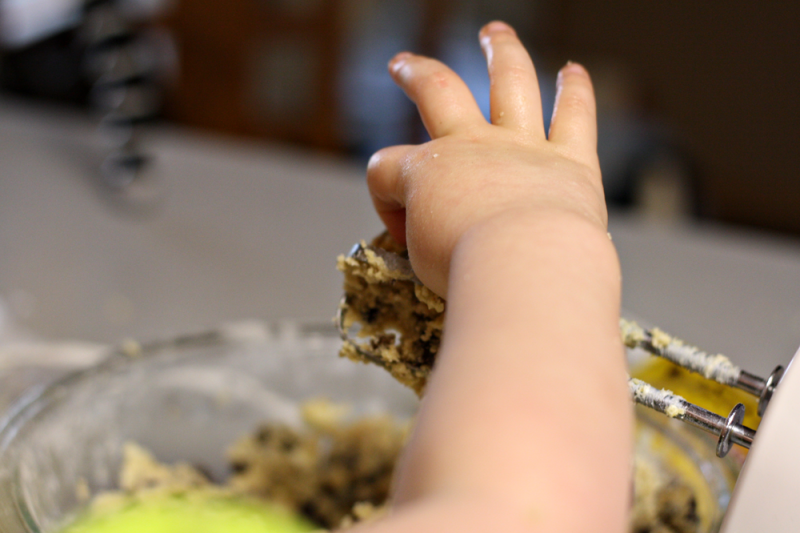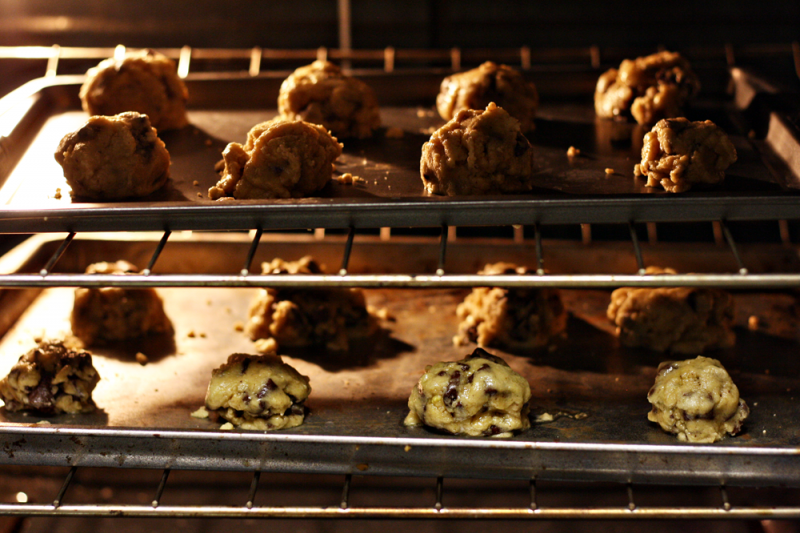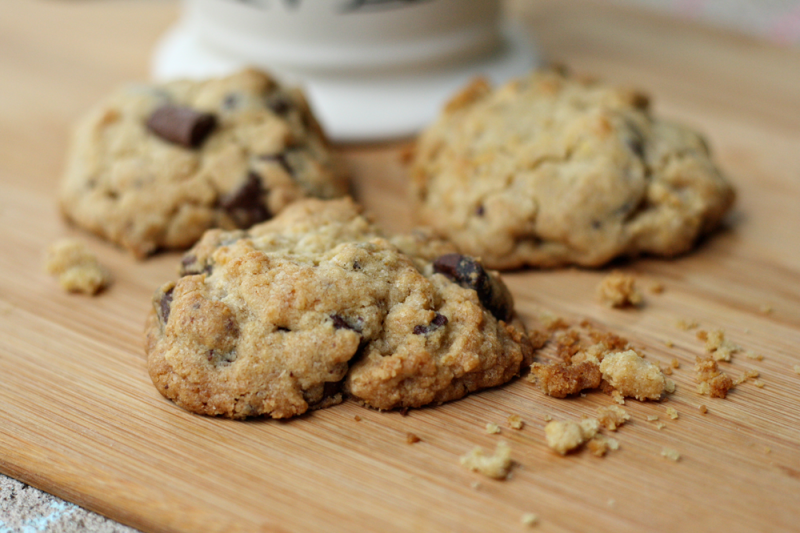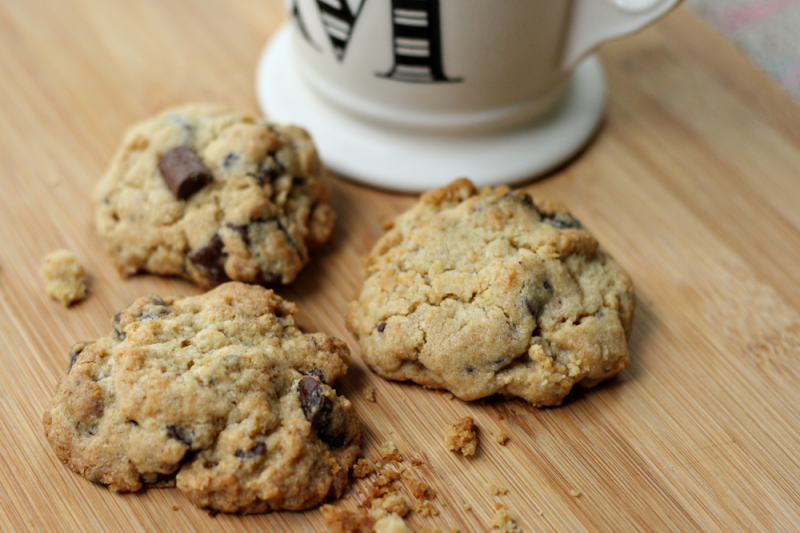 One Bowl Chocolate Chip Cookies
Recipe is originally from I Can't Believe It's Not Butter
Preheat oven to 375 degrees Fahrenheit
Combine ingredients (found here) in a mixing bowl and mix together well with mixer.
Roll in small balls and place on a nonstick, ungreased cookie sheet leaving about 2″ between cookies.
Bake for 10-15min until golden brown.
Let cool and then enjoy with a glass of milk!
Seriously, isn't Alea ridiculous? I just couldn't stop her from eating the cookie dough. She sure takes after her mama! These cookies turned out amazing! Only a couple of them were a little crumbly, but I'm almost positive it's because I didn't mix the dough as well as I should have. They turned out so soft and paired perfectly with a glass of milk, of course! And I'm so happy that I made the concious decision to "let go" and let Alea be involved in our cooking baking! Even though she had fun making cookies with mommy, I think eating them and dunking them in milk was her favorite part! Cooking your favorite recipes using Unilever buttery spreads is a deliciously smart move. With 0g trans fats per serving, less saturated fat and fewer calories than butter, cholesterol-free spreads are a better option. Visit itsgoodtoknow.com for more information and recipe ideas now! This is a sponsored post written by me on behalf of Unilever.
Click below to visit this month's featured sponsor: