This is a sponsored post written by me on behalf of Unilever.
We're happy to have been margarine family even before we began our trial with I Can't Believe It's Not Butter. I can't remember a day growing up where we didn't have a tub of Country Crock in our refrigerator and I've just grown accustomed to the taste over the years. Since we were already Country Crock fans, we decided that we'd give I Can't Believe It's Not Butter a try. The benefits of both are quite similar and I knew that they would also have a similar taste as well, but we were really impressed with the variety of I Can't Believe It's Not Butter.
When baking cookies, we loved that we could just pull out a stick of I Can't Believe It's Not Butter and measure it out just as you would a stick of butter. And the spray works wonders on a cob of corn, let me tell you! The tub is perfect for everyday use for our morning slice of toast, adding a dollop to veggies, or even for a baked potato with dinner. I love the convenience, the taste, and that the added olive oil in the kind we bought added even more omega-3 fatty acids to our diet.
Before writing about I Can't Believe It's Not Butter, I had no idea that there was even a butter vs. margarine controversy. I was shocked by some of the negative things that were said against margarine and even had to delete a comment off of my blog for the very first time. All that to say, I feel the need to "speak my peace" a little bit on this topic. You can choose to disagree, but we all have the right to our own opinion.
–Did you know: There's 100 calories per tablespoon in regular butter?
–Did you know: One serving of regular butter has up to 11 grams of fat and 7 grams of saturated fat (that's the kind of fat that clogs our arteries).
–Did you know: I Can't Believe It's Not Butter contains NO trans fats?
–Did you know: Spreadable margarine is much better for your heart!
–Did you know: Cooking with margarine is so similar to cooking with butter, you may not even notice a difference!
I hope that helps explain our choice, if even just a little bit.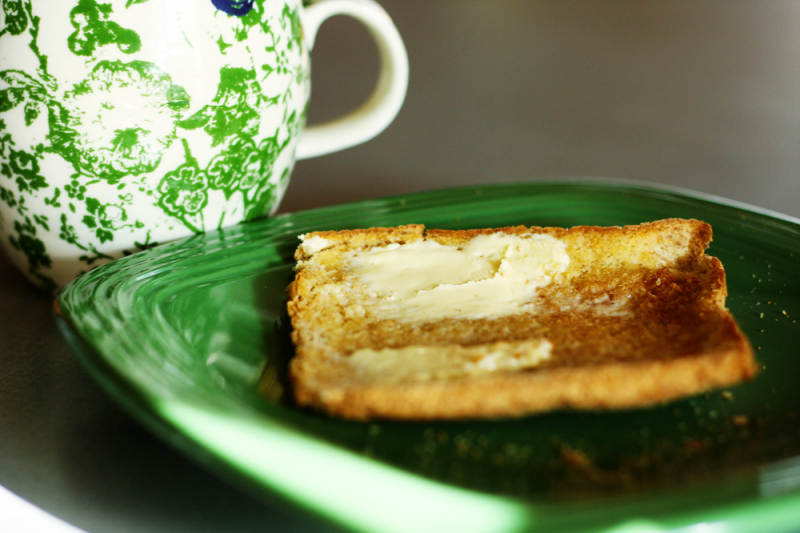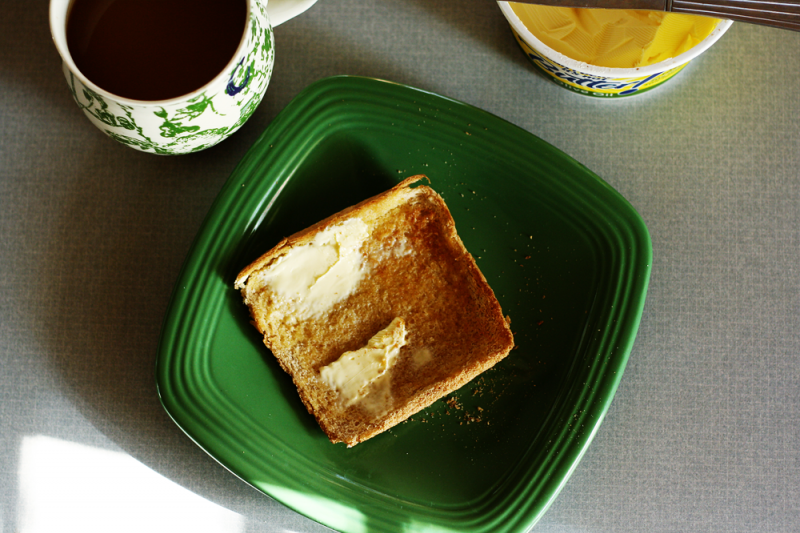 And can I just say that I love me some buttered toast in the morning. Especially buttered toast I can eat with confidence knowing it won't tally up the calories and saturated fats that regular butter would. I've said it once and I'll say it again– we're I Can't Believe Butter and Country Crock fans for sure. I get that some people may disagree with this, but
to each their own
. It's what I grew up on and it's what Alea will grow up on as well!
Are you looking for some great recipes to try with I Can't Believe It's Not Butter? Visit this post for a list or check out these pins:
1. 3 Ingredient Grilled Salmon
2. Dill Corn on the Cob
3. Sweet Potato with Brown Sugar and Margarine
4. One Bowl Chocolate Chip Cookies
Cooking your favorite recipes using Unilever buttery spreads is a deliciously smart move. With 0g trans fats per serving, less saturated fat and fewer calories than butter, cholesterol-free spreads are a better option.
Visit itisgoodtoknow.com for more information and recipe ideas now!
This is a sponsored post written by me on behalf of Unilever.
Click below to visit this month's featured sponsor: