Keeping a little one entertained during the summer months can be quite the challenge sometimes. Sure, you can go run around outside and go to the park and do all kinds of things off of your summer bucket list, but sometimes that just feels repetitive. You know? Sometimes just adding a new inexpensive toy to the mix can help mix things up a bit!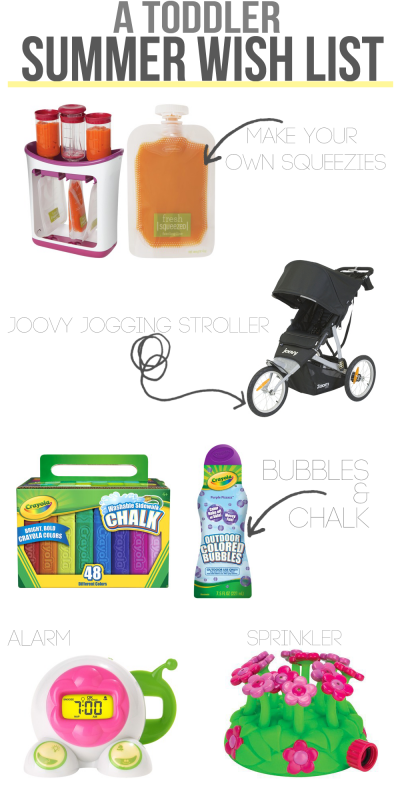 Infantino Squeeze Station//Infantino Squeeze Pouches//Joovy Jogging Stroller//Crayola Chalk//
Crayola Bubbles//Okay to Wake Alarm Clock//Melissa & Doug Flower Sprinkler

Okay, I'll admit that a few of those are for
my
benefit. That Wait to Wake Alarm clock? That might be so I can sleep-in past 8am. And that jogging stroller? That might be so I can get rid of that extra jiggle I accumulated during the winter months. However, I know Alea would have a ton of fun going for runs with mommy. Our current stroller just doesn't allow for runs with it's typical 4-wheel design. A jogging stroller's been on my list
forever
, we just haven't taken the dive and purchased one!
I think both Alea and I would get a kick out of that Infantino Squeeze Station. I've shared my picky-eater woes with you before and Alea hasn't gotten much better since then. We still stock up on squeezies so we can be sure she's getting the fruits and veggies in that she needs and it can get so expensive. I'm thinking with trips to the farmers market this summer we could definitely save some money by making our very own squeezies! Has anyone tried this system before? Thoughts?
What's on your little one's summer wish list?
Click below to visit this month's featured sponsor: