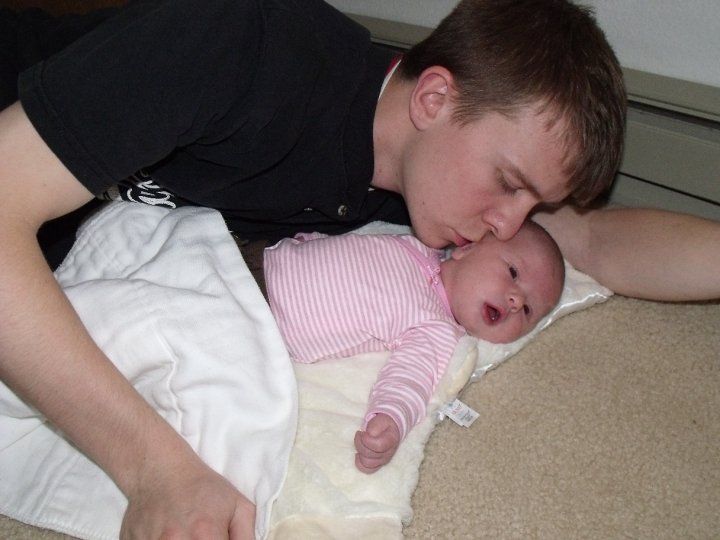 But it takes a man to be a dad.
I'm sure you've heard this saying many a time. I know I have. But I never thought that I would be so dependent on a man to be a dad rather than just a father. Cory's been nothing but an amazing dad since the day we found out I was pregnant with Alea. I've shared the story of our family before, but our family was started very unexpectedly. Alea was certainly a surprise and we were really scared when we found out she was on her way. Though he was living three hours away at the time, support-wise he never left my side.
We stayed up for hours the night I found out I was pregnant discussing all the details. What we would do. What our plans were. And he promised me he would be there for me no matter what. There were times during my very hormonal pregnancy that I told him I didn't want to have anything to do with him. It was like I was testing him to see if he was really going to stick around. I was testing him to see if he was in it for the long haul and if he was going to be there for our unborn child.
He was always there though. He was there for all but two of my prenatal doctors appointments. Even though I went against our original plans and dropped out of my 3rd semester of school and decided to move up to Hudson with him, he forgave me and supported me through the last couple months of my pregnancy.
I can say in complete honesty, I know I wouldn't be graduating with my RN in December if Cory weren't Alea's father. Not only is he an amazing father to Alea, but he's an amazing man to me. I've been lucky enough to stay home with Alea for the first 3 years of her life. Because he's allowed me to do that. He works is butt off to support our family in every way that he possibly can. He's sacrificed time, money, and blood, sweat and tears to purchase and make our home a home. He does so much for us! I don't know where we'd be without him!
And to this day, he still promises me he'll be there for me no matter what. He's the glue that holds our little family together. He's the man that became Alea's father and knows that just being "a father" wouldn't be enough. Him and Alea share this magical relationship with one another. It's hard to explain unless you really see them together. Cory's more fun-loving and playful than I am and she comes even more out of her shell when he's around. They're the perfect pair.
I feel so lucky to say that he's my man and he's the most amazing father to Alea.
Happy Father's Day, Cory!
Click below to visit this month's featured sponsor: