Geeze louise YouTube. This is one doozy of a still shot. Not that the others I had to choose from were anything to brag about, either.
Vlog recap:
1. Check out Mandy's new hair cut. What do you think? Should I chop mine, trim mine, color mine or leave it?
2. Here's Ashley's helpful hints to getting your inbox down to zero every day! It's been an absolute lifesaver for me as of late.
3. I'm loving International Delight iced coffee lately. I'm seriously obsessed. It makes me clean my house, so I'm pretty sure Cory's obsessed with the fact that I drink it as well.
4. Alyson from Vintage Sunshine is the crazy lady who decided to vox me during my vlog. Love that woman to death!
5. We had a wonderful time hanging out with my friend Emma and her two sweet little boys! She just started blogging recently– which I'm very excited about– so you should go check out her blog and say hello! —> Unpredictable Chaos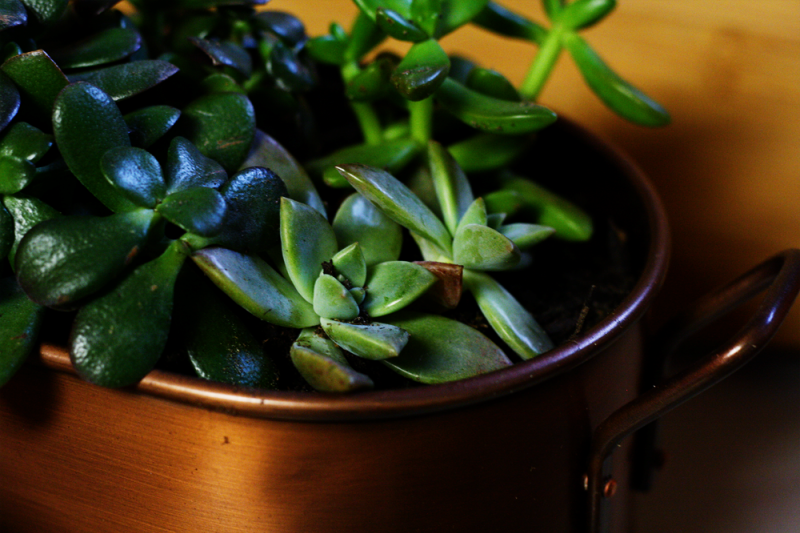 Plants in general have been making me really happy this spring. I had a great experience building our
raised garden bed
and have enjoyed watering and taking care of the vegetables I planted. I try and escape solo everyday to water them. It's just a couple minutes of "me time," but it's exactly what I need to refresh and recharge. I didn't succeed with the plants that we planted in the garden bed in the front of our house so well last year. I planted a couple hostas and 2 other kinds of perennials and NONE of them came back. Now that's just plain embarrassing. We have hostas growing on the side of our house and
those
came back… but the ones I planted didn't? It's become my
goal
this year to make sure I earn my green thumb and keep these plants alive and thriving. Pictured above is what I just recently added to my garden yesterday!
Succulents: These haven't been added to my garden per se, but rather the little space behind the sink in the kitchen. I've heard these are the most low maintenance plants in the universe. I was telling Alea, when we were at Home Depot just that, and a woman looking at succulents next to us giggle and said "unless your husband waters them too much!" She apparently had that issue and was shopping for succulents to replace the ones her husband killed. She was just a wealth of knowledge on succulents, cacti, and plants of all kinds. I really enjoyed talking with her and learned a very valuable fact: do not over-water your succulents!
Aloe Vera: Growing up we had a huge aloe plant in our living room. I loved picking off the "branches" and squeezing out the serum inside. It's really great for sunburns, as I'm sure most of you know, and it can even be a great remedy for zits! Which is quite convenient considering I have a zit the size of Mount Everest calling my chin home right now.
A Hummingbird: These pretty little birds have always reminded me of my Great Grandma. She used to have a couple hummingbird feeders in both the front and back of her house and I was always mesmerized by the birds. We never saw them "in the city" where I lived, but maybe it was because my grandma was so dedicated to feeding them the best sugar syrup around. My mom made it a point to get a hummingbird feeder one spring and I think we saw one measly hummingbird the whole entire summer. Not only was my grandma great at attracting these gorgeous birds, she had the greenest thumb as well. I thought maybe having a little hummingbird in our garden would bring good great-grandma vibes to my garden. You hear that Elaine? Help me out here!
Purple flowers: Alea and I added some color to the front of our house finally. Along with these pretty purple flowers we added some blue and white as well. Our garden beds are all full, now it's time to move onto our terra cotta pots! We're busy gardening gals over here!
Strawberries: Thanks to the convincing of Danielle, I've chosen to add a couple strawberry plants to my raised garden bed. That's right. I give into peer pressure just that easily. This is a giant step for me, as I've never planted a fruit before. Unless you're one of those weirdos who think that a tomato is a fruit. That's just odd. But in any case, I'm really excited to see how these do.
As always, I'll keep you updated on all my gardening adventures and the progress of my gardens this year. I'm really crossing my fingers that my thumbs turn a a couple shades of green darker and I'm able to have a bountiful harvest of fruits & veggies and that my flowers stay colorful as well. Will you cross your fingers for me? And maybe your toes, too?
What are you planting in your garden(s) this year?
Linking up with Rags to Stitches and Lauren Elizabeth
Click below to visit this month's featured sponsor: