I was provided the following product in exchange for an honest review on my blog. All opinions are 100% my own.
I've got one word for you: YUM! Both Alea and I loved trying these new
Sambazon smoothies
. She had the "Blended Breakfast" while I tried the "Mocha Java" and neither of us could get enough. We were away for the weekend in Milwaukee last weekend and I was in desperate need of a pick-me-up. After waking up at 4:30am, driving for 3 and a half hours, sitting through a 3 hour graduation ceremony and then going out to lunch with a child who
refused
to eat, I needed something to get me through the rest of my day… with no coffee in sight! It was almost tragic!
I decided to give the "Mocha Java" flavor a try and boy did it get me through! I was honestly shocked. I'm a huge coffee drinker and need a cup or three to get me through my days, but I honestly think I could transition to having a cup in the morning and one of these in the afternoon. I was very impressed!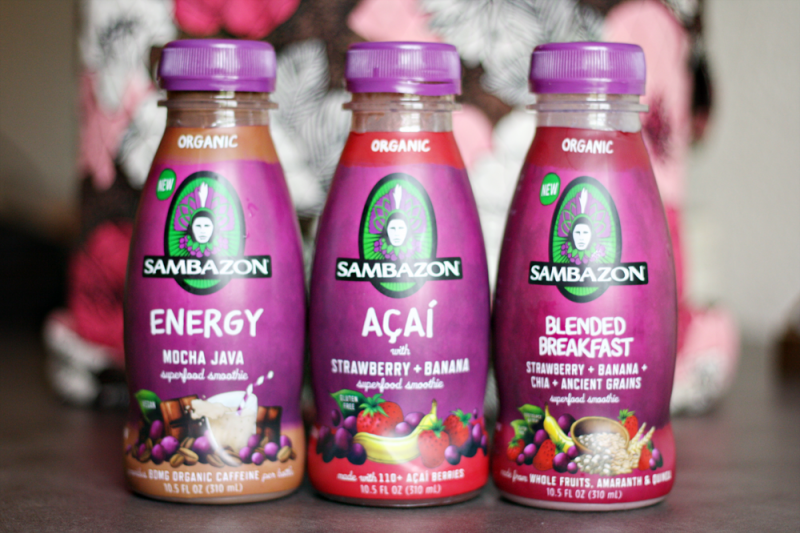 Alea enjoyed her "Breakfast Blend" while she ate a bowl of oatmeal in our hotel room– that Cory made using the coffee pot. I'm not even kidding you, that man is a genius. (But don't tell him I said that!) Hot water from the coffee pot + instant oatmeal + the smart cover from our iPad to hold in the heat. Now that's what I call innovative! Alea drank up her cup of iced Sambazon in a hurry and asked for more right away. They're really the perfect treat for an adult or child!
Want to try them for yourself? Sambazon and Moms Meet are giving one lucky reader a prize pack! You'll get 3 coupons that will get you 3 free Sambazon smoothies and a gorgeous wooden bowl & spoon! Good luck! US Residents Only.
Disclaimer: I received this product for free from the sponsor of the Moms Meet program, May Media Group LLC, who received it directly from the manufacturer. As a Moms Meet blogger, I agreed to use this product and post my opinion on my blog. My opinions do not necessarily reflect the opinions of May Media Group LLC or the manufacturer of the product.
Click below to visit this month's featured sponsor: