Basically, this vlog has nothing to do with the rest of this post, but what's a Friday without a coffee date, right? I just couldn't do without. It's been a busy, busy, busy week around here, but it's been a very productive week as well. My house is the cleanest it's been in a long time, I got meet my bloggy BFF Kenzie for the first time in real life, and Alea and I made it to story time and out for a walk with friends despite the heat. And did I mention she locked us out of our bedroom? I'll tell you the full story below:
If you follow me on
Instagram
, then you know that we had quite the evening Wednesday. Alea decided it would be
funny
hilarious to lock me out of my own bedroom. Kids. I think their sense of humor is a little off. (She must get that from her father). Anyways, I think I'm finally over it… so feel free to laugh along!
I was in the kitchen cleaning up a bit when I heard Alea shut the door to my bedroom and say, "There, now mommy and daddy can sleep on the mattress on my floor." (She has a captains bed and a paranoid mother.) I didn't think anything of it and called her over to tell her about our upcoming plans to go to Target to get groceries. I had her find her shoes and get a sippy cup for the ride and then walked over to my room to grab something. Not so fast… the door was LOCKED. She really did want me to sleep on her floor that night! I muttered about 72 profane words under my breath and then began to brainstorm. What's a girl to do without a man home to help? Call her dad of course. I dialed my dad's number, those 10 numbers I've had memorized since he first entered the cellular world. He couldn't help but chuckle as I vetoed every one of his ideas:
1. Have you tried a bobby pin? –No dad it's a key lock.
2. Can you unscrew the door knob—Nope, no screws, dad.
3. How about the hinges? Why don't you take the hinges off the door?—Hinges are on the opposite side of the door… of course.
4. There's a little hole under the knob, try putting a bobby pin in there. –It's aligned weird and the bobby pin won't go in.
5. Have you tried a credit card? – Doesn't work. The rounded part of the door thingy faces the wrong way and even so, the trim of the door frame is in the way.
6. Can you get in through the window? – Our screens are on the inside of the window frame and I'm 97% sure our window is locked.
And his final words of daddy wisdom, "Well, good luck with that kid! Let me know what Cory figures out when he gets home!" I'm glad someone (besides Alea) thought this was funny. Basically there was no other option than to call Cory and see what he thought about this fiasco that our sneaky little three-year-old caused.
"Oh no problem. I'll pry the door frame off and use a putty knife to get in. Don't worry about it. I'll fix it when I get home."
So off we went to Target. I'm just thankful that my purse, wallet, and keys were all outside of my bedroom. Hallelujah for that, because if I wasn't able to go to Target we would have had some serious problems!
(I apologize in advance for using words like "thingy" and "thing-a-ma-bob" in the next few sentences. I'm not an expert in door and door knob anatomy, as I've never had to become one… until now.) Fast forward to later that evening. Cory ramming a putty knife in between the door trying to pry the door thingy—you know that goes into the door frame? Yeah, no luck. I held a flashlight (in between taking photos for this blog post and Instagram) and tried my best to be of some sort of assistance. After that didn't work? Crowbar. I found the "big daddy" crowbar, as Cory refers to it, amongst some cobwebs in Cory's tool box. He then began to pry the door frame off the door, pulled back on the crowbar and slammed it right where the little thing-a-ma-bob goes into the door frame. And BAM! He turned the door knob and pushed open the door. I could have sworn I heard the hallelujah chorus playing. I was truly afraid that we would be sleeping on the couch or in the dusty guest bedroom downstairs. All I wanted was my nice comfy bed! Needless to say, I was one happy gal! We decided that it would be best to just leave the door knob off for the time being until we can get a new one. I don't even trust reversing it, because I can totally see Alea locking me in and giggling her little heart out on the other side of the door.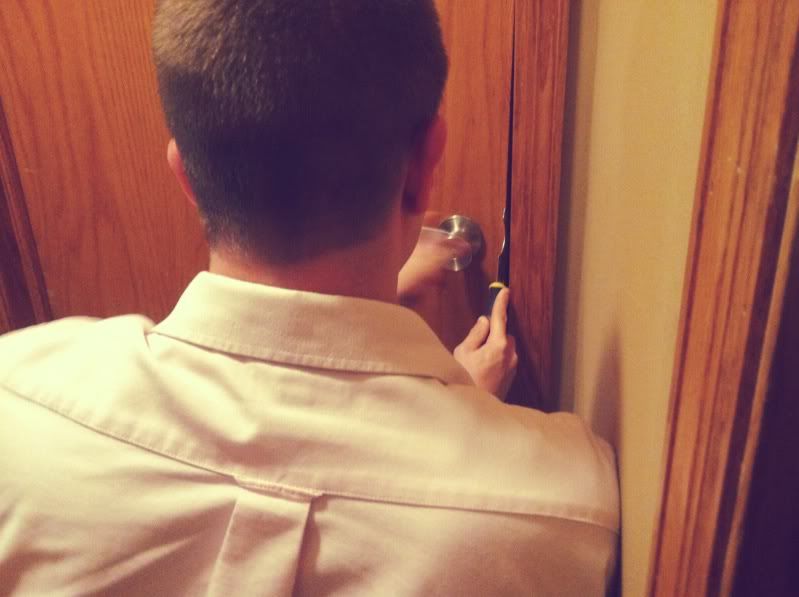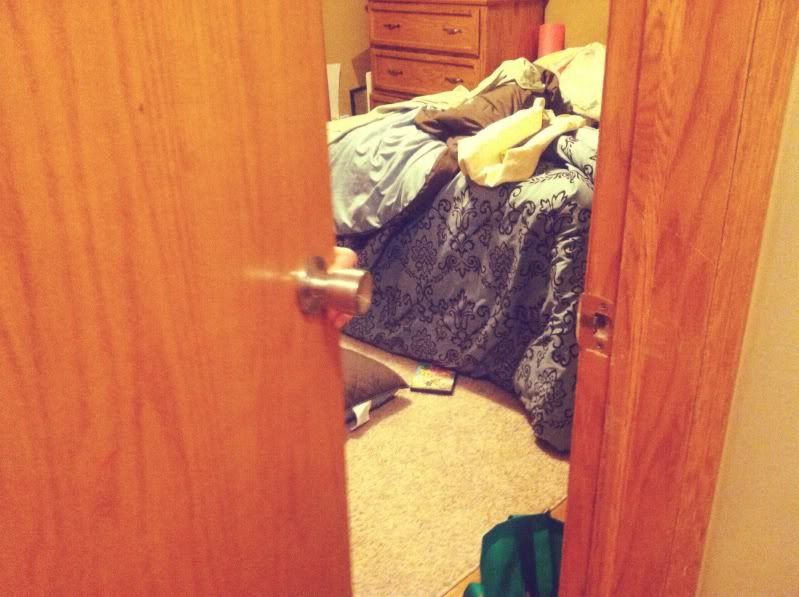 Alea was just as excited as I was about getting the door unlocked when she came into my room to wake me up. "Mommy, daddy fixed the door knob! And look! It not even on anymore!" Two seconds later I heard her swing the door closed and the little thingy "click". Who needs coffee in the morning when you realize that your daughter didn't lock you
out
of your bedroom this time, but rather locked you
in
. [insert expletives muttered under breath here] The first thing I grabbed to try and open it was a Swiss Army knife. No luck. I tried and tried to pry the little thingy over and pull the door at the same time… to no avail. My next thought was to get Alea to unlock the front door so I could climb outside through my window. I popped the screen off, but she said she couldn't get it unlocked.
Crap! Now what was I going to do?
[Face palm] The door knob was sitting on the bookshelf right next to the door. Insert door knob, turn door knob and then kick yourself in the butt for being such an idiot! Keep in mind this was pre-coffee and I was exhausted from too little sleep.
My advice to you if you ever get locked out of your bedroom with an impossible-to-break-into-doorknob? You can research how to pick a lock all you'd like, but I'd recommend a crowbar and replacing that god-awful door knob. And don't forget to tell your child to never ever ever ever touch a door ever again in their life. Put the fear of God into them if you have to. I'd be lying if I told you I didn't carry around that door knob with me for the duration of the morning for fear that she would either lock herself in or lock me in… again.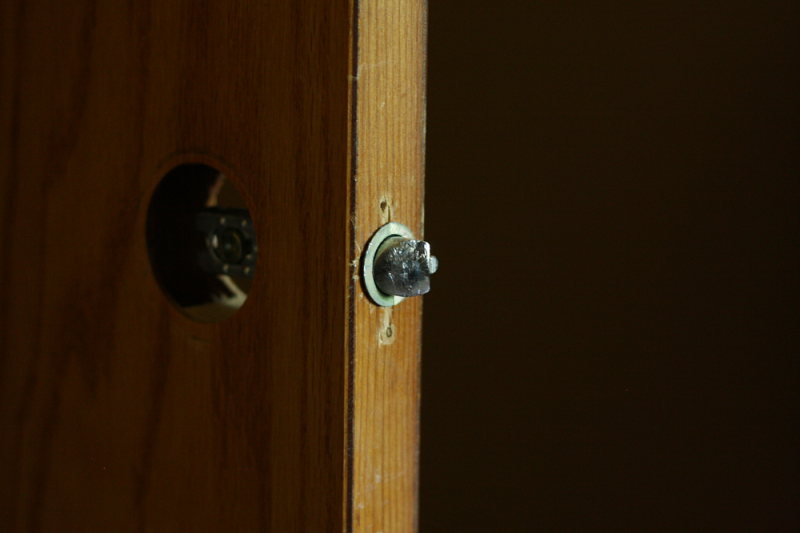 Please tell me this has happened to you? If not, lie and make me feel better. I never knew so much drama could come from a darn door knob.
Linking up with Rags to Stitches
Click below to visit this month's featured sponsor: