This shop is part of a social shopper marketing insight campaign with Pollinate Media Group™ and Home Depot & Rubbermaid, but all my opinions are my own. #pmedia #AllAccessOrganizers http://cmp.ly/3/8vNxcO.
I've always made it a point to be real on this here blog. Real to a certain extent. I don't want to delve into certain things and up until today, I've never shown you pictures of the insides of
any
of my closets. For good reason, too. It's just plain embarrassing! I grew up learning that "closets have doors for a reason" and boy oh boy have I used those doors to hide the clutter and chaos inside of them. Isn't that the wonderful thing about a closet though? Have guests coming over and need to do a quick clean-sweep through your house? Just shove it all in a closet and no one will ever know! But truthfully, after a while all that disorganization and clutter catches up with you. It begins to wear on you and sometimes even on your relationships.
Let me explain a little further. Cory and I fight sometimes and a majority of those fights erupt when Cory's looking for a specific brown belt, he's out of white t-shirts, he can't find the right color socks for work, or those cargo shorts from Old Navy he hasn't seen since last summer. It's true. The disorganization and chaos that was our bedroom closet caused fights and tension between us.
We'll just let the before pictures speak for themselves. (And please still be my friend after seeing them.)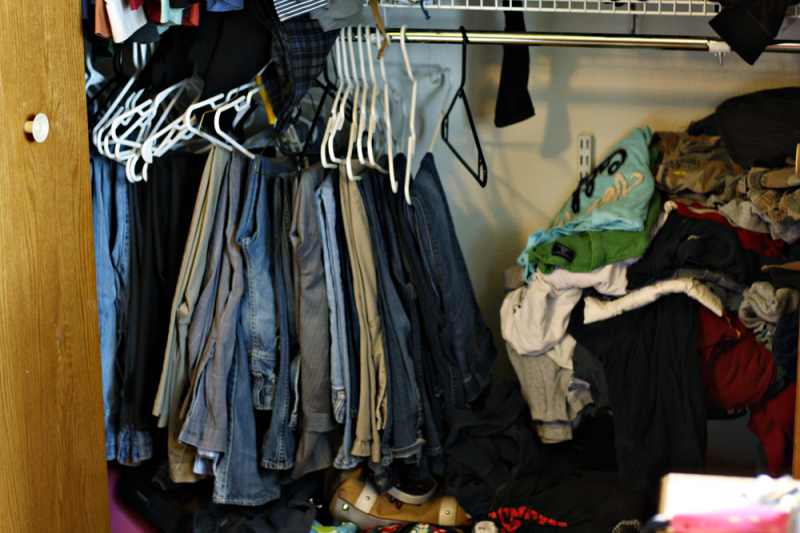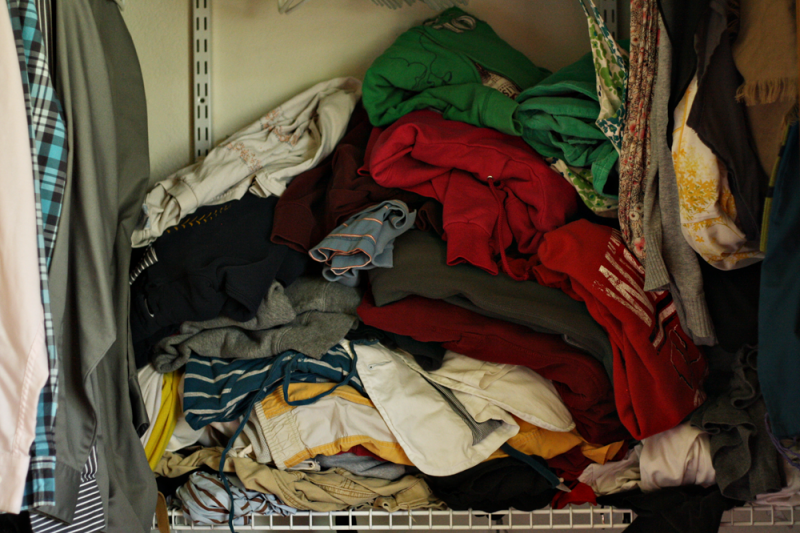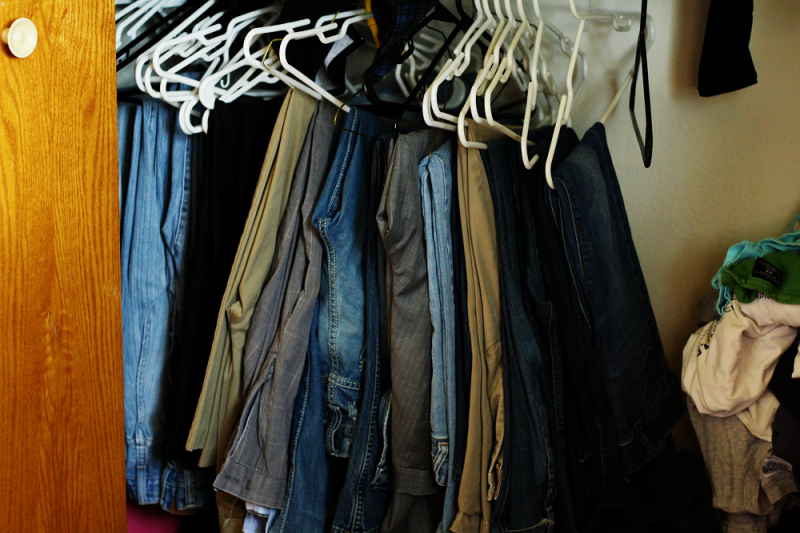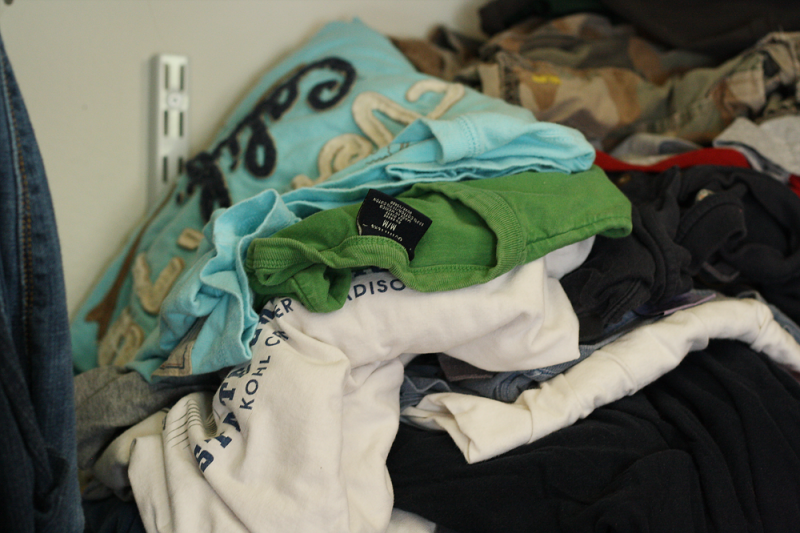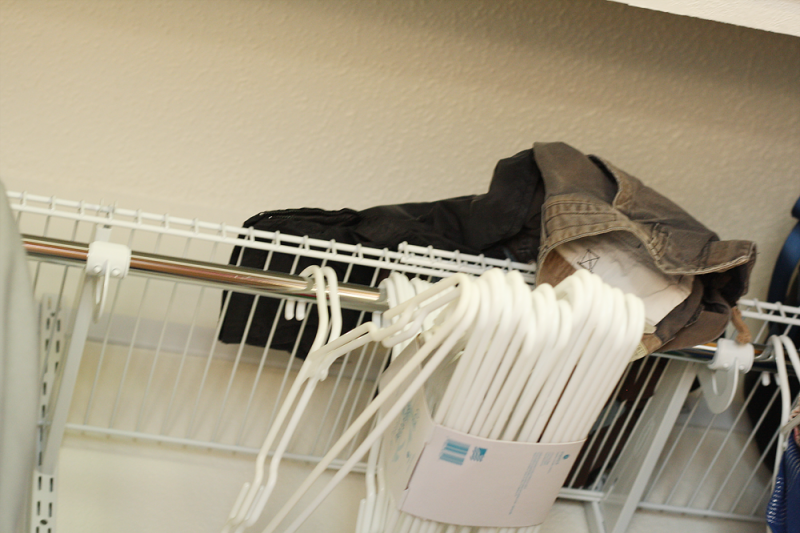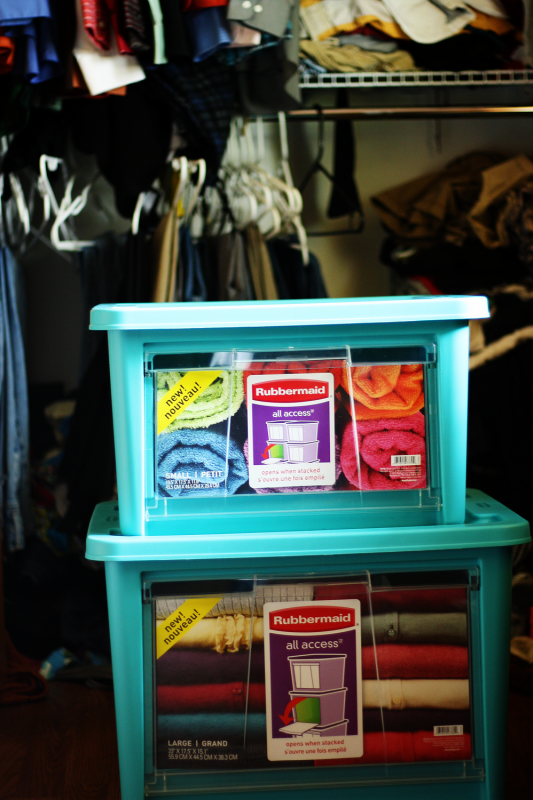 Talk about crazy, right? All you Type A's out there are wiggling in your chairs and your hearts are racing, am I right? Are we still friends? I sure hope so. That messy, messy closet is the result of many finals weeks, busy weekends, and just the overall lack of motivation to clean-up and get organized. Pure laziness, if you will. One of my "summer resolutions" before I go back to school was to get organized. I want to not only clean out our bedroom closet, but I want to clean out every closet in our house. Getting organized before I go back to the busyness of school will definitely help with my anxiety level and keeping everything together.
This is the first step I'm taking to a more organized home and it feels so, so good! Check out the after photos and tell me you're not impressed!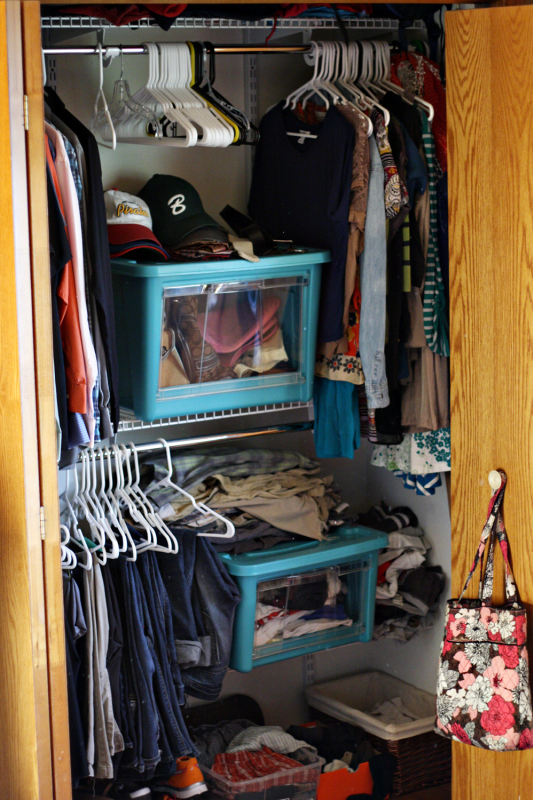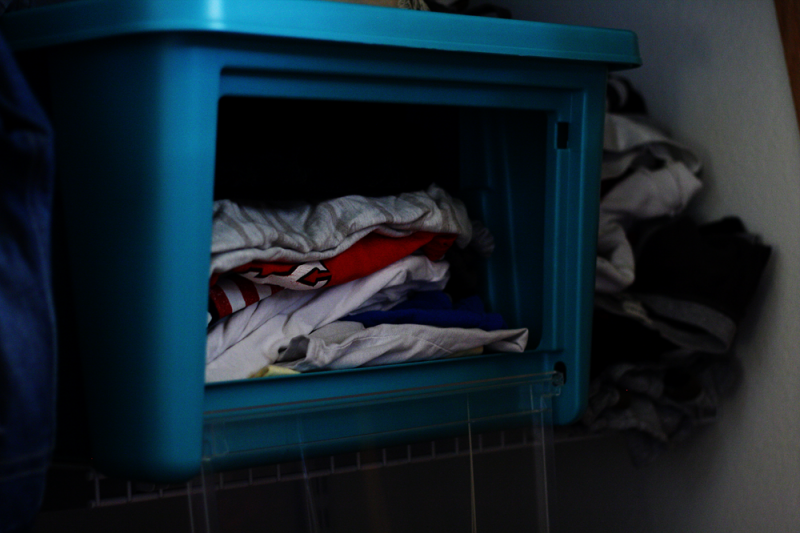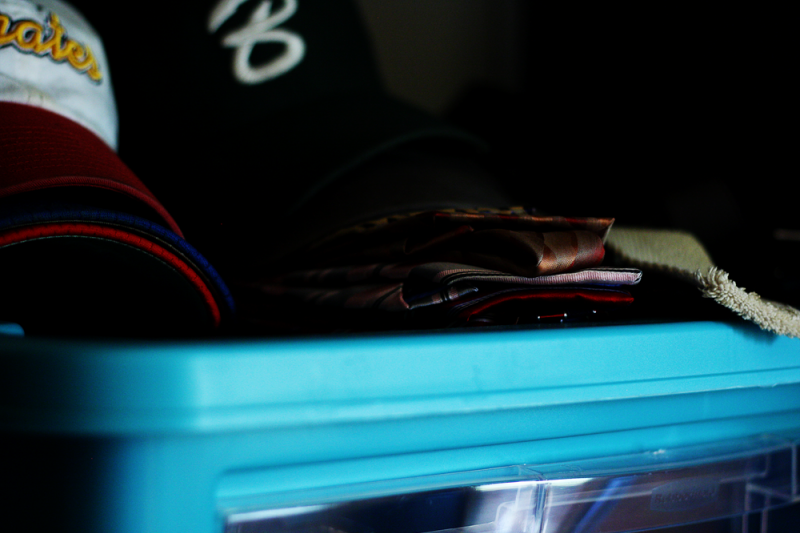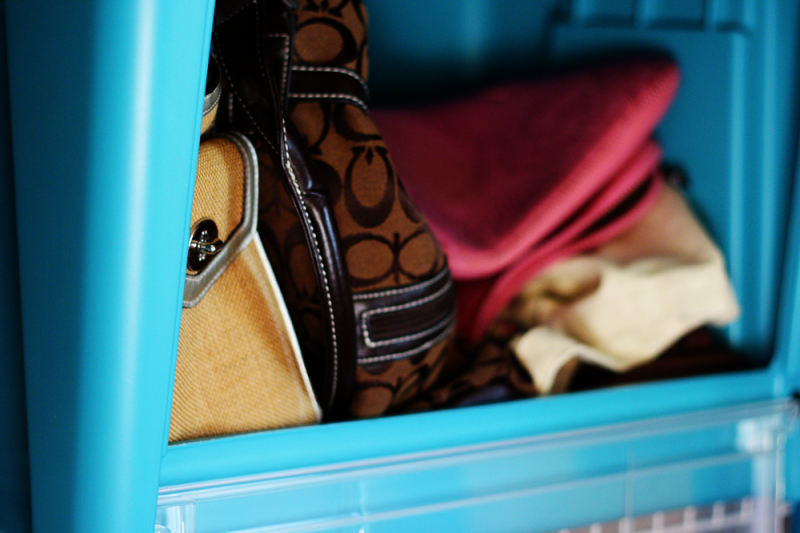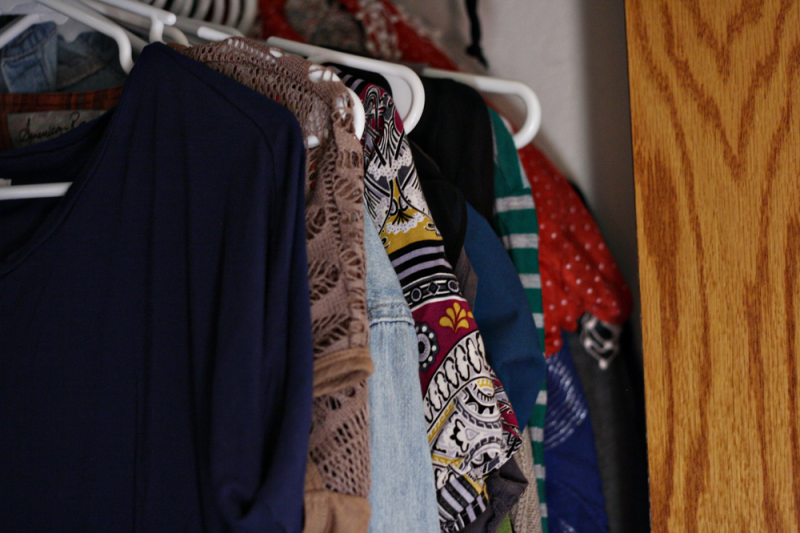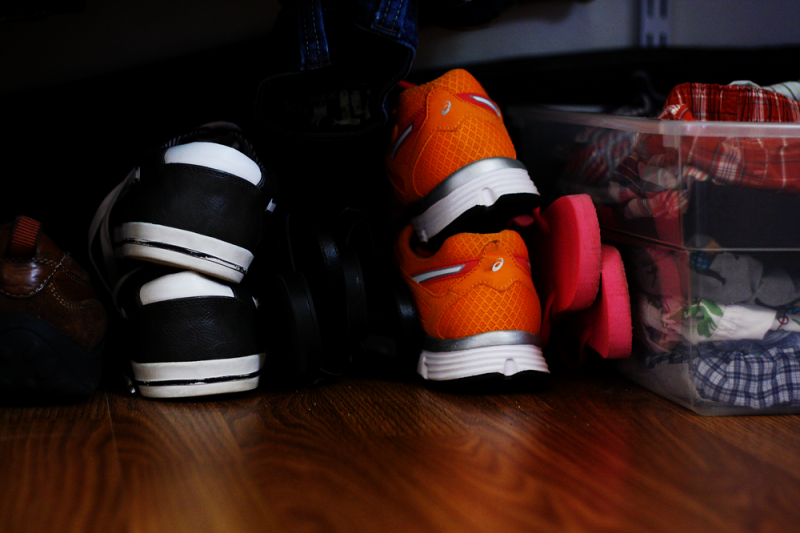 7 paper grocery bags of clothes to donate later, we have a clean and organized closet. And to think all it took was 1 iced coffee and 2 pretty aqua Rubbermaid All Access Organizers (purchased at Home Depot if you were wondering). All in all, the entire closet-cleaning process took about 3 hours, including interruptions by a certain Alea Lou. Now that's a small price to pay for a little piece of mind and a significantly lower anxiety level, and a happier relationship. Cory was absolutely thrilled when he got home from work that night. I showed him how I made space for his baseball hats, belts, and ties– 3 things that always seemed to go missing amongst the previous closet clutter, stacked all of his favorite t-shirts in a front-opening All Access bin, and made a spot for all my bags (real Coach and fake) in an All Access bin as well. The clear fronts on the bins allow us to easily see what's inside before we even open the door which certainly saves time! And if we ever need more space for more stuff, the fact that they open in the front as well as on the top, make it so much easier to stack if the need should arise!
Closet Organizing Tips:
1. Put away those winter clothes!
If you live in a cold-weather state like Minnesota, you know that those winter clothes can take up a lot of space during the summertime. To solve this problem and get those sweaters out of our way, I moved them to the top shelf of the closet that was nearly empty. It was once un-used space that is definitely getting some use now!
2. Utilize bins + baskets!
And if you run out of bins or baskets, use a shoe box. It seems a little ridiculous, I'm sure, but for something as simple as socks a shoe box really does that trick. And when you're out shopping for bins, make sure they're conducive to what you need. For example, the bins I used to organize my closet can be stacked, accessed from the top and the side and the clear front is really helpful as well. We're talking versatility here, people!
3. Donate! Donate! Donate!
How many times have you really worn that dress, old Hollister t-shirt or those pants that have been too small for you for 5 years? Could they go to a better home? Then get rid of them! Not only will it make you feel better to give those pieces to a great cause, it'll also clear up some clutter and get you on track to a more organized closet!
Have you cleaned out a closet or organized lately?
(It's cheaper than therapy and just as productive, if you ask me!)
Thank you to Home Depot + Rubbermaid for sponsoring our closet overhaul. As I'm sure you can see, we needed the help!
Don't forget to visit Rubbermaid on Facebook + Home Depot on Facebook.
Click below to visit this month's featured sponsor: