This is a sponsored post written by me on behalf of Pompeian Olive Oil.
I've been seeing delicious, mouth-watering caprese salads all over Instagram and blogs lately. It's just that seasonally perfect meal that everyone craves during the summer months, isn't it? Confession: I've never had a caprese salad. Ever. I know, that's probably a sin, right? It looks so delicious, but I've just never had all of the ingredients on hand when I've wanted to make it. However, that's all going to change now. This mama's got tomatoes and basil growing in her garden and there's no excuse not to add some fresh mozzarella to my grocery list. Caprese salad here we come!
Now, originally I wanted to try the traditional layered caprese salad with the alternating tomato, mozzarella, and basil leaf pattern drizzled with balsamic vinaigrette. But that's no fun. I like to mix things up a bit. My initial thought was to add some fun spiral pasta and jazz it up with some grilled chicken, but then I remembered that I'm trying to eat healthier and pasta = (a lot of) extra calories. Which brings me to this yummy concoction:
Grilled Chicken Caprese Lettuce Wraps
Ingredients:
-Lettuce
-Grape tomatoes
-Fresh mozzarella
-Fresh basil leaves
-Boneless, skinless chicken breasts
–Pompeian Grapeseed Oil
-Balsamic vinaigrette dressing
-Pepper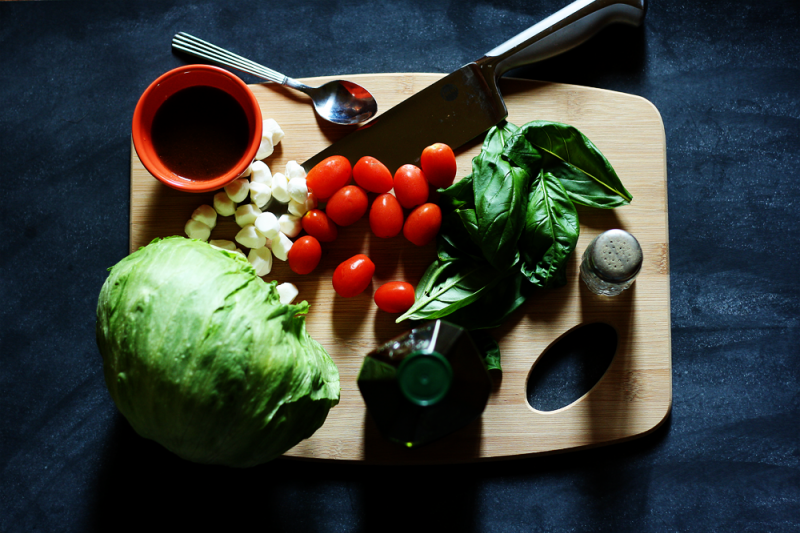 Instructions:
1. Marinate 3-4 chicken breasts in Pompeian Grapeseed oil, a dash of pepper, 1/2 cup of basil and 1 tablespoon of balsamic vinaigrette dressing in a zip-loc bag or container for 4-8 hours.
2. Wash + cut grape tomatoes in halves.
3. Shred basil in a food processor until finally shredded.
4. Wash lettuce + gently peel off leaves to make "lettuce cups" for our wraps.
5. Cut fresh mozzarella into cubes.
6. Grill marinated chicken until cooked through (usually 12-15min, but when it doubt use a meat thermometer).
7. Shred chicken in a food processor. (Or shred it by hand. I'm just lazy!)
8. Layer chicken, mozzarella, tomatoes, and fresh basil into the lettuce cup.
9. Drizzle with balsamic vinaigrette + Pompeian Grapeseed oil.
10. Best served after chicken has cooled down some. Enjoy!
Recipe should feed 3-4 people. Serve with fresh fruit and Watermelon Mint + Lime water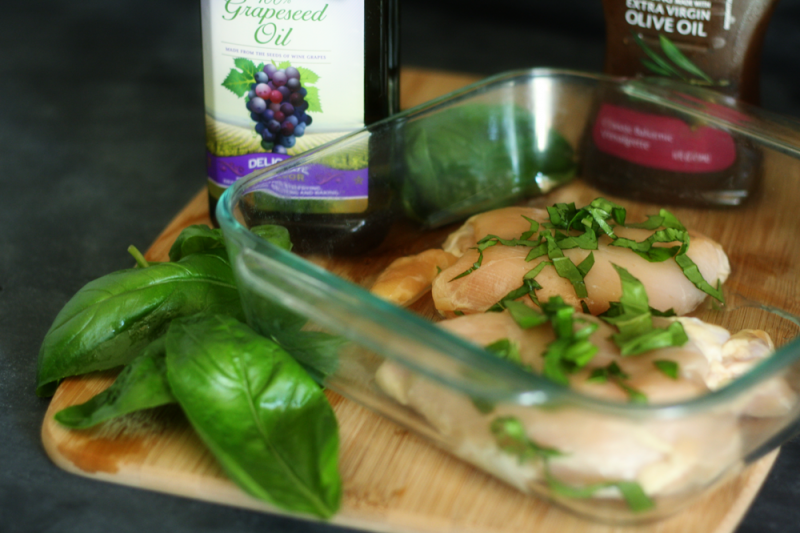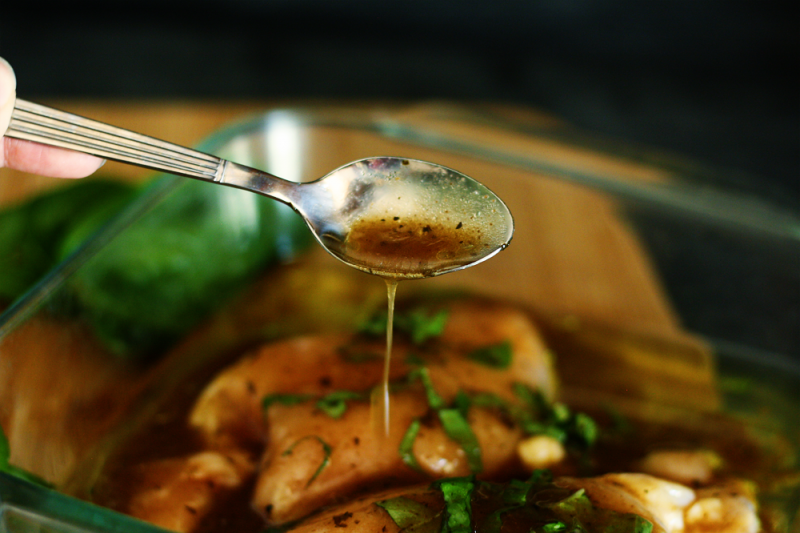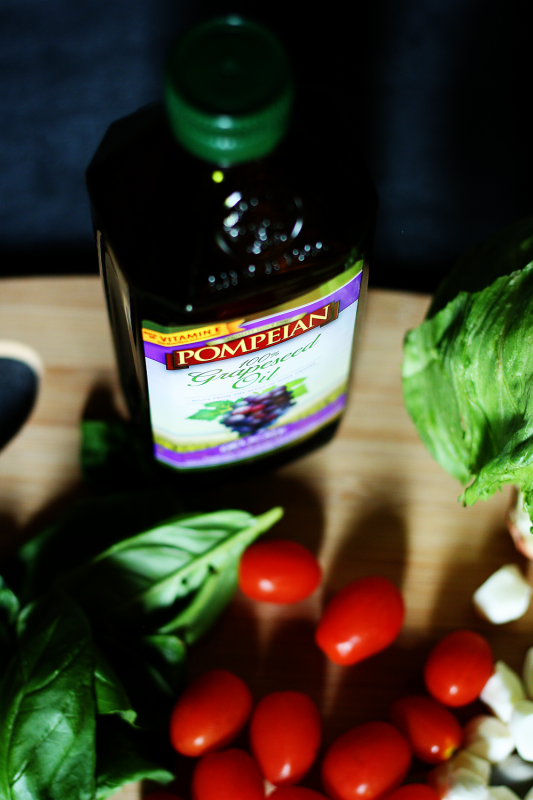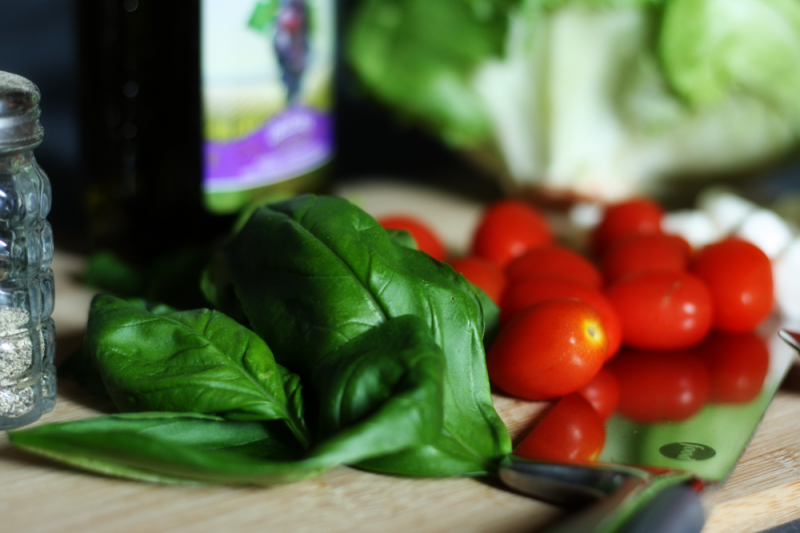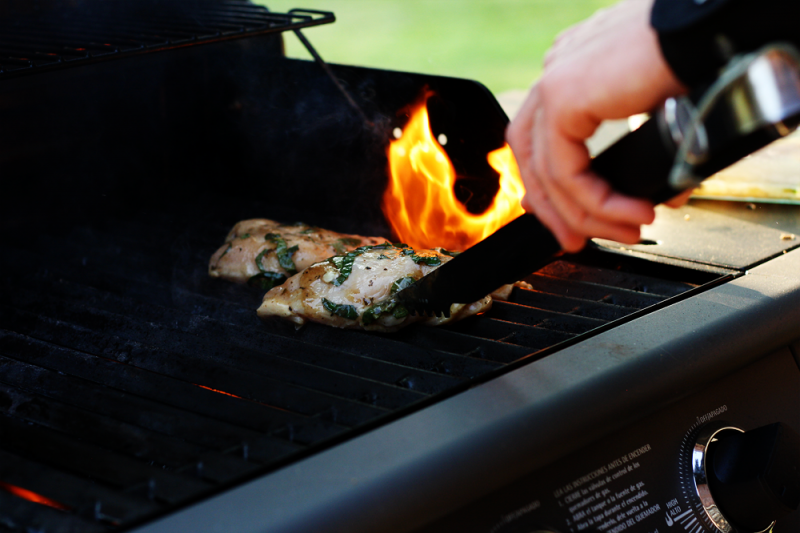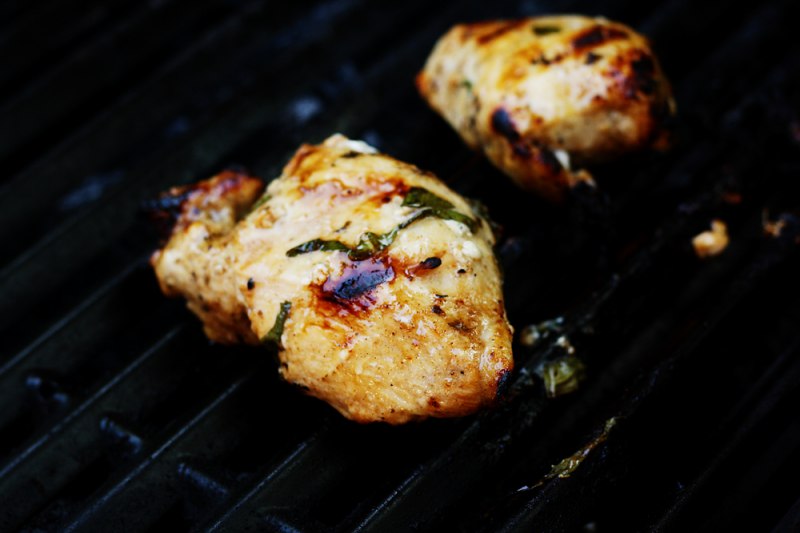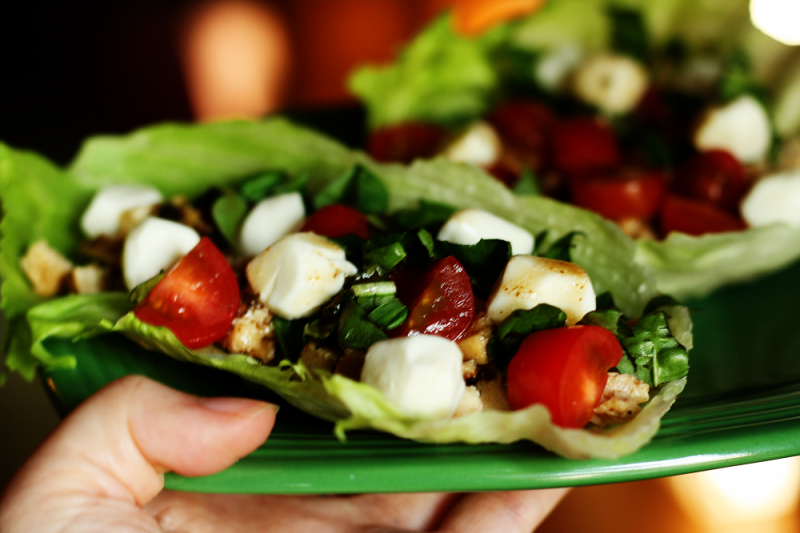 How delicious does that look? This meal was even more filling than I could have imagined. I chopped up (or as Cory would say "minced") a palm-sized chicken breast up and divided it between two lettuce wraps and topped with each of the toppings. Think taco bar! It kept me full all night, was well within my calorie range for my meals and upped my veggie intake for the day. It was fresh, crisp, a little salty from the balsamic vinaigrette and simply delicious. What a fun little spin on the typical caprese salad and something fun to add to our meal plan!
Pompeian Olive Oil, a leader in olive oils and vinegars, is here to help you celebrate July for National Grilling Month! Pompeian products give you a taste of the Mediterranean without leaving your backyard.
By using Pompeian Grapeseed Oil and OlivExtra Mediterranean Blend products you can make grilling healthier and more flavorful in a Mediterranean way. For more information about Pompeian Olive Oil, please visit http://pompeian.com/.
And if you are looking for recipe inspiration, be sure you do not miss the below Hungry Girl recipes!
Hungry Grilled Romaine Salad
Jalapeno Peach Shrimp Skewers
Spicy Mustard Chicken Kebabs
This is a sponsored post written by me on behalf of Pompeian Olive Oil.
Linking up with Lish + House of Rose + Create and Inspire
Click below to visit this month's featured sponsor: