Disclaimer: This is post is sponsored by Gracie B. I received product to show off to all of you in exchange for an honest review.
I've been on the hunt all spring (so since May since Minnesota hates us) and the beginning of summer for the perfect maxi dress. I can't even count how many I've tried on between my too-many-trips to Target and Old Navy. I should probably stop visiting those places on a weekly basis. My checking account would appreciate that. But seriously, every maxi dress I've tried on has been too long on me! I always forget that in blogging you can't really tell how tall people are. I'm all of 5'3″ tall. I'm a shorty and pretty petite. The length is the hardest part. I swear they think only tall women can wear maxis because they're all inches and inches too long. I was beginning to feel defeated, but I'm happy to say, that the search is over!
This gorgeous red & cream striped maxi from Gracie B is the winner. It's the perfect length, the perfect fit and oh so comfortable. I'm totally in love. And since receiving it last week, I honestly can't count how many times I've worn it! I just don't even want to take it off. It's perfect for the beach, the pool, play dates, and you can even dress it up a bit with some gold accessories and wear it out to dinner! It's so versatile. Not only did I find the perfect maxi dress, but I've decided to 'shop my closet' a little and figure out different ways I can wear it. There's nothing like creating multiple outfits out of one piece, right? You can really do anything with a maxi dress, but here are a few things I've tried.

Look One: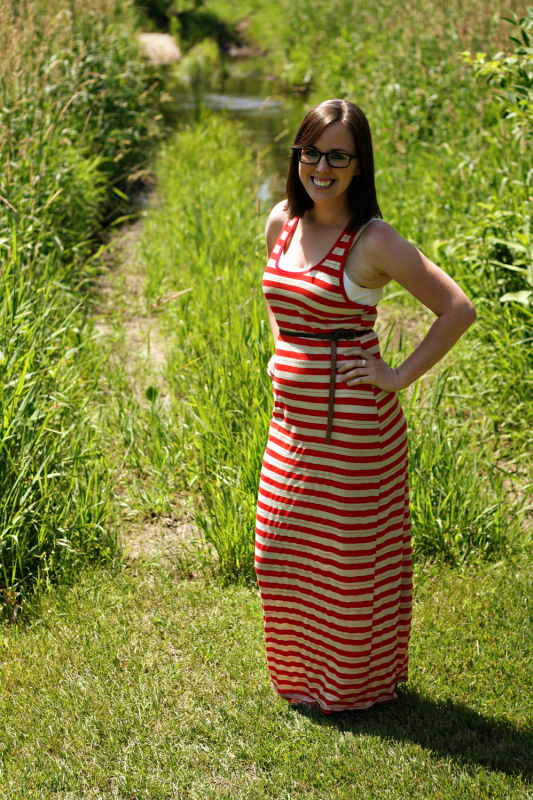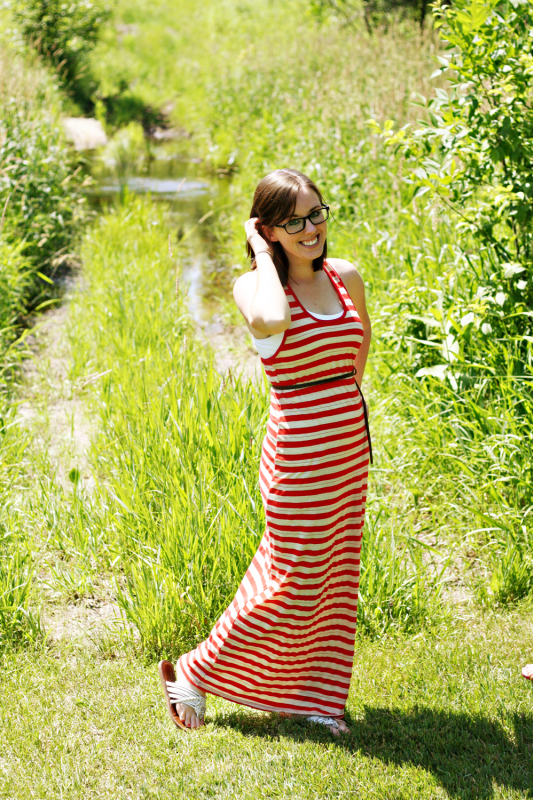 This one's simple enough. All I did was add a brown braided belt and I was good to go. This is perfect for those scorching hot days where you just need your arms and shoulders free. I also love that the belt cinches and accentuates my waist. I'm a little self cautious about my stomach, but this masks that and plays up a more flattering feature. I'm a simple girl and I like to keep my outfits simple as well. That means minimal accessories and minimal fuss. This style is
perfect
for that.
Look Two: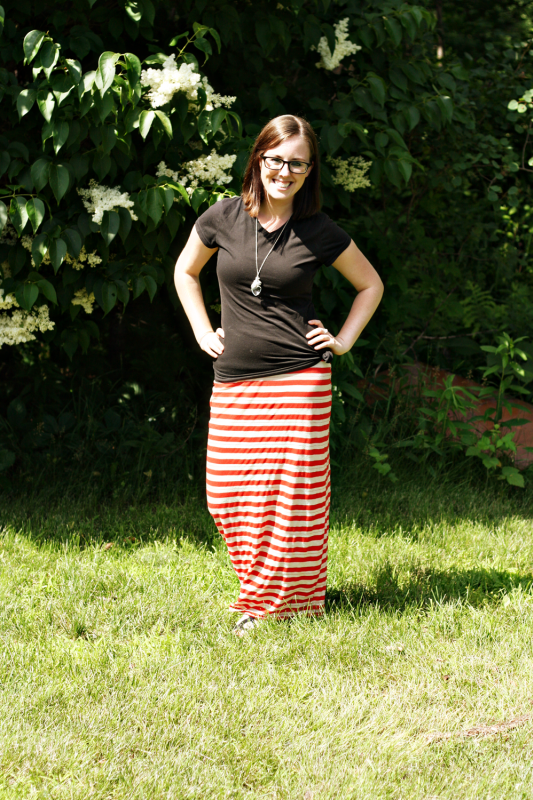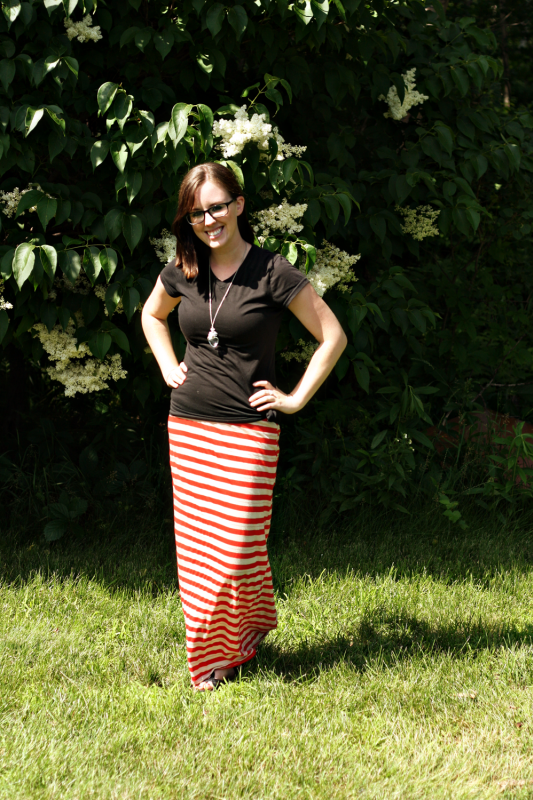 This one is my absolute
favorite
. Pairing a maxi with a plain knotted tee gives it the look of a skirt rather than a dress and it's
so
comfortable. The little knot gives the plain t-shirt a little more flair and I loved adding a longer, playful necklace to the mix. It's so simple, yet it makes this piece a totally different piece entirely! I felt so laid back and relaxed in this one and I definitely think I'll be wearing this style
a lot
more!
Look Three: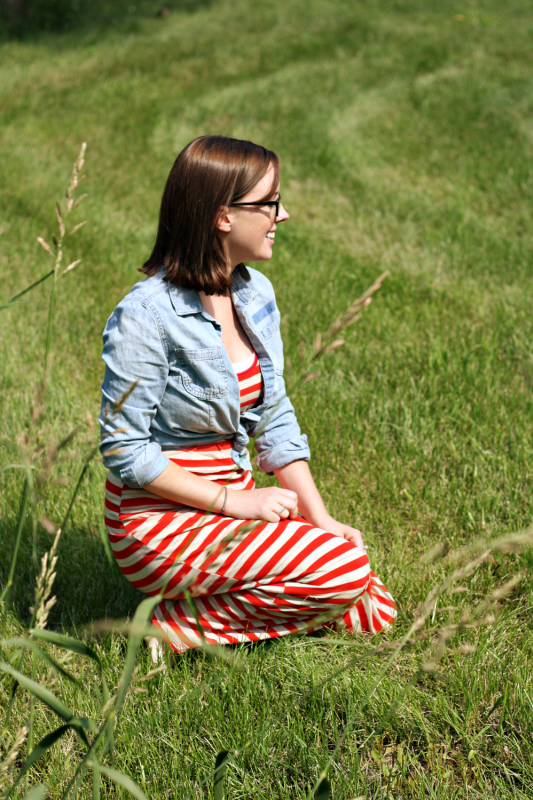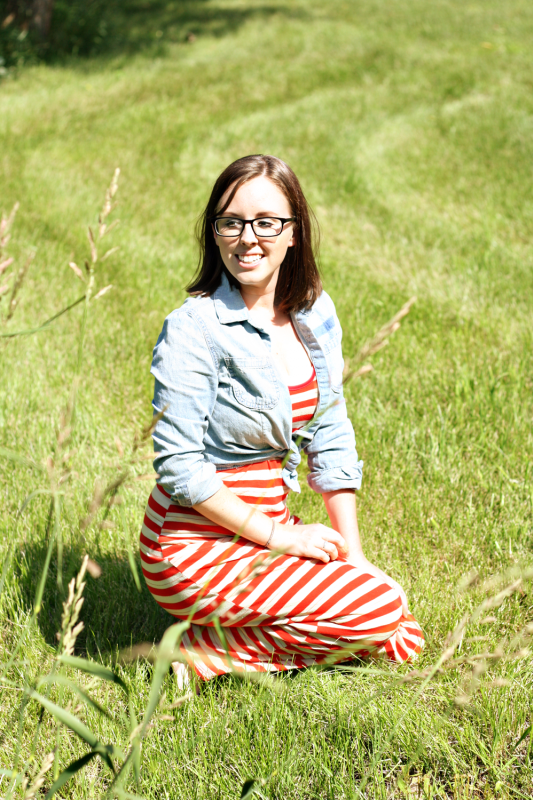 Who doesn't love a good chambray, right? I
love
it paired with this maxi dress. How perfect would this outfit be for the 4th of July? Seriously. I've already gotten plenty of wear out of this dress this week, what's one more, right? Adding a chambray is perfect for cooler nights around the bonfire and I know we're going to be making some smores and going to fireworks on the 4th. Okay, you twisted my arm. Looks like I found my perfect 4th of July outfit, too!
Speaking of the 4th of July, Gracie B is having a 25% off sale on select items to celebrate! Don't you love holidays? Now go drool over all the adorable, unique shirts, and all kinds of cute accessories! AND I have a special little treat for you all. One of my lucky readers has the chance to win a $30 shop credit to Gracie B! What would you choose?
A special thanks to my sweet friend Maggie for taking these pictures for me! I owe you an iced mocha mamasita!
Click below to visit this month's featured sponsor: