We're so excited to have house guests this weekend! Cory's mom and boyfriend are staying with us this weekend and we're so excited for all the fun adventures we have planned. We'll be going to Cory's baseball game, making a trip to the farmer's market, and eating all kinds of yummy and delicious food. Since they're staying for an entire weekend, I had some serious meal planning to do. Here's are some of the yummy breakfast, lunch, dinner and dessert ideas I noticed along my planning process: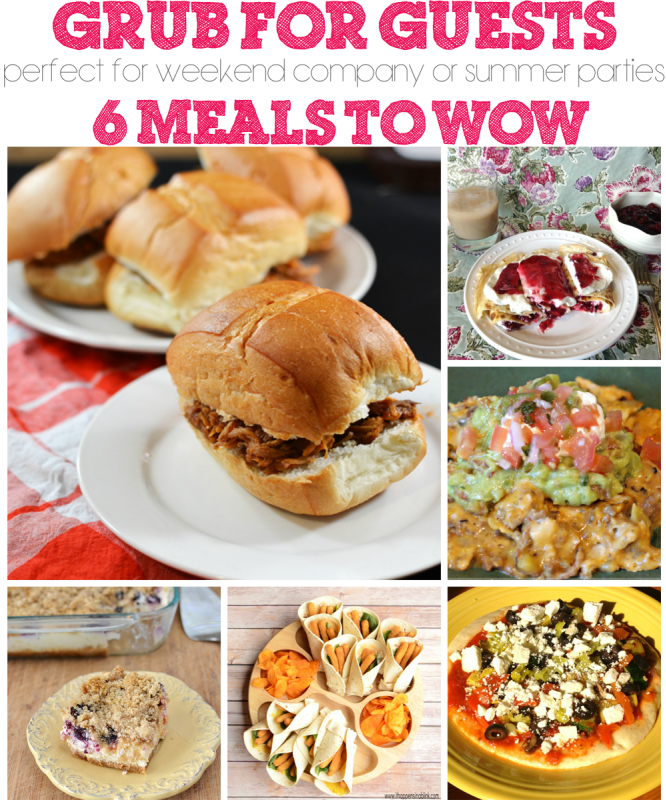 1.
Crock-Pot BBQ Pulled Pork Sandwiches
2.
Raspberry Crepes
3.
Easy Enchilada Casserole
4.
Personal Mediterranean Pizzas
5.
Chicken Fry Wraps
6.
Boysenberry Lemon Cheesecake Bars
Once you have your menu planned your golden! That's definitely my favorite part about planning for guests. Maybe not so much the grocery shopping aspect of it because of a certain 3-year-old that causes a ruckus when she tags along, but I love flipping through cookbooks, looking for meal inspiration in my favorite magazines and of course searching my favorite blogs and Pinterest for ideas. It's so much fun! I've always been more of a planner than a doer, I'm working on the latter, but having guests doesn't have to be a chore, it can be fun! After all the cleaning that is 😉
And along with the cleaning, you have to help your guests stay clean while they're visiting. You don't want your multiple guests all using the same towel after they go to the bathroom, do you? I'm too afraid to look up the actual statistics, but I'm sure there's a high percentage of germs that stay on our hands after washing. (Especially if you're not using enough friction, scrubbing for long enough, or using warm enough water. The nursing student in me just had to make an appearance!) And those germs transfer directly to the towel you use to dry your hands off with. Gross, right? Now multiply those thousands, maybe millions of germs by each party or house guest. Have I made you cringe yet? That's where Kleenex Hand Towels come in.
Which would you choose? A dirty towel or
Kleenex Hand Towels
? Be honest and don't forget to enter to win your very own box of Kleenex Hand Towels below. Perfect for all those house guests or party guests you'll be hosting this summer! (US ONLY)
And come back next weekend, because I'll be sharing all my cleaning tips to help prepare you for those summer guests of yours!
I was selected for this opportunity as a member of Clever Girls Collective and the content and opinions expressed here are all my own.
Click below to visit this month's featured sponsor: