I received a Jamba Juice gift card from Jamba Juice + Moms Meet, May Group LLC. As a Moms Meet blogger, I agreed to use this product and post my honest opinion on my blog.
Remember when I posted that summer bucket list of ours? Well, I promise we've been gradually crossing things off of it, I just haven't been the best at keeping you all updated! And honestly, we've done a lot more on our summer bucket list and even more things that I didn't even think to include on our summer bucket list! We still have a lot to get through, but we still have 43 days left of my summer vacation, so I'm sure we can make it!
This past week Alea and I decided to go on a little spur of the moment smoothie date at Jamba Juice. I really wasn't planning on doing a whole lot that day. It was Cory's day to work late and I knew it was going to be a steamy day, so I was all about hunkering down in the air conditioning. I thought I'd start our lazy day indoors by sorting through our mail, and out fell our Jamba Juice gift card. I stared at it for a second or two, grabbed it and slipped it into my wallet. No more than a minute after that pretty little card fell out of our mail pile at me was I trading my yoga capris in for real jean shorts and actually putting make-up on. 20 minutes later we were out the door and on a surprise adventure to go get smoothies!
Now, I have to admit. When I put "smoothies" on our summer bucket list, I had every intention of making smoothies with Alea. It's one of her favorite things. She gets to put the fruit I chop up into the blender and she gets to press the button. It's almost more exciting to her than drinking the smoothie itself. But really, who can say no to Jamba Juice? Especially knowing that they have some yummy brand new smoothies for us to try? Yeah, that's right. No one.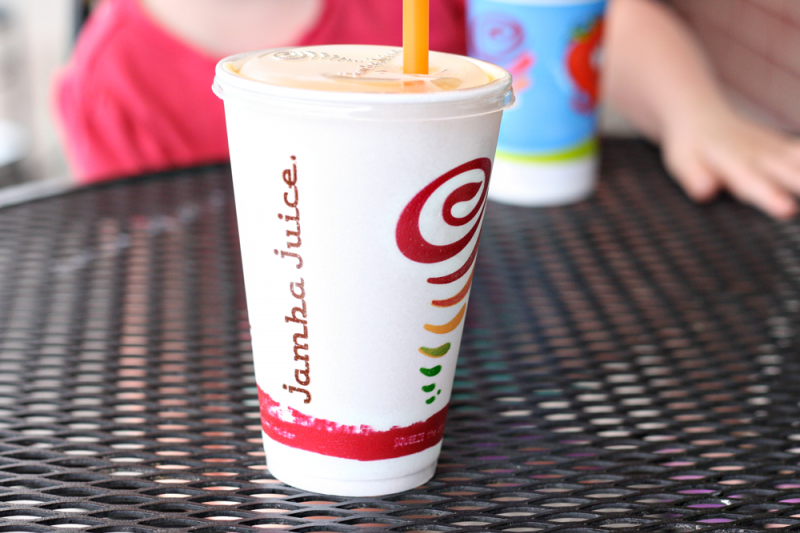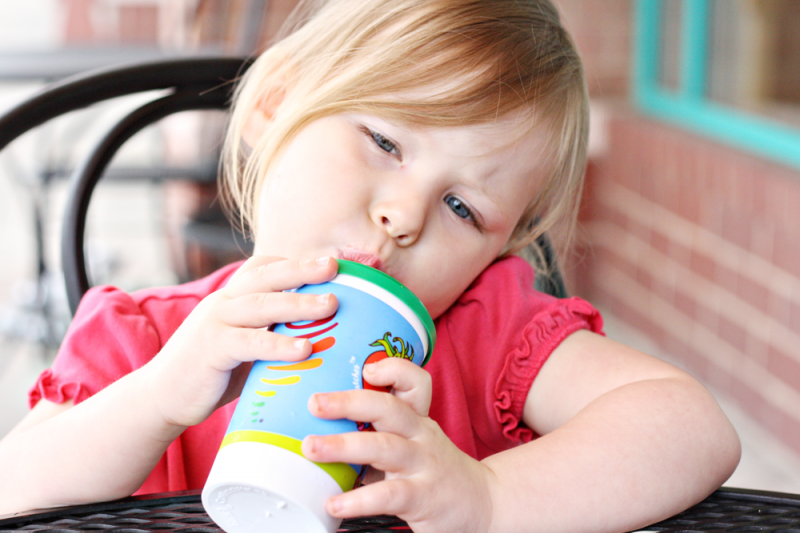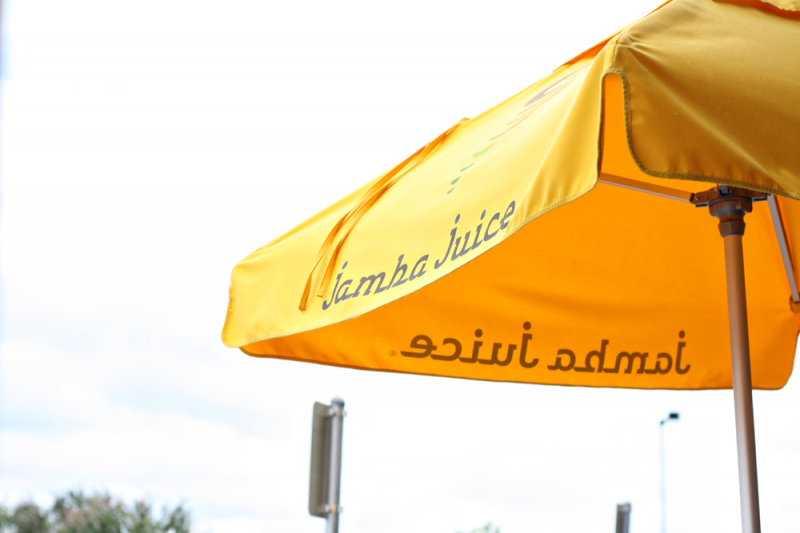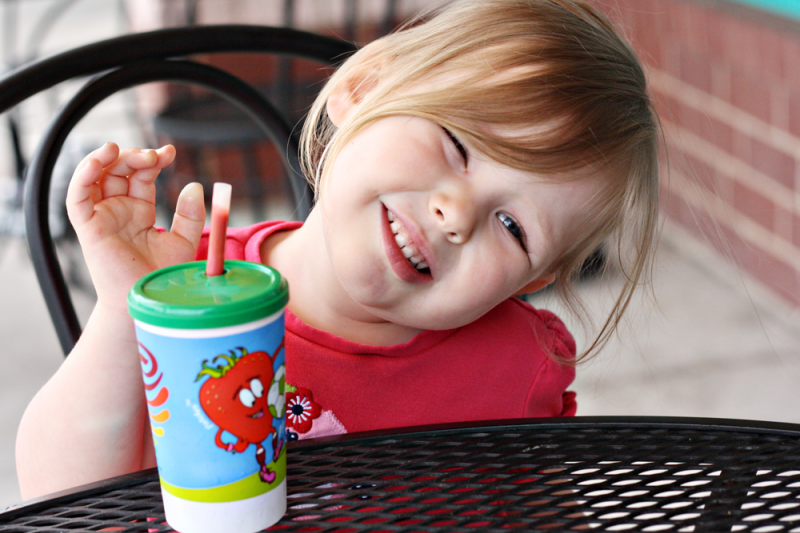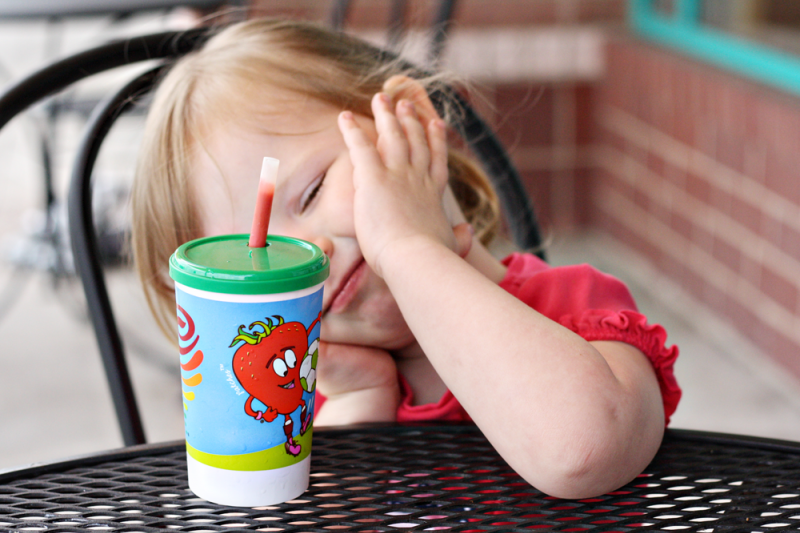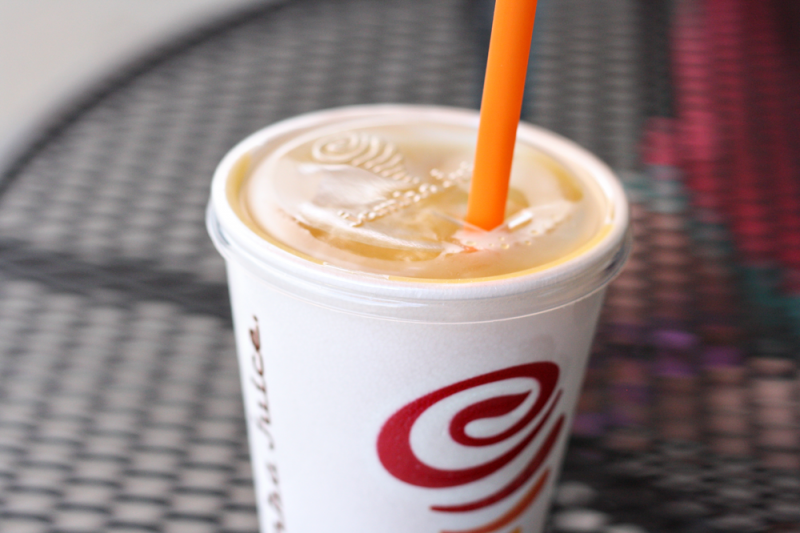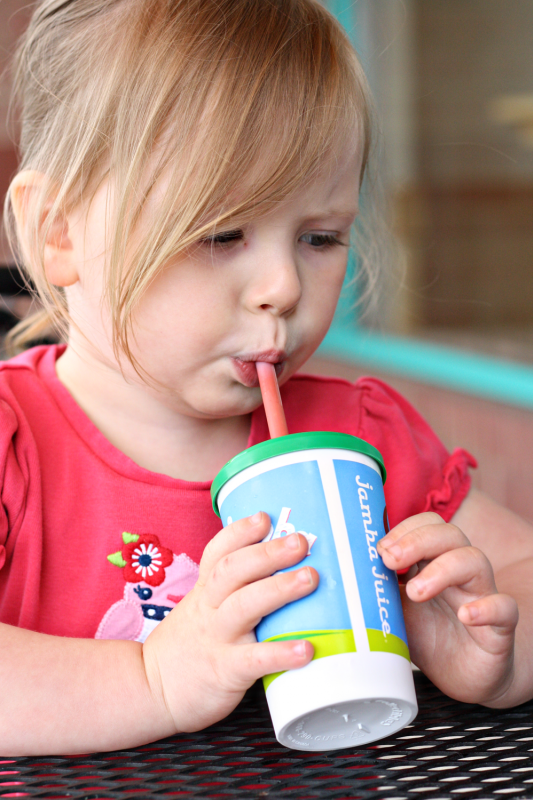 So it was a Tropical Harvest smoothie for me and a Berry Beet It smoothie for a Alea. Both, were absolutely delicious! I loved that my smoothie only had 230 calories and was made from mangos, peaches, butternut squash, sweet potatoes and carrots– completely within my calorie allotment and completely healthy! Between brain freezes from drinking her smoothie too fast (kids, right?) Alea let me try a sip of hers. By the color you could tell that it had strawberries in it, but by the taste you never would've guessed it had carrots, beets, broccoli, spinach, kale and lettuce in it as well. I'm not above sneaking all those veggies into my child's food/drinks/you name it. The name of my parenting game is "what they don't know can't hurt them" and in this case, what Alea didn't know was oh so very good for her! If we're out + about in the area again, I would have no problem making a meal out of a Jamba Juice smoothie. It certainly would make a nice (and healthy) break from the typical chicken nuggets happy meal… am I right?
Funny/embarrassing/I-can't-believe-I-did-that story time: After sipping on our smoothies in the adorable outdoor seating under large yellow umbrellas, we decided to head to the car and drink the rest of our smoothies on our way to Cory's work. We were going to surprise him with dinner since he wouldn't be home until after Alea's bed time that night. I got Lou buckled into her car seat and then I hopped in. I'm not even sure how it happened, but I managed to tip my smoothie over… and it went everywhere! It filled the cup holders, poured over the side of the center consoul. You name it. I thankfully was thinking, even though we were in a hurry, when we were getting ready to leave because I brought an entire package of wipes with. I thought that smoothies + kids = messy, but apparently I'm the one who causes the messes around here! I managed to get it all cleaned up and thanked all my lucky stars that the Tropical Harvest smoothie I got was a very light yellow/orange color and not some dark red/orange concoction. The seats in our vehicle are VERY light beige and that could have ended in disaster. I'm almost positive I heard a little chuckle coming from the backseat when I was cleaning up my mess– I think Alea got a kick out of the fact that it was mommy who got a little messy for once!
Click below to visit this month's featured sponsor: