I am a member of the Collective Bias® Social Fabric® Community. This shop has been compensated as part of a social shopper insights study for Collective Bias and Arm & Hammer Spin Brush.
If you haven't heard of it already, Champions for Kids Spin into Action is a do-good community service campaign started by Arm & Hammer Spin Brush. It's all about bringing your community together asking for donations from friends and family of children's items such as toys, books, blankets and tooth brushes and donating them to a local organization such as a children's hospital, shelter, or foster care agency. And the best part? Before you donate your items, count the number of items you donated, the number of people involved and take lots of pictures and Arm & Hammer Spin Brush will make a matching donation of up to 1,000 Tooth Tunes tooth brushes to children in need! What's better than helping those in need? Partnering with a company that will MATCH your donations to help even more of those in need! It's just so wonderful!
I really thought I would have trouble with this. I really, honestly did. Not so much me perse, but more so Alea. You see, when we go to the store Alea's begun to expect a little toy or treat in exchange for good behavior. That's mainly my fault and I'll totally own up to it, because honestly good behavior is 100% worth a 50 cent sucker or a $1 book. (Can I get an amen?!) I knew this idea was going to take a lot of explaining, but it would be so worth it to give her this experience, especially planting the seeds of giving so early in her life.
Much to my surprise, Alea warmed up to the idea pretty quickly. After some advice from a friend, I decided that donations were going to go to children at The Refuge Network one town over in Cambridge, MN. It's a network of domestic abuse shelters, and in my opinion, no other children are more deserving of a little cheering up than those kiddos. I explained to Alea that this is a place where mommy's and their kids can go when they don't feel safe and they need a place to stay. I also explained to her that these kids may have to leave their toys and books at home when they go, so they might not have some of their favorite things. <-- and I think that statement is exactly what struck her the most. As we began gathering supplies she was truly excited and would tell me, "I can't wait to give these to kids who don't have any toys!"

1. Start young: I've always told Cory that at Christmas time I wanted to take Alea to the toy store to pick out a toy to give to Toys For Tots. It's something that I haven't done yet, but something that I certainly plan on doing now. I wanted to wait until she was "old enough to understand," but really, why not start them as young as possible? Why not make family service projects and giving part of your summer time, Christmas time or anytime tradition?
2. Inform them in an age appropriate way: Like, with the domestic abuse shelter we donated to, I knew I couldn't go into the details about why the mommy's and kids were in that shelter, but I knew I could explain the circumstances to an extent. And you can do the same with your kids! It's a hard concept for littles to grasp, but such an important lesson for them to learn!
3. Teach them why it's important: Open up the conversation. Kids are a little egotistical and they truly aren't as aware as us adults are about the poverty and despair in the world. They don't know that others do without less than them. They don't understand that "there are kids in China who don't have any food" and don't necessarily understand that phrase when you're trying to get them to eat their dinner. But, if you open up the conversation and start explaining these things to them (especially at a young age) they'll be more understanding of our world's disparities and more excited and willing to help!
4. Involve them as much as possible: I knew this was going to be the key to my success. I wanted to involve Alea in this process as much as possible so I could teach her as much as possible. Let your child pick out toys, books, or go through their old toys. If you're doing bags or baskets of things, put your type-A personality aside and let your kiddo put them together! They'll have a ball and be able to experience that sense of pride that they're doing something that will benefit others. They'll also be more understanding when it comes time to give those toys away and they won't all of a sudden crumble and throw a fit that they aren't able to keep them. (Hopefully!)
5. You don't have to spend money to give back: I was cleaning out my bedroom closet and putting clothes in a pile to donate. Alea was curious and I explained to her that we were going to donate those clothes to people who needed them more than mommy and daddy. Her immediate response was, "Mommy? Can I go get some of my clothes to give to little kids?" And after I stopped some of my mommy tears, I explained to her that her clothes still fit her and so we would have to keep them until they don't fit her anymore, but she could pick out a couple toys to give away if she wanted to. Without saying another word, she ran into the living room and picked up her brand new puzzle and her favorite princess toy and said "Here mommy! I want to give the kids my princesses and puzzles because they might not have some of their own." Yeah, that time I wasn't able to stop the tears. All I could do was hug my sweet baby girl and tell her how proud I was of her generosity! Moral of this story is that you don't have to spend a dime to give to others, you can always give things that you already own and that could be better loved at another home.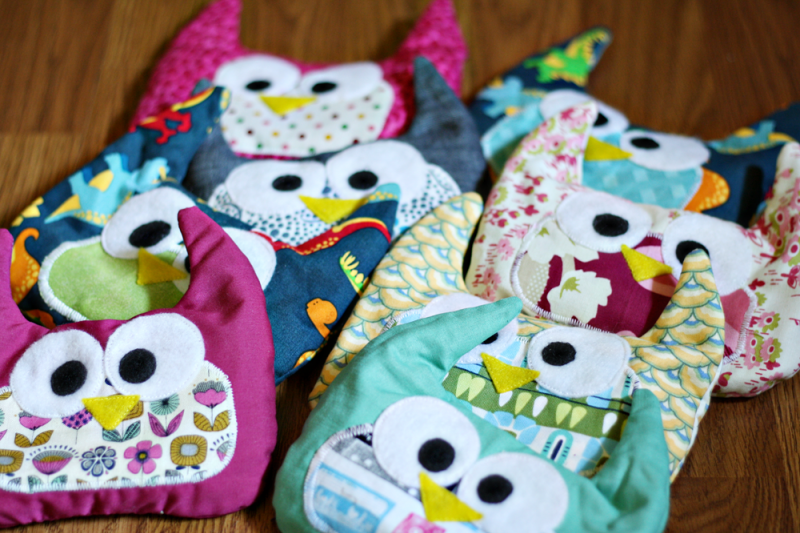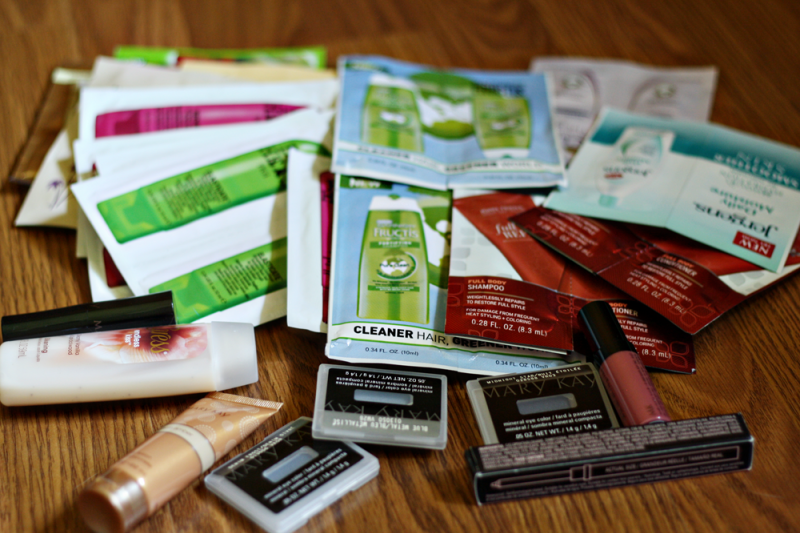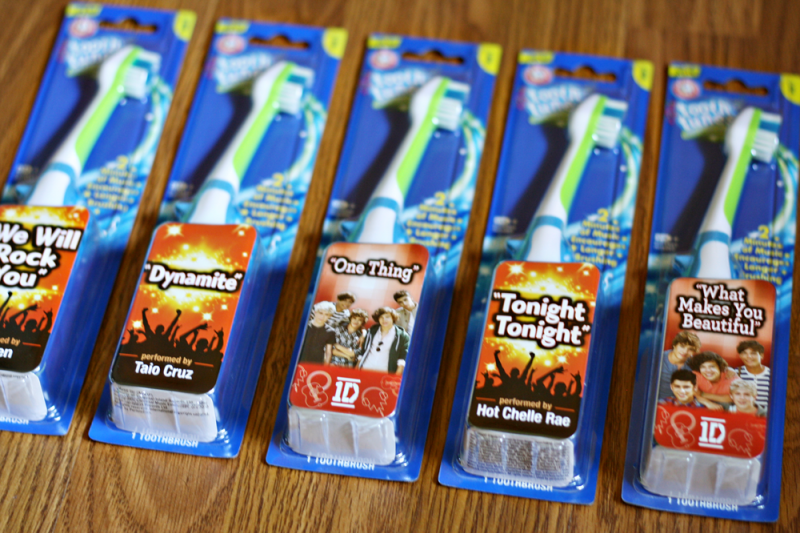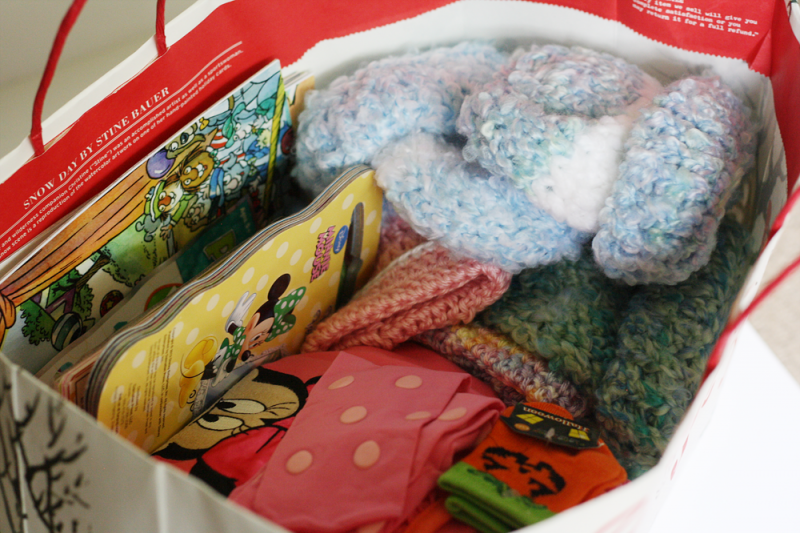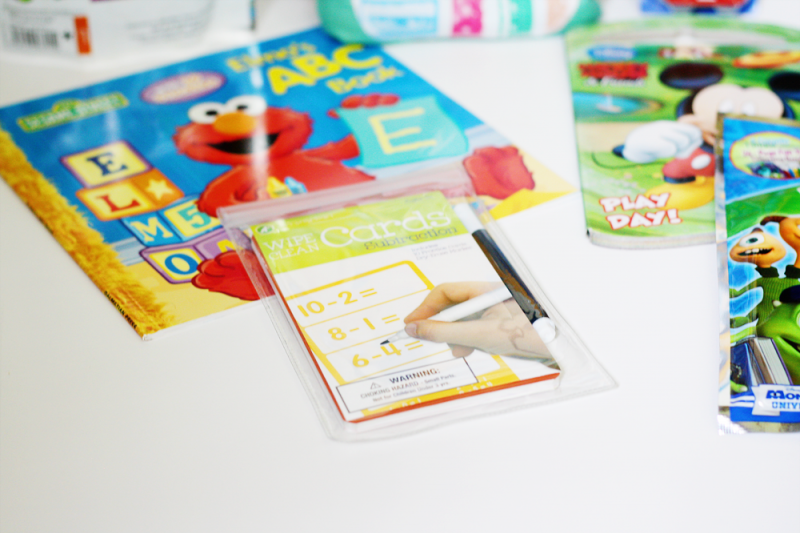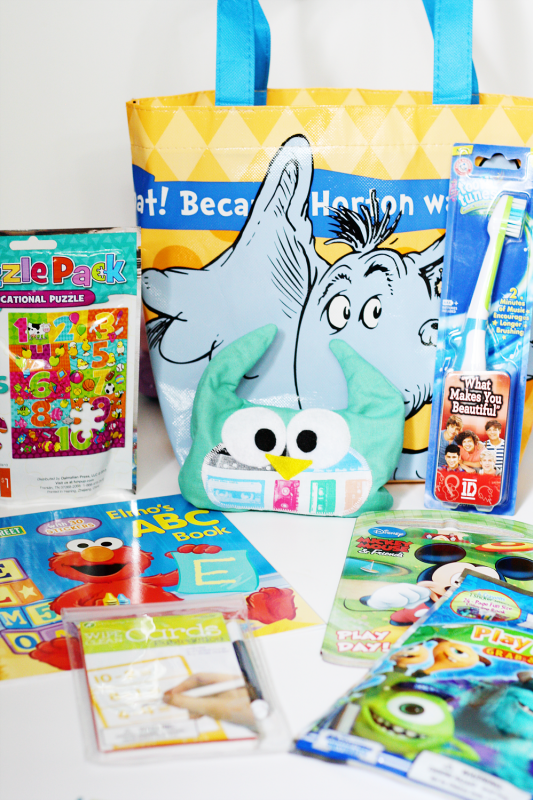 We collected all kinds of donations from friends and family! Alea and I bought puzzles, books, coloring books, crayons, stickers, and Tooth Tune Spinbrush tooth brushes. Jennifer from Busy Being Jennifer made some adorable Owl Ouchies from her shop Homespun Happiness, that are just the cutest! She even sent some shampoo and conditioner samples– something I didn't even think to do, but I definitely added all the ones I had stocked up as well! Cory's mom brought over some donations from the hospital she works at and offered up lots of books, baby clothes, burp cloths, baby socks, and handmade baby hats. And my mom dropped off some more books, puzzles, and dry-erase math flash cards! I was just so surprised and overwhelmed by all the willingness to give!
I know giving to others isn't all about that full-heart feeling you get after you give your donations, but it really is a plus. It's what keeps you giving and what reminds you that it's worth all the time and effort that goes into collecting donations. It really does leave you with a smile on your phase and a sense of well-being that you just can't get anywhere else.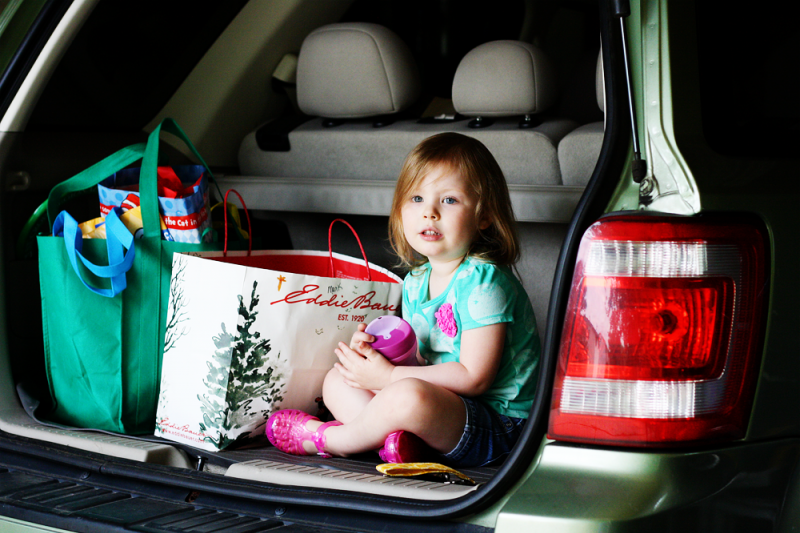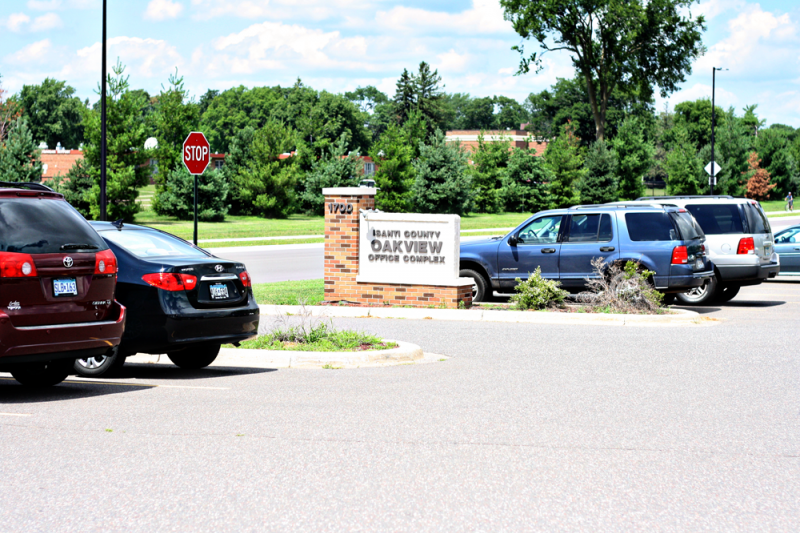 This was an experience that Alea and I will never forget. We pulled up to the offices of The Refuge Network and I made sure to give Alea her own bag to carry. She marched up that curb and through those doors with so much excitement. I was just so, so proud of my little girl. She was a little disappointed when she realized that we weren't giving the bags directly to the children, but after receiving lots of "thank yous" from the woman who greeted us, she was smiling from ear-to-ear. I can't even explain this feeling to you guys. I'm speechless! We left with very, very full hearts and I can promise you that won't be the last donation they receive from us! We have so much more giving to do!
You can view our shopping experience via Google + Album here.
Have you done a family service project like this with your family? I'd love to hear about it!
Linking up with My Three Bittles
I am a member of the Collective Bias® Social Fabric® Community. This shop has been compensated as part of a social shopper insights study for Collective Bias and Arm & Hammer Spin Brush.
Click below to visit this month's featured sponsor: