Happy Friday! Oh gosh, I can't even begin to tell you how excited I am for this weekend. Tonight, Alea and I are going with my mom to her cabin for a fun little girls weekend! There, we will cross even more things off our summer bucket list and have all kinds of fun. What's better than a weekend at the lake, right? That being said, I'll probably also be away from this here blog and some social media this weekend as well. Trust me, it's going to be hard, but there's nothing like a little break to get the creative juices flowing again, right? I hope you all have an awesome weekend and if you have some spare time today or throughout your weekend, be sure to check out the ladies below. Their blogs are really inspiring to me and I'm sure you'll love them just as much as I do if you don't already!
(And two weeks in a row without a coffee date vlog? I'll be sure to put an end to that next Friday, promise!)
Every Friday I talk about "5 things" in my life that I'm loving. They're usually things around my house or foods or drinks that I'm obsessing over. This week, however, I'm going to share with you five blogs that I find seriously inspiring. I always turn to their blog if I'm lacking in the creative department and sometimes just opening up their blogs in my browser gets my creative juices flowing again. The inspiration I find through their blogs is equivalent to the inspiration I find when reading my Real Simple magazine and turning on Pandora. These ladies know what they're doing and they do it well!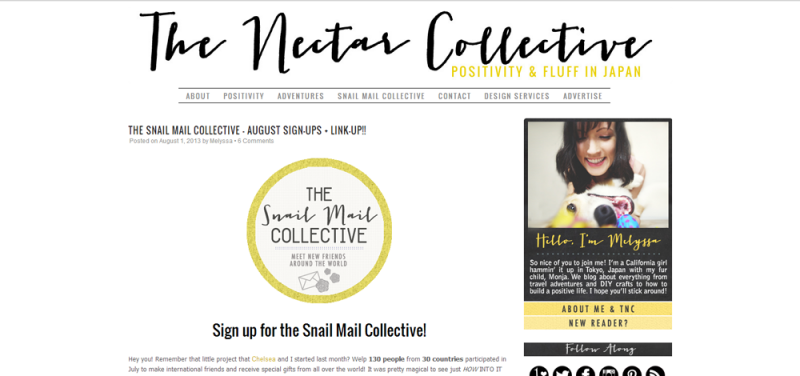 I love Melyssa's blog,
The Nectar Collective
. LOVE it. I just started reading her blog a month or so ago and have seriously been loving every post since. Her creativity shines through her blog design (
she designs blogs, too!
), her photos, and her words. I always envy bloggers who create cohesive, understandable blog posts, because I feel like mine are just a jumbled mess of words I spit out and hope make sense. I love this post she just wrote recently on
how to kick a** at sponsorships
<--- a total MUST read if you have a sponsorship program on your blog or just like to sponsor other blogs!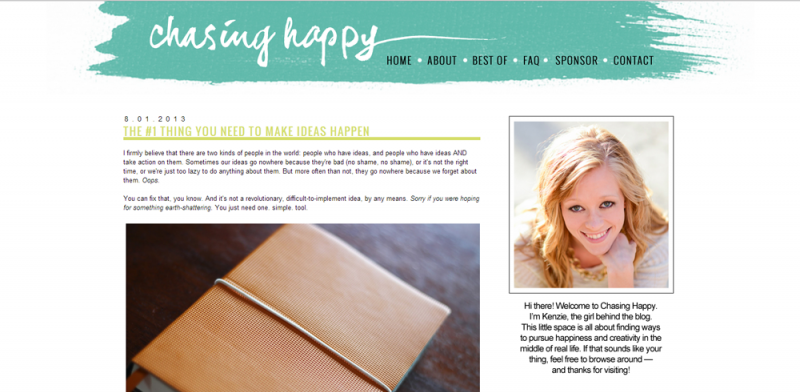 Kenzie from
Chasing Happy
is just the cutest thing ever. That's not the only reason I love her blog, though. For one, her photography is absolutely breathtaking and beautiful photos are the one thing that can
really
draw me into a blog. I also love that she really focuses on creating –valuable– posts for her readers. She really takes a step back and thinks about what her readers can take away from the posts that she writes. Her posts are clean, organized and sometimes even in list format <--- And we all know how much I
love
lists! Like, Melyssa, she creates beautiful graphics for her blog posts and I can't help but go a little pin-crazy whenever I visit her blog! And I love her recent posts on
building your blog's brand
. They've helped me to take a step back and look at what I really want this little blog of mine to be and become.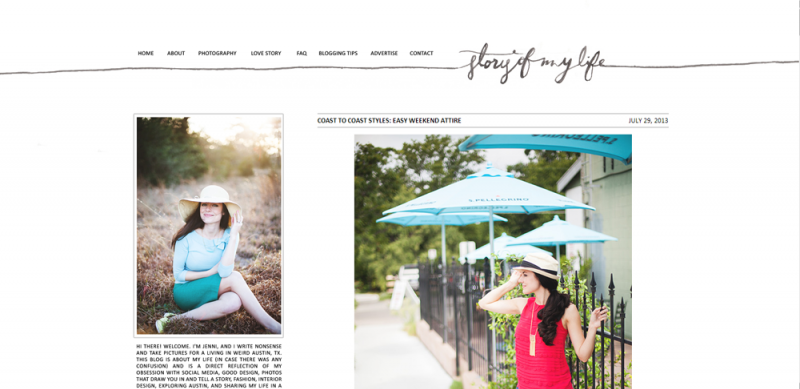 Some of you may know that I bought my camera from Jenni from
Story of my Life
, but that's not when my love affair with her blog began. I've always been a fan of the beautiful photos she takes and the real and down to earth posts she writes. She's a true lifestyle blogger who shares little pieces of her life in the most beautiful of ways. I'm almost positive this woman couldn't take a bad photo! In May (which seems like yesterday, but it turns out it was 3 months ago now) she did a
Blog Everyday in May
challenge. I'm so bummed I didn't participate, but seriously, what an amazing idea! If you're looking for some inspiration for blog post or suffering from writers block, check out the list of post ideas for inspiration! I have a couple of them written down!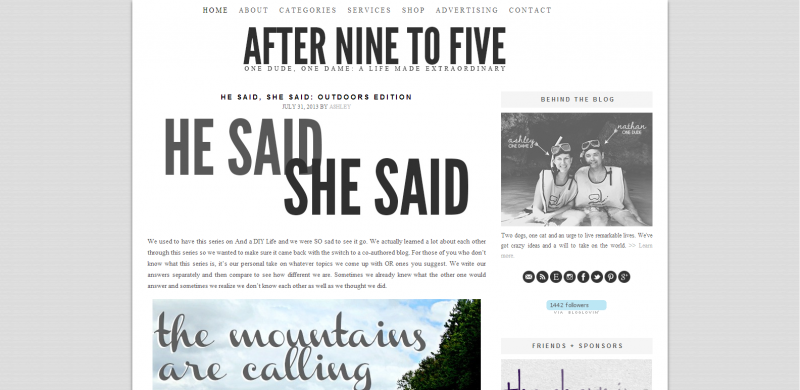 I've been reading Ashley's blog
After Nine to Five
since I first started blogging. She inspires me to write to write and not write because I have to. I absolutely love that about her. She's not afraid to
break the blogging "rules"
and do what she wants and she even sounded off in the most elequent way about the
recent changes at Passionfruit
. I wanted to write a post on this topic as well, but read hers instead. She put it into words better than I ever could! And she's making the transition to a co-authored blog with her husband! How cool is that? We need more ladies like you in this blog-o-sphere, Ashley!
Kacia from
Coconut Robot
has the sweetest family lifestyle blog. She always inspires me to take
even more
photos of Alea with all her sweet photos of her daughter
Harlow
and her family is basically the cutest thing ever. Like the other ladies mentioned above, her photography on her blog is just beautiful. My eyes just love some pretty blog photos, what can I say? She also has the cutest sense of style that I completely swoon over– I mean seriously, check out her latest
Stitch Fix post
! Love it all 🙂
What blogs are your favorite to read? Which blogs inspire you?
Linking up with Lish, Lauren Elizabeth, Style Elixar and The Good Life Blog
Click below to visit this month's featured sponsor: