I was provided this e-book for review and compensation for my time, however my love for this book and opinions expressed throughout are 100% my own.
I have to admit that I'm a little "blog e-book" obsessed. I've written an entire post on all of my favorite blogging e-books and now today I'm going to share another favorite I've added to that list! A Work-At-Home Mom's Ultimate Guide to Building a Business, Blog, & Brand is perfect for those who are looking to dive into the world of blogging and get their blog/business up and running. And in my opinion, I think this is perfect for those who are looking to move from Blogger to WordPress. It really gets down to the roots of blogging, branding and creating a blogging business. It's like the bread and butter of everything that I've done on this blog and so much more. Let me break this e-book down into pieces so I can describe it to you a little bit more.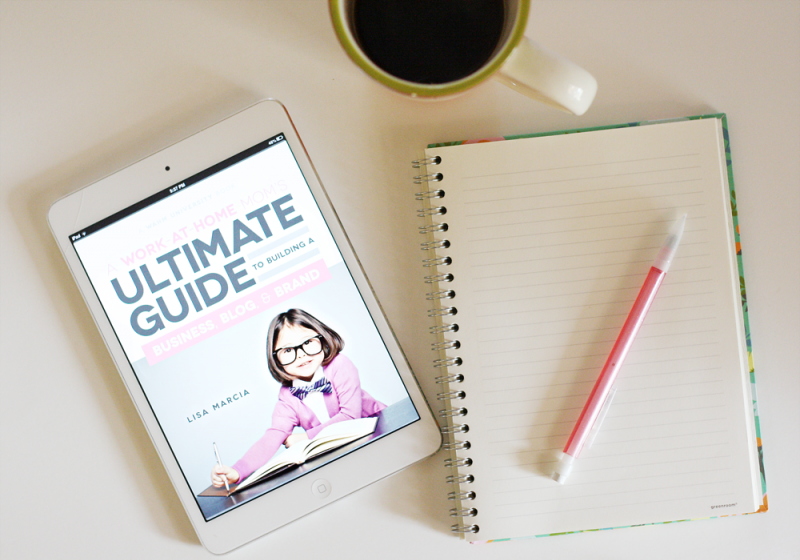 And yes, that's a crack in the corner of my iPad 🙁 Alea ran into the door frame with it.
Building Your Blog or Website
This is where we all start, right? We need to start a blog in order to write one and embark on a business or hobby venture with our blogs. This gets down to the basic framework and vocabulary you need to know when starting your blog. I absolutely love this section because it really takes you step-by-step through the process of figuring out where to host your blog, choosing between WordPress and other blogging platforms, the nitty gritty of plug-ins and widgets, naming your blog or business, purchasing your domain and getting your blog ready for your very first blog post! That is the ultimate goal after all, isn't it?
Designing & Branding your Blog or Website
This section takes you through the ins-and-outs of hiring and working with a designer. (And includes a really awesome checklist. I love checklists!) I love this section because I've honestly never put a ton of thought into it when I've had my blog designed in the past. I've been lucky enough to work with some amazing designers and I'm very happy with my current blog design, but it's something that deserves more than just deciding to change your design on a whim. The look of your blog is the first thing people are going to see when they visit your blog and sometimes (I'm guilty of this) people might not even dive into your content if they're not a fan of your design. It's definitely one of the most important aspects of your blog and this chapter really emphasizes that.
Learning to Outsource for your Business/Blog
This is something that I myself need to work on, especially with school fast approaching. Sometimes blogs and businesses get busy and that tends to take away from family time and that's never good. It leads to that dreaded mommy-guilt when really that could be avoided all together. This portion of the book takes you through the basics of outsourcing your work and describes what type of work you can and should outsource and why it's so important to ask for help. (Trust me, I'm definitely that penny-pincher type Lisa talks about, but I've come to realize that family time is invaluable and blogs/businesses can still be run in the meantime!)
Income Opportunities for Work-At-Home-Moms
This part was definitely one of my favorites and will be very useful to those of you who are interested in monetizing your blog. This section discusses both active and passive income opportunities you can gain with your blog or business and even discusses affiliate marketing. Affiliate programs can definitely be hit or miss, but Lisa gives a list of some of her favorites and shares what's worked best for her and for her clients.
In essence, I really love that
A Work-At-Home Mom's Ultimate Guide to Building a Business, Blog, & Brand
puts together everything you truly need to know about starting your blog and/or business. It lays it all out in an easy-to-read format and it's truly perfect for mom's who are wanting to take that leap to stay-at-home-mom, but still need to help earn a portion of the family's income. I can't sing Lisa's praises enough. She truly created a book that I would recommend to all of my readers and friends who have approached me with the "I want to start a blog, but where do I start" questions. And with the thoughts of moving to WordPress in the back of my mind, I feel confident that I could do that with the help of this book. It's such a great reference and I really hope you check it out. It's
a lot
of awesome information in less than 60-pages making it the perfect read for us busy moms. I read it in it's entirety during Alea's nap time just the other day, actually! And the best part? It costs
less than
a fancy drink at Starbucks!
Now go download yourself a copy and enjoy a cup of coffee and come back and tell me how much you loved Lisa's book A Work-At-Home Mom's Ultimate Guide to Building a Business, Blog, & Brand, too!
Don't have a Kindle? You can also purchase this e-book from here in PDF form!
Linking up with A Dose of Paige
Click below to visit this month's featured sponsor: