I was contacted by Coupons.com to come up with my best Back-to-School Mommy Hack. I was not compensated for this opportunity and all opinions are my own.
As I'm sure you've noticed if you've read my blog for any amount of time, I love doing crafts and encouraging Alea's creativity. We color with crayons and markers almost everyday and do at least one creative craft or activity each week. I just love seeing her creativity blossom and she's always happiest when she's doing something with her hands. My little girl has such a creative soul and I'm always trying to encourage that.
But then there's the thing about what to do with all that artwork.
That's what I've struggled with the most. The thought of tossing something she spent her time, energy and creativity on just breaks my heart and tugs at my mommy heart strings. But I'm the kind of person who can't stand clutter. I can't stand papers piled up everywhere and even having lots of artwork covering our fridge bugs me. I wanted an easy and decorative place to store and display Alea's artwork neatly. And that's when the idea of cork board frames came from! They're perfect for putting your little's artwork on display, while reducing the clutter that comes along with all of those crayon and paint covered papers.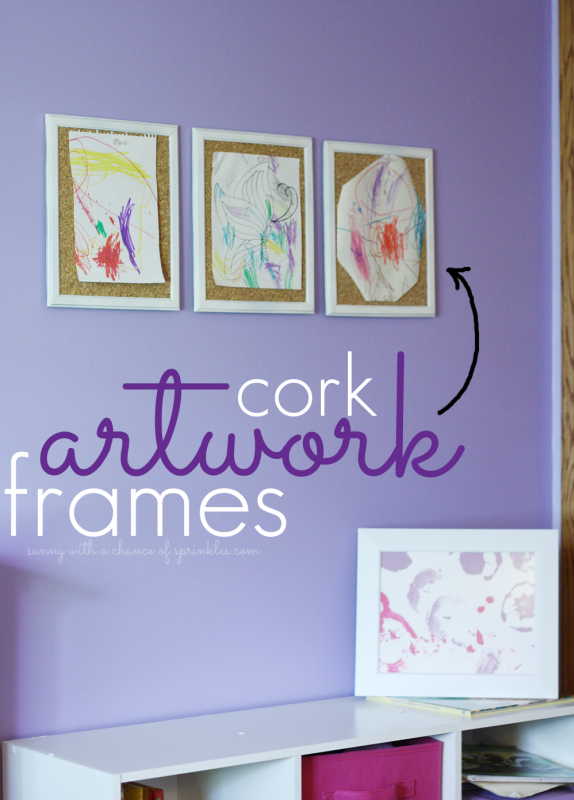 What You Need:
1. Picture frames — I bought 8×10 frames at Walmart for $1.97
2. Spray paint — I bought white spray paint to paint the wood-colored frames for $0.97
3. Cork material — I bought cork squares at Walmart for $4.97
4. Push pins — There are so many fun colors and styles, but I bought clear ones from Walmart for $1.97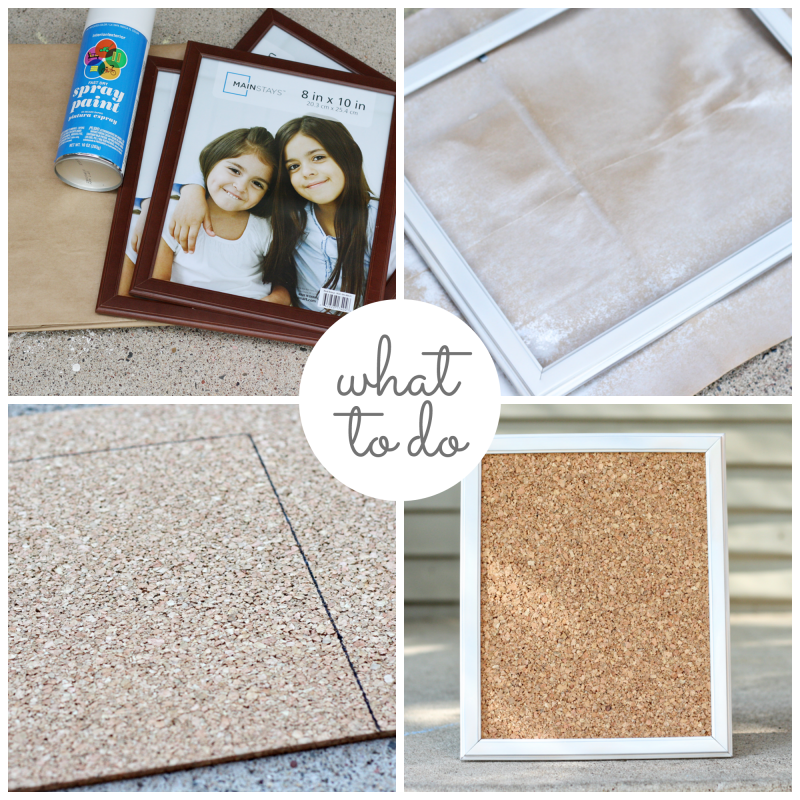 What To Do:
One | Spray Paint Frames
You, of course, only need to complete this step if you're unhappy with the color of the frames you selected for this project. I chose to do this project on a budget and so I had to choose frames that I wasn't 100% in love with. With a can of spray paint being less than $1, though, I didn't have to sacrifice a whole lot!
Two | Cut & Glue Cork Board
This is the most annoying and tedious part of the process. I promise you. I measured out the cork material to fit the size of my 8″x10″ frame. If you save the picture inserts that accompany most frames, you can simply trace this onto your cork material. After tracing, I then cut along the lines of the template I created. Next, I used a hot glue gun to adhere the cork to the backing of my frame.
Three | Finish the Frame
Now you simply just place the backing of the frame into the frame and it should (hopefully) fit like a glove. You'll have just enough wiggle room for the cork to peek out of the picture frame.
Four | Display
All you need now is a level, a hammer, and some nails and you're ready to hang the cork board frames you created. I hung mine vertically all in a row, but there are so many different ways you can do this.

Like I mentioned before, this is such a fun project because there are just so many ways you can go about this. You can incorporate a couple of these frames into a larger gallery wall, hang one in your kitchen so everyone can see, and you can even gift these to friends and relatives. (Shh… I think I might be doing this for my family come Christmas time!) It's a great and easy craft on a budget and I can't wait to use them to display the artwork that Alea brings home from daycare this fall and from preschool and many school years to come!
I hope you enjoy this fun and incredibly easy DIY and I hope it helps reduce the artwork clutter of this upcoming school year!
How do you display your little one's artwork?
Click below to visit this month's featured sponsor: