This past weekend Alea and I had some girls time with my mom at a cabin she's leasing for the summer. It was so nice to get out of the house and get away for a bit. We spent lots of time outside, which Alea loved, and I even got some reading done. I started Orange is the New Black– the book– to keep me busy while I anxiously await the second season. If you haven't checked out that show on Netflix, it's a must-watch! It was just nice to kick back and actually read a book, rather than reading blog posts or browsing social media. I don't do that enough!
This weekend was also Alea's very first fire, believe it or not. We have a fire pit in our backyard that NEVER gets used and aside from watching Daddy burn sticks and stuff from the yard, Alea hasn't really sat down to a real fire before! And along with fires come s'mores of course, another first for Alea Lou!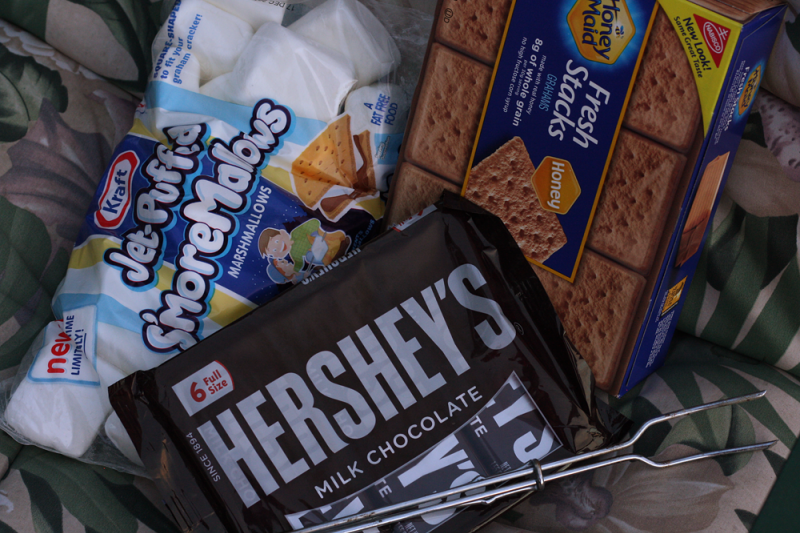 And by eating s'mores, I mean that Alea roasted a marshmallow for the first time, but only ate 1 marshmallow un-roasted. And then ate a piece of chocolate. And then ate a graham cracker. She thought the whole sandwich s'more idea was a little out here, I guess. To each their own, right?
My mom and I each enjoyed a real s'more though and oh my gosh did that taste good. I can't tell you the last time I had one. I like my marshmallow with the perfect blend of char and golden brown. Gotta have that crispy-burnt taste, but not too much!
How do you like your s'mores?
Click below to visit this month's featured sponsor: